Picture This!
Artful Architecture
This month's Picture This! assignment was "Artful Architecture," and we were thrilled with not only the scenes and places we got to visit but with the artful way in which Shutterbug readers made the images. Using a range of wide angle and tele lenses, with many fascinating points of view, the photos gave us renewed faith in the beauty of what we as human beings can create, given the chance. Some of the buildings depicted were very old, and some were quite new, but all showed how the hand and mind can combine to create things of majesty, beauty, and imagination.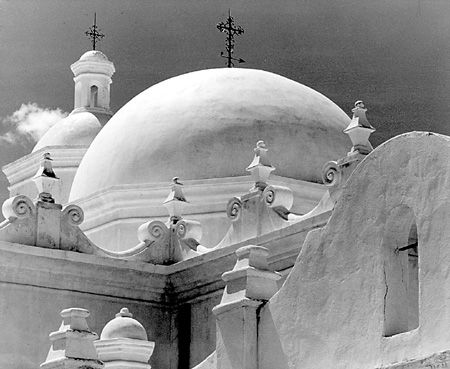 White Dove Of The Desert: Dave Leonard made this gorgeous image of the Mission San Xavier del Bac, located outside Tucson, Arizona, with his Pentax 6x7 and 200mm f/4 lens. He exposed through a #25 red filter on Kodak Tri-X at f/16 and developed and printed the film in his home darkroom.
© 2003, Dave Leonard, All Rights Reserved
Miami Beach Lights: Photographer Scott B. Smith made this photograph of the 404 Washington Avenue Building sequenced light show in Miami Beach with his Nikon F100 camera and Nikkor 20mm lens on Fujifilm Velvia. He wrote that he bracketed exposures around 1 and 2 seconds at f/5.6.
© 2003, Scott B. Smith, All Rights Reserved

Columns At Sunset: The play of light and dark on the columns of the Jefferson Memorial in Washington, DC, was caught by Celia Deaton with her Nikon F5 and Nikkor 80-200mm f/2.8 lens on Fujifilm Reala 100.
© 2003, Celia Deaton, All Rights Reserved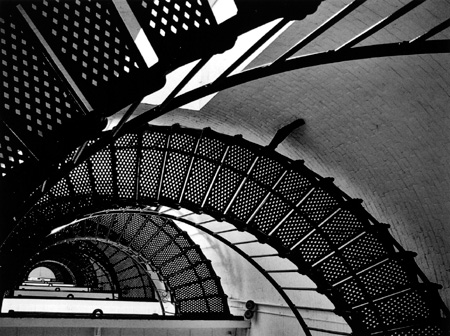 St. Augustine Lighthouse: Tom Green sent us a very exciting set of images and picking one was tough, but we chose this image made at the St. Augustine, Florida, lighthouse. He photographed with a Sony F707 set at ISO 400 at f/2 at 1/100 sec.
© 2003, Tom Green, All Rights Reserved

LATEST VIDEO

SPONSORED VIDEO
Testing Tamron's SP 150-60mm G2 lens while capturing birds and alligators in Apalachicola, Florida.