Nikon D500 DSLR Review
(Editor's Note: Lab Review lab tests and comments are supplied by BetterNet, Shutterbug's TIPA-affiliated testing lab and edited by George Schaub. Shutterbug is the sole US representative within TIPA, a worldwide association of photo and imaging magazines. Look for our Field Review of the Nikon D500 with full resolution test images on Shutterbug.com in the coming weeks.)
The Nikon D500 is the "little sister" of the company's flagship D5 professional DSLR system. The prosumer/enthusiast-focused Nikon D500 is the long-awaited successor to both the D300, which was shipped in 2007, and the upgraded D300S from 2009. The new camera offers an APS-C-sized sensor with a little more than 20MP in resolution. (The D300/D300S had a 12.3MP chip.)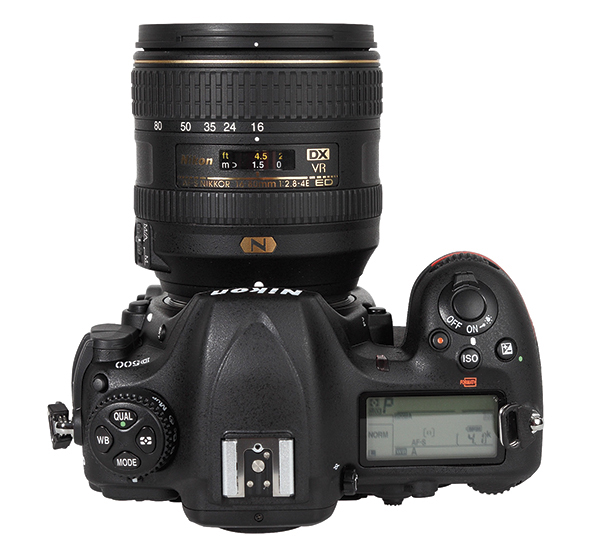 Camera Build, Layout & Performance
As an enthusiast-level DSLR system, the Nikon D500 offers a large and bright optical viewfinder. This viewfinder covers a field of view of 98 percent, which can be a little irritating when composing your picture. On the other hand, the camera has an excellent LCD screen. The monitor is very large (3.2 inches) and has a very high resolution (2.36 million RGB dots). It is touch sensitive, but just like the D5, the D500 offers only a few functions that can be controlled on the screen. Nevertheless, it is very helpful when reviewing images, especially when the user wants to zoom in on details.
While the Nikon D500 is somewhat large and heavy, it is very convenient and handy. The large grip on its right-hand side offers very stable handling. Because it is a mid-range system, the camera doesn't offer an additional shutter release button and parameter dials for vertical compositions, as does the D5. Nikon offers the multi-battery power pack "MB-D17" as an option that does have those additional function buttons/elements.
The camera offers a Wi-Fi module and the brand-new "SnapBridge" technology for direct communication with smart devices like phones or tablets. In addition, it allows for use of the optional WLAN adapter WT-7A for more functions and higher data rates.
The D500 uses the Nikon's brand-new AF focus system: The "Multi-CAM 20K" has 153 autofocus (AF) areas, including 99 cross-type sensors. This system offers an extremely high AF speed. Fast-moving objects are detected very precisely, which will be most welcome to sports and action photographers. The AF system is highly configurable but still easy to manage.
For high burst rates the camera works well with high-speed XQD cards and offers an additional card slot for SD/SDHC/SDXC media. The XQD card is also necessary for recording videos, because the Nikon D500 is able to record 4K video with very high bit rates.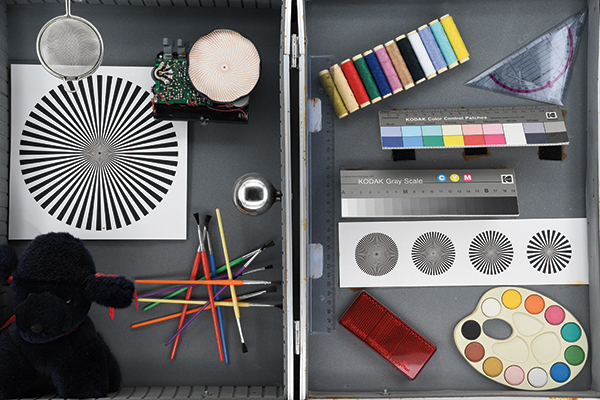 Comments on Image Quality
Color: The automatic white balance system of the D500 worked very well. The gray patterns of the test chart are reproduced very precisely and are located exactly in the center of our result chart. Most nuances show a little drift into the bluish and therefore cooler color areas; the brighter patterns are shifted into the yellow area. All colors look very natural and are only a little oversaturated. Only the red nuances are boosted by a higher yellow rate. Nevertheless, the differentiation of red nuances is very good. The fabric of the red T-shirt in the portrait shot is clearly structured with a nice differentiation of darker and brighter red nuances. Skin tones look very good.
Sharpness: The resolution test results of the D500 are excellent: The camera reproduced the test chart with 3,608 of 3,712 lines per picture height and also showed very crisp and clean reproductions of our test scenes. The camera showed a little higher "overshot" effects which means a little more filtering and optimization done by the Nikon image processor (compared to other APS-C cameras). These effects are nearly invisible in images produced.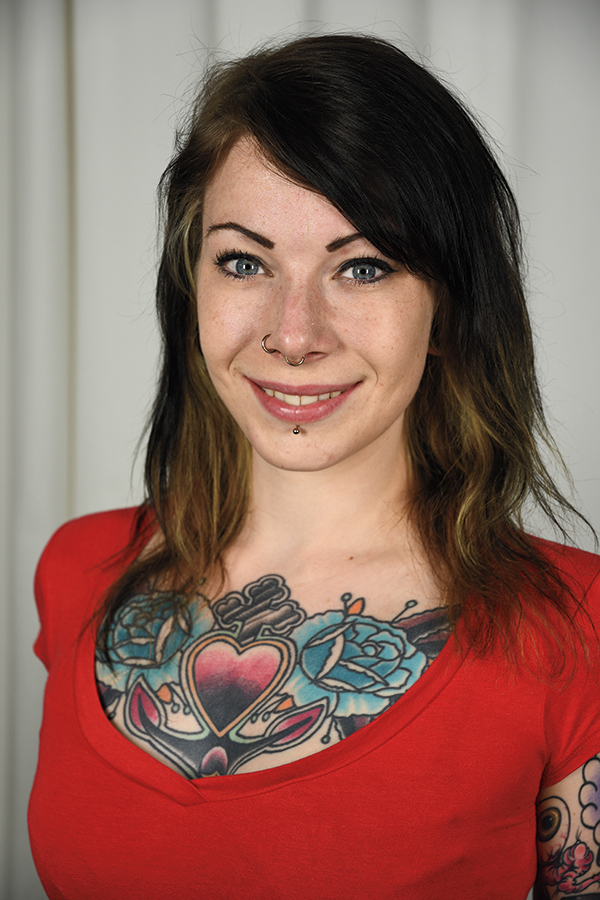 Noise: The new Nikon D500 showed a very good performance in our noise tests. Because it's a camera with an APS-C-sized sensor it shows luminance noise on a little higher level than its full-frame colleagues, like the D5, but the level is still very low. Images taken at ISO 100 to ISO 12,800 keep under the 1.0 percent line. Even at the highest (nominal) ISO speed of ISO 51,200 it is really low. Color noise stays on a very low level, too. Up to ISO 3200 the images have a very clean look. At ISO 6400 color noise gets visible, but is on an acceptable level up to ISO 12,800. Images taken with ISO 25,600 and higher will only show a little color noise, noticeable artifacts created by the combination of color noise and anti-noise filtering.
The camera offers additional ISO speed modes up to the very extreme setting of ISO 1,640,000. In these extreme speeds the color noise effects are really extreme. Details and contrast lines are totally blurred.
The camera also showed an excellent result in the dynamic range test. At ISO 100 it reproduced the Stouffer 4110 chart with 12 f/stops! It keeps a high dynamic range level when using higher ISO speed settings (about 10-11 f/stops up to ISO 6400).
Comments on Video Function and Quality
The Nikon D500 offers high-resolution videos up to 4K movies with 3840x2160 pixels (UHD TV). In this mode it can record up to 30/25 full frames in progressive mode, while it can take up to 60/50 frames in Full HD mode (NTSC and PAL settings). In addition, it offers a 24p mode for Blu-ray-compatible video recording.
The camera uses H.264 compression for its video scenes and uses Apple's QuickTime MOV format as the container file format. All current video editing software or media player software like VLC player are able to edit or present these movie scenes.
For recording video you have to use the LCD screen with live preview as the viewfinder. The camera has a live preview switch on its back that can be used in photo and video mode. In video mode the camera will show the movie with an aspect ratio of 16:9, for example, and additional overlay elements for video recording. A very small additional shutter button on the top (marked with a red dot) will then start video recording.
The camera offers fully manual control in video mode. Just like in photo mode, the photographer can choose P, S, A, and M mode video. ISO speed can also be selected manually, even up to ISO 51,200.
Manual control is also offered for sound recording. The camera has a built-in stereo microphone and two audio interfaces on its left-hand side: A 3.5mm jack for an external microphone and an earphone jack allows for checking sound quality—very helpful when using manual sound level control.
The Nikon D500 performed excellently in our video tests. The resolution results are extremely high. In 4K mode the camera reproduced the test chart with 2,160 of 2,166 lines, which is a new "high score result" and even better than the results of the Panasonic GH4. The same goes for Full HD mode. In this mode the D500 reproduced the chart with 1,037 of 1,080 lines.
Color reproduction in video mode is also very good. Just like in photo mode, the white balance did a marvelous job. All gray patterns are located exactly in the center of the result chart. Some blue nuances are boosted, but nearly all colors show only minor aberrations to the given values.
Up to ISO 3200, image noise is very low and videos have a clear and clean look. At higher ISO speed settings the color noise artifacts become visible and annoying. The dynamic range results are excellent. The D500 reproduced the Stouffer chart with up to 10.6 f/stops, which is very high for video recording.
Scorecard
Pros > Very fast AF system > Very high-resolution results > Excellent dynamic range > Fast high-speed burst mode > Integrated Wi-Fi > High-resolution swivel LCD (touch sensitive) > 4K video
Cons > Swivel monitor isn't fully articulated > Somewhat large and heavy camera build > Viewfinder only offers 98 percent coverage
The Nikon D500 has a list price of $1,999 (body only). For more information, visit nikonusa.com.
(Lab Review is where we publish web-exclusive lab reports on cameras. To read more Lab Reviews, click on the Reviews tab on the top navigation bar of this page. New photo gear reports are published frequently, so check Reviews for more equipment evaluations from Shutterbug writers.)