Nikon D4 DSLR Review
The new D4 is a typical Nikon professional system: it's extremely massive, very heavy, and all function buttons, card slots, and any other notches are sealed to prevent the intrusion of dust or rain. The camera offers two high-speed modes and is able to record 10 or 11 images per second in full 16MP resolution. In our tests the camera was able to consistently achieve this high speed. The camera uses a new shutter system based on Kevlar fibers that allow up to 400,000 exposures. With its high speed, robust shutter system, and robust body, the Nikon D4 is a clearly aimed at photojournalists and sports photographers.
To switch between single image shooting and burst mode, the photographer can use the locked dial on the top-left side, right under the function buttons for bracketing and flash mode. The camera doesn't offer a built-in flash, but is able to work with Nikon's most modern systems like the SB-910. A standard X-sync flash connector is located on the front and covered by a rubber cap.
The camera features a very large 3.2" LCD screen on the back with 921,000 RGB dots, creating a very crisp and clear image usable even under bright light conditions. The D4 offers numerous on-body controls to navigate the menu or change image parameters. Two dials on the back and near the shutter release button allow the user to change aperture and shutter speed simultaneously. A second shutter release button and two additional dials on the lower right corner show the same arrangement as the main shutter release button and make shooting portraits in a vertical position very comfortable. Two small joysticks and a large eight-way cursor field allow for very fast menu navigation.
The camera offers a dual-slot system for memory cards. It can use both CF cards and the brand-new XQD cards, the latter potentially offering very high capacities (up to 2TB) and present high data transfer rates. In addition, the camera offers an Ethernet port for extremely fast data transfer to a computer. A WLAN adapter is sold as an option. A USB interface is also available.
The camera offers Full HD video recording up to 1080/30p. It offers manual level control for sound recording that can be used with an external microphone. A very unique feature is the Full HD output on the HDMI port (without overlay information). This allows video recording without H.264 compression. This feature will record a better image quality without compression artifacts and with higher color sampling (4:2:2 instead of 4:2:0 in Nikon's MOV file). This can be helpful in a video studio when recording green screen footage, for example.
Image Quality
Color: The automatic white balance system performed very well. Nearly all gray patterns in the test chart are located exactly in the center of the graph. There is a very slight shift of brighter gray patterns in the yellow area, but it is quite unobtrusive. The color errors are on a very low level. Only the one green and two blue nuances show a very high saturation, and therefore increase the mean color error level.
The skin tones are absolutely perfect, which is sometimes not really desired because it causes somewhat pale faces. The color reproduction is correct, but most of the time the photographer (and the model) would choose more saturated colors for the skin. All color tests were done in standard color mode. The camera offers a lot of individual settings for color control. In addition, the photographer can use the "Picture Control Utility" to create individual color settings on a computer and can transfer these settings to the camera.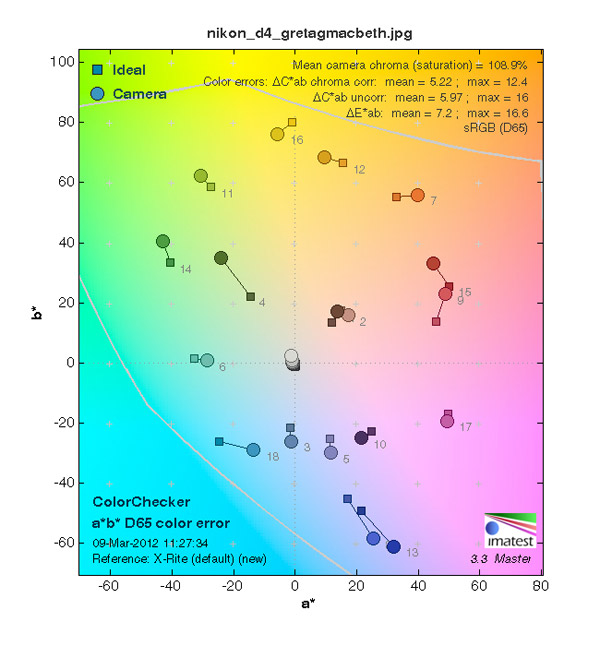 Sharpness: The Nikon D4 shows very good sharpness results in our test images. JPEGs are a little softer than images taken with other D-SLR systems, assumed to be intended to avoid overshot effects (which are shown by nearly all compact cameras). The D4 reproduced the ISO 12,233 chart with a maximum of 2930 lines per picture height, which is a very good result for a camera with a nominal resolution of 3280 lines per picture height. Fine details like the red spool in the standard test box show very good sharpness and fine differentiation of very small image details. The detail in the hair in the model portrait shot and the structure of the red fabric (red T-shirt) are clearly noticeable.
Noise: The camera offers low noise images even when using high ISO speed settings. The luminance noise stays nearly on the same level between ISO 100 and ISO 3200. Color noise is very finely filtered and nearly invisible. The pixel noise graphs and the noise spectrum graphs show a very smooth run and no colored pixels in homogeneously colored areas. We did notice some color clouds in darker areas but only at the very high ISO settings (higher than ISO 6400). Color noise is clearly visible in images taken with the extreme Hi-modes 3 and 4. In these modes the camera uses an ISO equivalent of up to ISO 204,800 where there is noticeable color noise. Nevertheless, we still consider these images usable for documentary photography where the photographer cannot use auxiliary lighting.
Perhaps even more important than the high ISO speed settings are the very impressive results of our dynamic range tests. The camera offers a maximum of 11.4 f/stops and shows remarkably high results even when shooting with higher ISO speed settings. The D4 maintains a level of more than 11 f/stops in images between ISO 100 and ISO 1600. Between ISO 3200 and ISO 12,800 it stays around 9.52 to 10 f/stops, which is a remarkable performance.
Scorecard
Pro
Extremely fast SLR system
Very high dynamic range even in images taken with high ISO speed settings
Sealed body
Con
Large and heavy body
High price
The Nikon D4 has a list price of $5999. For more information and full tech specs, visit www.nikonusa.com.
Lab results and test images by BetterNet, our TIPA-affiliated testing lab. Edited by George Schaub.

LATEST VIDEO

SPONSORED VIDEO
Testing Tamron's SP 150-60mm G2 lens while capturing birds and alligators in Apalachicola, Florida.