Master Class
Six Photographers, Six Styles... One Camera!; You Won't Believe The Results Page 2
Doug Kirkland
I've been in love with the images of Doug Kirkland ever since I first saw some of his Hollywood glamour portraits. Still keeping the tradition of making each and every one of his subjects outstandingly beautiful, exciting, and super-charged with glamour, Kirkland is undoubtedly one of the most exciting photographers you could ever see in action. He just doesn't "talk" to his subjects. He romances them. He directs them. He brings out the very best in each one of them by the way he coaches them and pushes them.

Kirkland's photographs are simple, elegant, and noteworthy...to say the least. He goes from a perfectly white background, by following the same lighting discussed earlier, to a neutral gray background in seconds, simply by turning off the background lights. He'll also sometimes use a spotlight on the background to bring your attention to a particular part of his composition, while he's also creating depth in his portraits. When I think of Hollywood glamour I think of Kirkland.
© 2005, Doug Kirkland, All Rights Reserved
You can see by these three images of his why he still retains his reputation as one of the best.

Kirkland was the first person I had ever seen working with his fill light down by his subject's knees. I didn't understand the reasoning for placing it there, until he pointed out to me how it opens up the eyes and under the chin. The light is not pointed upward, toward the subject. It's pointed directly at the subject's legs, and sometimes directed toward the floor. It's the small amount of light that floats upward that he uses for his fill. The light is two f/stops under his main. You just can't dispute it. It works beautifully. I've been using the same technique ever since he first showed it to me.
© 2005, Doug Kirkland, All Rights Reserved
Jack Reznicki
Jack Reznicki is one of a kind! Although popularly known as a commercial photographer of children, he photographs adults with sophistication second to none. Still, he oftentimes uses the same techniques he uses for children to coax expressions from his older subjects. When he talks to them he communicates like no other photographer I've seen in action. Don't put it past him to put on a clown's nose to surprise his subjects and get a true laugh from them.
© 2005, Jack Reznicki, All Rights Reserved
At other times he can capture the inner mystery of his models and transform them into subjects bigger than life.
© 2005, Jack Reznicki, All Rights Reserved
Me
...and then, there was me. What to do? Copy the great, exciting styles of the glamour, commercial shooters? I tried it. Bad. A total flop. I guess that I can't be anyone other than myself. I come from the school of controlled lighting and posing. I tell my subjects exactly how I want them to pose. I light the traditional way that I learned from my teacher, Joe Zeltsman. I position my lens where it sees either a full face, 2/3, or profile view of my subjects.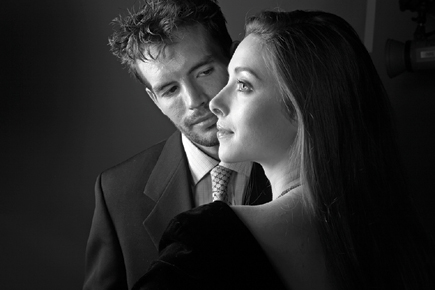 © 2005, Monte Zucker, All Rights Reserved
Yes, I've been influenced by many others, but I still can't get away from my roots. I love using a single light pattern for all of my subjects. I still turn faces toward the light. I pull shoulders back, so that they're not going directly into the lens. I shoot, maybe, 10 percent of what most other photographers shoot. It's my style and I'm stuck with it. No apologies.

I love photographing couples. It's their inner reaction that I'm going for. I want to feel emotion when I photograph people.
© 2005, Monte Zucker, All Rights Reserved
Yes, six photographers, six styles...all using the same camera!

LATEST VIDEO