On The Road With Monte; The Yucatan Experience: Seeing The Light—Part 1 Page 2
We also found a couple vacationing at our hotel who agreed to go along with us. I posed them in a corner of one of the pyramids, positioning them in front of a darkly shaded area that would permit them to stand out against the busy background. I photographed them in color as well as with my Canon EOS D60 that was converted to shoot infrared. (See
www.irdigital.net
for info regarding infrared conversion of digital cameras.) I liked this b&w infrared shot better than the color one.
Wide Angle Lens
Michele Gauger, our host for The Yucatan Experience, gave one of our models a Mexican dress in which to pose. I used a 16-35mm wide angle lens to keep her large in the foreground of the picture, while showing the ruins and sky in the background. The infrared dramatized the scene beautifully. Since she was almost completely in the shade I had to select her face in Photoshop and add contrast to make her stand out more vividly. I also burned-down the bright steps of the pyramid in the background. For this shot I carefully selected the height of my camera to position her head within the clouds. I didn't want the horizon line to cut through the middle of her profile.
Using The Architecture
One of my favorite locations is a town where all the buildings are painted a warm, golden color. An ancient church there always provides us with great picture opportunities. The light that was coming through the series of arches was a natural for posing one of our ballerinas. Depth was assured, as the light from front to back was the same. What I had to be careful about here was where to place her head within the arched doorway of the background. Playing around, moving my camera inches in each direction, I decided that the curved lines in the background would be most effective when they intersected with her head.

Camera height was at her shoulders rather than where one might usually expect for a full-length picture. That was so I could capture the true spaciousness of the hallway. A lower camera position would have distorted her body had I tipped the camera upward to include everything I wanted in the photograph. The elongated shape of today's digital cameras was perfectly suited to capture the essence of the location.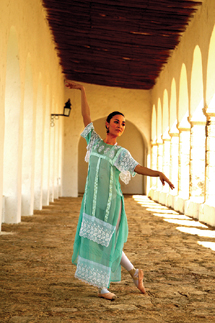 Inside the church was another series of arches that opened onto an open courtyard. The two ballerinas were positioned to place the one in black against the lighter background and the one in white against the darker. The vertical lines of the archway helped to frame the composition of the two dancers. When photographing ballerinas they pretty much pose themselves. What we as photographers have to do is to pose them to the lens. Dancers can pose to any direction. It's up to us to help them position their bodies and legs, so that they look good from the camera's viewpoint.
There are so many more fun pictures from this Yucatan adventure that I've chosen to share the rest of them with you next month. It seems as if my travel classes out of the country are affording people a great reason for taking a vacation, furthering their education, and learning how to adapt professional techniques to what otherwise might be merely vacation snapshots.
Monte and Eddie Tapp will be touring the country in October and November, doing a four-hour extravaganza seminar. It will include lessons on posing and lighting for formal and casual portraiture, as well as travel and scenic photography. Eddie will be demonstrating easily adaptable Photoshop techniques to enhance your photographs and speed your postproduction workflow.
The name of the tour is Imagination to Reality, of course!
Cities Include:
Fort Lauderdale - October 5th
Atlanta - October 8th
Houston - October 9th
Dallas - October 10th
S. Chicago - October 14th
N. Chicago - October 15th
Detroit - October 16th
Cleveland - October 17th
S. Los Angeles - October 22nd
Burbank - October 23rd
Boston - October 29th
Washington DC - October 30th
New York - November 1st
Fort Lee, NJ - November 6th
Philadelphia - November 7th
Seattle - November 12th
Oakland - November 13th
Phoenix - November 15th
(Visit www.zuckertapptour.com for details and to purchase tickets.

If you have any suggestions and/or contacts for any other photo safaris outside of the U.S.A., please contact me via e-mail at mzphotog@aol.com or write about your ideas on the Message Board of my website, www.montezucker.com. Register on my site and tell us about your ideas.

FEATURED VIDEO