Imagination To Reality; Mental Stimulation To Take Your Photos To A Higher Level Page 2
Subject & Background
Jeff's interests were varied. Of course he was interested in portraiture, but he also wanted to break away and photograph people and places. A fun shot of his is this picture of David photographing a tree during the class. I particularly liked the way he placed David in the lower part of the photograph, giving an idea of scale. Jeff did tell me that he was aware of his camera position, placing the dark figure against a light background and the upper part of the figure against the dark background. The effect was perfect.
© 2006, Jeff Medford, All Rights Reserved
Found Still Life
Jeff also photographed the contrasting textures of a wall and pulled it all together with the bicycle at the bottom of the picture. In Photoshop he used a couple of Eddie's "tricks" when he toned down some of the lighter cement blocks on the left by changing the Mode of the photograph to Lab, going into the Brightness channel and burning in those areas. Then, he brought the image back to RGB and darkened the sides and bottom of the photograph by making an Adjustment Layer in Curves. Once in Curves he pulled the highlights all the way down to darken the entire picture and painted out the center of the photograph, effectively burning down the edges and keeping the interest within the framework of his image.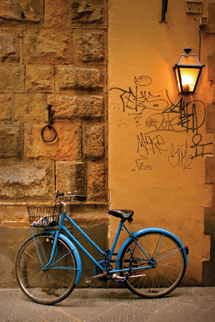 © 2006, Jeff Medford, All Rights Reserved
Panning Effect
One evening in Florence a performer was enthralling a street full of people with his antics. As part of the fun he invited a little girl to be a part of his show. The balloon was part of the act, as was her running around circling inside the crowd. Jeff panned his camera, following the little girl. That blurred the background and caught her fairly clearly. He waited for her face to appear against a dark background. The profile was by accident, but it sure does work.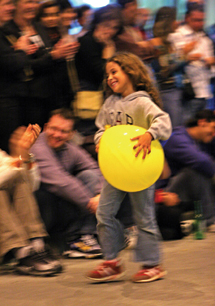 © 2006, Jeff Medford, All Rights Reserved
And Landscapes, Too
Later, after the class was finished, Jeff photographed the Amalfi coastline. To intensify the color and effectively cut through the haze he used another of Tapp's suggestions when he duplicated the Background Layer and set the Mode to Multiply. This intensified the color tremendously. Then, he brought the Opacity of that secondary layer down to the pleasing colors that you see here.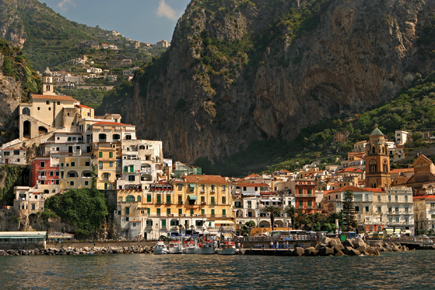 © 2006, Jeff Medford, All Rights Reserved
Monte and Eddie Tapp will be touring the country in October and November, doing a four-hour extravaganza seminar. It will include lessons on posing and lighting for formal and casual portraiture, as well as travel and scenic photography. Eddie will be demonstrating easily adaptable Photoshop techniques to enhance your photographs and speed your postproduction workflow.

The name of the tour is Imagination to Reality, of course!
Cities Include:

Fort Lauderdale - October 5th
Atlanta - October 8th
Houston - October 9th
Dallas - October 10th
S. Chicago - October 14th
N. Chicago - October 15th
Detroit - October 16th
Cleveland - October 17th
S. Los Angeles - October 22nd

Burbank - October 23rd
Boston - October 29th
Washington DC - October 30th
New York - November 1st
Fort Lee, NJ - November 6th
Philadelphia - November 7th
Seattle - November 12th
Oakland - November 13th
Phoenix - November 15th
(Visit www.zuckertapptour.com for details and to purchase tickets.)

FEATURED VIDEO