Master Class
Six Photographers, Six Styles... One Camera!; You Won't Believe The Results
Paul Aresu
I had worked before with some of the other Explorers. I had even employed and trained one of them. But I had never before experienced the likes of Paul Aresu, a New York-based commercial photographer. His clients are like a who's who of dream customers. Aresu is a freestyler. He shoots just like all the commercial photographers you see in the movies: Boom! Boom! Boom! One shot after the other! He goes at it with a vengeance. He doesn't stop.

He's all over the place. In a single burst of shooting he may be standing, kneeling, laying on the floor, holding his camera up in the air and pointing it down (without looking through the viewfinder), or holding the camera down at his feet pointing it up to his subjects. In his own studio he can get away with it, because he has a ceiling and floor that seamlessly blend into the background wall. His assistant (I stepped up at one time to join the fun) sometimes moves his main light from side to side and up and down while Aresu keeps shooting away. He's one of the most exciting photographers I've ever experienced.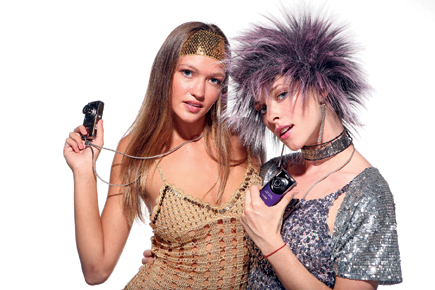 © 2005, Paul Aresu, All Rights Reserved
Aresu's high-key lighting is pretty much the same as we all used. It's two lights, one on each side, aimed directly at the background. They are approximately 6-10 ft from the background and controlled by barn doors on each side of them. To aim the background lights at an angle would be to bounce the lights directly back into the lens. The background in this case was a simple roll of seamless gray paper. The models were standing approximately 15 ft from the background. A single main light (fairly centered on the subjects) was two stops less than the light on the background. Exposure is based on the main light. That's what caused the background to go white.

Custom white balancing for all of the photographers was done by Chip Pecere using an ExpoDisc. Pecere is a portrait and wedding photographer in his own right. He was chosen by Canon to assist us all at these shows, because of his ability to react quickly and take away the potential stress from all the photographers appearing on stage. The costuming, hair, and makeup were all done by Vered, an incredible stylist who really knows the business!
© 2005, Paul Aresu, All Rights Reserved
Back to Aresu and his images. Aresu likes his skin tones very light and tends to slightly overexpose to achieve the effect that he wants. He tends to keep his main light in a flat, silver reflector. He does not usually use a softbox, preferring the light to be crisp and sharp. Like many of the other photographers, Aresu often uses a fan to blow the hair of his subjects, thus increasing the excitement and action in his photographs.

In these first two pictures by Aresu, he's directing the models all the time, getting them excited and keeping them psyched. By special request Canon asked several of us to feature some of their pocket cameras in the photographs. In one of these pictures you'll see the models holding them up or having the cameras hanging around their necks.

Turning off the two background lights in this third picture of his made the background go a neutral gray. Aresu surprised me by putting a softbox on his main light after watching Clay Blackmore do his thing. The biggest surprise, however, was his placing the main light almost directly overhead of his subject, thus creating a totally mysterious effect for this picture. Aresu has no set rules for his lighting, as I could see. He simply moves his lights and his subjects until they line up in complete harmony. I love the tunes he plays with his camera.
Clay Blackmore
Clay Blackmore, on the other hand, is no mystery to me. I discovered him at a college where I was teaching. I trained him and now I'm watching him go on to become one of the great photographers of our time. He, too, doesn't seem to have a single style. Based on the traditional posing and lighting that I originally taught him, Blackmore has expanded his technique to successfully go in several directions. He showed many of them in the small time we were each allotted at the Canon show.

Blackmore has the ability to put couples at ease and get totally natural expressions from them as evidenced in this black and white shot of this couple.
© 2005, Clay Blackmore, All Rights Reserved
The black and white was shot in camera by simply setting one of the camera's preferences to "neutral." When shooting in the Raw mode, you can get black and white and color at the same time with the EOS 5D.

A firm believer in bringing his own props with him, Blackmore supplied one of the models with oriental paper umbrellas when he saw the way she was dressed. A light coming back through the umbrellas from behind made them appear translucent. Several of us helped to hold the umbrellas up for Blackmore.

For his high-key photographs Blackmore followed the lead of the others, exposing for the main light and having the background two f/stops brighter.

Blackmore really surprised me, however, when he used a pretty wild painted background behind his model for this third picture of his.
© 2005, Clay Blackmore, All Rights Reserved
The hat and "cape" were props that Blackmore had brought with him. What really surprised and excited me with this technique was that while he had the model spinning he was also moving the camera during a slow shutter speed. The flash stopped the action, while the slow shutter speed allowed movement in her body, hands, and the background. He caused a small sensation as he was creating these images. I don't know where Blackmore continually picks up his ideas, but I can definitely tell you that his eyes and ears are always open...and he puts all his new ideas to use immediately, adding his own twist to them.
Robert Farber
Robert Farber is a man of many talents. His subjects vary from horses running wild to nudes to commercial shots like he did on stage with all of us. Also working in the Black and White mode, Farber started with a single, elongated light in a softbox. He simply stood his model in front of the light, tilted the camera to almost a 45Þ angle and created this fashion statement in a completely unorthodox manner from what many of us expect.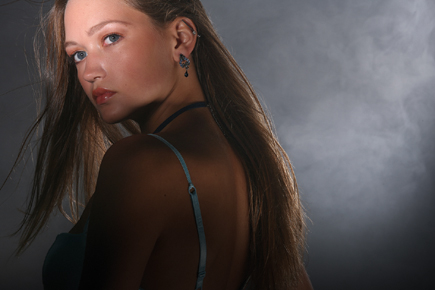 © 2005, Robert Farber, All Rights Reserved
No lights anywhere else...or even a reflector. He just started with one light and then kept adding more lights to achieve any effect he wanted. Continuing to keep everything simple, Farber put a honeycombed attachment on the front of his main light and lit only a portion of his model's face. He did turn on a smoke machine and shot a backlight through it to achieve the effect in this next picture. Notice the unusual cropping and placement of his subject.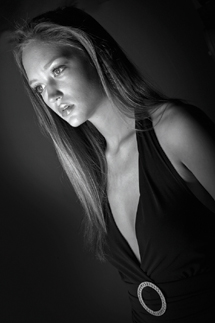 © 2005, Robert Farber, All Rights Reserved

FEATURED VIDEO