Master Class
A Shared Experience; Photo & Digital Arts Go Hand In Hand Page 2
I used that technique in this picture to darken a highlight along the edge of her neck. It's an extremely helpful tool for your arsenal of Photoshop "tricks." The Lightness Channel in Lab Color mode is also an alternative for creating black and white images from color.
Distinct Look
Alexis, another of our models, posed for us wearing some of her own clothing and then posed for us draped in a fabric supplied by Vered. Vered is Canon's representative, who came to the class to lend cameras and lenses to those who wanted to try the latest equipment available. She is also a photographer/stylist on her own, so she brought all kinds of portrait props.

I explained to the class that both of these last two portraits were a 2/3 view of the faces, yet they both have their own distinct "look." As one can see, my 1, 2, 3 approach to portraiture actually unlocks many doors, rather than being restrictive.
High-Key Natural Light
Dave and Cathie Barron, photographers in the class, brought their children in one afternoon for some family pictures. They dressed appropriately by having everyone in pastel blues. The matching clothing allowed me to blend their bodies together in the portrait, so that their faces would jump out.

I wanted to photograph them outdoors. On the way out I noticed that just inside the large glass doors of the hotel the light was beautiful. I decided to use a roll of seamless white paper for a high-key portrait of them there. I positioned them at an angle to the light to create the same light pattern on their faces that I would have used with studio lighting. Remember? One light pattern for just about everything that I do!

I laid them down on the paper and shot away. No one could believe how easy it was. Eddie retouched their pictures afterward, affixing his miraculous "glow" to both of these images and printed them out 24x36" on Canon's W6400 printer.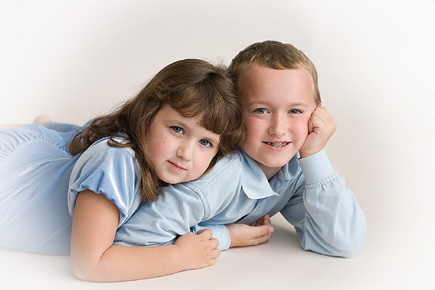 Group Shots
This began as a project to show how to put together groups using simple, stacking plastic outdoor armchairs. There were basically four people to each chair. One seated in the chair, itself. Women's legs are crossed at the ankles with the leg that's closest to camera crossed over the other. Men sit with their legs not crossed and their front leg pointed toward the camera. Then, there was a person seated on each arm of the chair facing in toward the center of the picture. Those seated on the arms sit behind the person seated in the chair. The fourth person stands behind the seated person.

This allows no two heads next to each other at the same level, unless there is a person between them above or below. We added a few more people kneeling or sitting on the ground between the chairs and a few more in the very back, standing on other chairs.

If you look carefully at the class picture you will see that Eddie and I are on both sides. Eddie did this by taking two pictures, moving the camera only slightly. Then, in Photoshop he "stitched" the two images together. His incredible finishing touch was done by applying a third party software (LucisArt, www.lucisart.com) that made the photograph take on an artistic appearance that I had never before experienced.

This was the first joint venture between Eddie and I, but certainly not our last as the five-day class was a huge success. A sell-out far in advance! We will repeat the joint venture again in Hollywood, Florida, in November--hopefully, though, not right after another huge hurricane!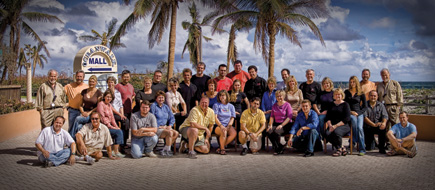 You can see where Eddie is teaching next by visiting his website at: www.eddietapp.com.

See my teaching schedule by going to www.montezucker.com.

FEATURED VIDEO