Hasselblad Introduces Revamped H5D-50c Medium Format Camera with Wi-Fi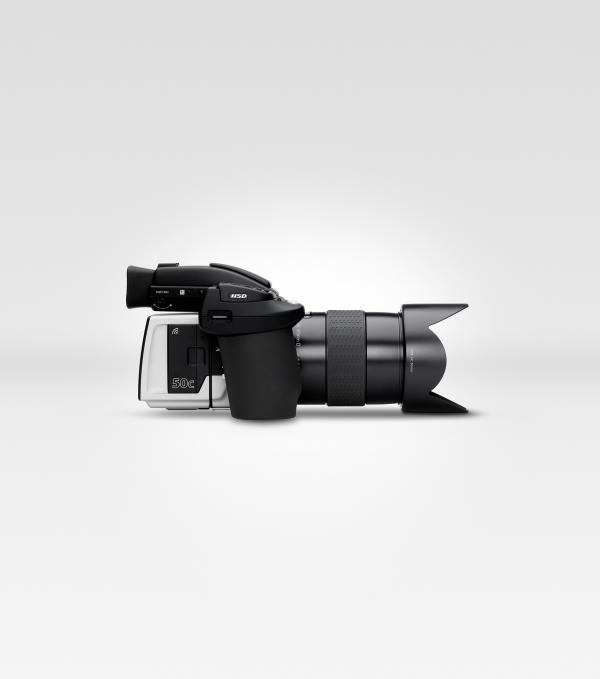 The Hasselblad H5D-50c has been revamped, offering a new built-in Wi-Fi module that allows users to connect Hasselblad's Phocus Mobile software (via an iPhone or iPad) directly to the camera, enabling photographers to browse their images and control the camera without the need for a computer. Designed for flexibility and ultimate image quality, the updated model offers all of the functionality of its sibling including a 50-megapixel CMOS sensor and high ISO performance (ISO 100 - 6400).
The H5D-50c comes with an large, bright HVD 90x viewfinder and allows users to choose between eye-level or waist-level viewfinders. Combining point-and-shoot and tilt/shift, users may also work tethered or untethered to get the most from the camera system in the studio or on location. The H5D-50c provides the option of processing your Raw images in Hasselblad's Phocus imaging toolbox or working directly in Adobe Photoshop Lightroom.
The new grip controls can be used to adjust the settings and operation of the sensor unit—easily controlling the zoom, browsing and menu selection. The Profile handling feature allows users to store complete camera settings in the memory for easy access. Seven camera set-ups can be stored and settings from the body and the sensor unit are stored in these profiles (profiles are managed through the Phocus software). The H5D-50c may be used with film magazines; ISO and WB settings are available on the viewfinder display.
The H5D-50c camera feeds information from the lens (and exact capture conditions) into the camera's processor for ultra-fine tuning of the AF mechanism, taking the design specifications of the lens and the optical specifications of the sensor into account for enhanced sharpness and resolution. The features include a fast capture rate of 1.5 fps, Live Video with a high frame rate, Live View on the rear display, improved camera handling and weather seals, a True Focus AF system with Absolute Position Lock and camera controls, a range of 12 high performance lenses with a built-in central shutter and longer shutter speeds up to 34 minutes (no extra black exposure is required). This model offers an integrated electronic spirit level to make it easy to produce a straight horizon line. Camera information may be viewed on the rear LCD monitor and image data may be stored on CF cards or a computer hard drive.
Hasselblad has not announced a price for this revamped H5D-50c with WiFi but the previous model sold for $27,500, body only.
More info on Hasselblad here.

FEATURED VIDEO