The Goods: Our 4 Favorite Photo Products of the Month
Monochrome Monster
OK, this product is clearly not for everyone but it certainly is special. With the IQ3 100MP Achromatic, Phase One has created the most powerful black-and-white capture device we've ever seen. This digital medium format back features a new 101MP sensor designed exclusively for shooting black-and-white images with a top ISO of 51,200 that makes it "the most light-sensitive medium format digital back" on the market, according to Phase One. Because the digital back has no Bayer color filter, it can capture more available light without obstruction. And since there is no color information to be interpreted, the black-and-white-shooting back can record more image detail and light. The IQ3 100MP Achromatic also has no Infrared (IR) cut-off filter, allowing it to capture light outside the visible spectrum to produce artistic infrared image effects. While we haven't had a chance to try the IQ3 100MP Achromatic in person yet, if you're a monochrome maven who likes to shoot fine art, landscapes, or portraits, this unique digital back could be your ideal capture device (if you can afford it).
Phase One IQ3 100MP Achromatic
$49,990
phaseone.com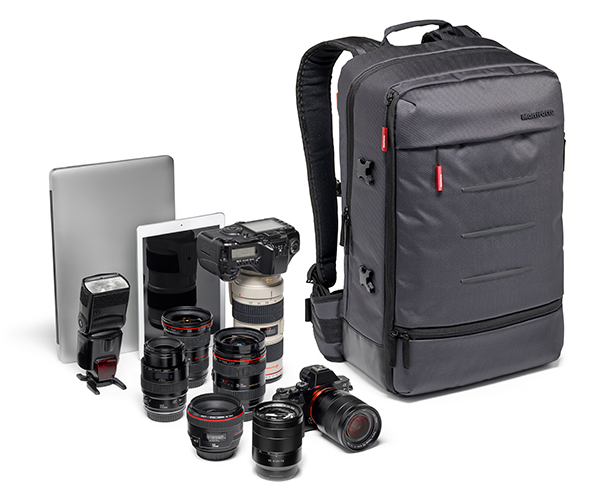 Chic Satchel
Manfrotto's new Lifestyle Manhattan Camera Bag Collection may have a bit of a silly name but these packs look great. The collection includes three models: a camera backpack, a three-way shoulder bag, and a messenger bag. We like the backpack best, which is called the Manhattan Mover-50. Still sounds kind of silly but we're not faulting the stylish and functional design, which can fit a medium-level DSLR with a 70-200mm f/2.8 lens attached and four additional lenses, a flash, and a mirrorless compact system camera with a standard zoom attached and one additional lens. There's also a dedicated compartment to fit a 12-inch laptop and a 9.7-inch iPad Pro. Inside, the pack features Manfrotto's new Flexy Camera Shell divider system with flexible pads that let you customize the bag's interior for a variety of gear setups. The Manhattan Mover-50's coated exterior is water-resistant but if you want additional protection from the elements, there's also a fold-out, anti-rain wrap to help keep your pricey camera rig safe, sound, and dry.
Manfrotto Manhattan Mover-50
$159
manfrotto.us
Tough Customer
Olympus is back with another tough camera and this latest model has one of the best lenses these underwater compacts have seen yet. The rough and rugged Olympus Tough TG-5 boasts a speedy f/2.0 lens for low-light shooting, a new backlit 12MP CMOS image sensor, Olympus' latest high-speed TruePic VIII image processor, and a Field Sensor System that's designed to record movement and environmental data. The Olympus Tough TG-5 is waterproof to 50 feet, crushproof to 220 pounds of force, shockproof from seven feet, freezeproof down to 14 degrees F, and dustproof. It features a 25-100mm focal length (35mm equivalent) lens with a maximum aperture of f/2 (at the widest setting) and new anti-fog lens cover glass. There are also 4K Movie shooting and 4K Time Lapse modes and a Full HD 120 fps high-speed movie setting for capturing slow-motion video. The TG-5 has four macro modes, including a maximum shooting magnification of 7x for capturing cool close-ups of microscopic subjects.
Olympus Tough TG-5
$449
getolympus.com
Master Blaster
Sony continues to build out its E-mount mirrorless camera system with two new G Master (GM) lenses. Following the announcement of the A9 mirrorless camera, Sony launched the FE 16-35mm f/2.8 GM wide-angle zoom and the FE 12-24mm f/4 G ultra-wide zoom. Both lenses are dust and moisture resistant and particularly compact and lightweight for their class but, of the two, we prefer the more versatile 16-35mm model. Weighing just 24 ounces, the FE 16-35mm f/2.8 GM uses two direct-drive focusing lens groups for swift and nearly silent autofocus. While it's not slated to ship until August 2017, we got a chance to shoot with an early version of the lens and it captured beautiful background defocusing (bokeh) thanks to its 11-blade aperture and an XA (extreme aspherical) front element that is the largest Sony has ever produced. The sophisticated optical design utilizes 16 elements in 13 groups. Five aspherical elements and Sony's Nano AR coating contribute to maximum sharpness, contrast, and color rendition while minimizing flare and chromatic aberration. Landscape photographers will love this fine new piece of Sony glass.
Sony FE 16-35mm f/2.8 GM
$2,220
sony.com
The Goods spotlights the hottest premium photo gear out there. If you have a product you'd like considered for The Goods, e-mail images and info to editorial@shutterbug.com.