Photokina 2018: Fujifilm Is Developing a 100MP Flagship GFX Medium Format Camera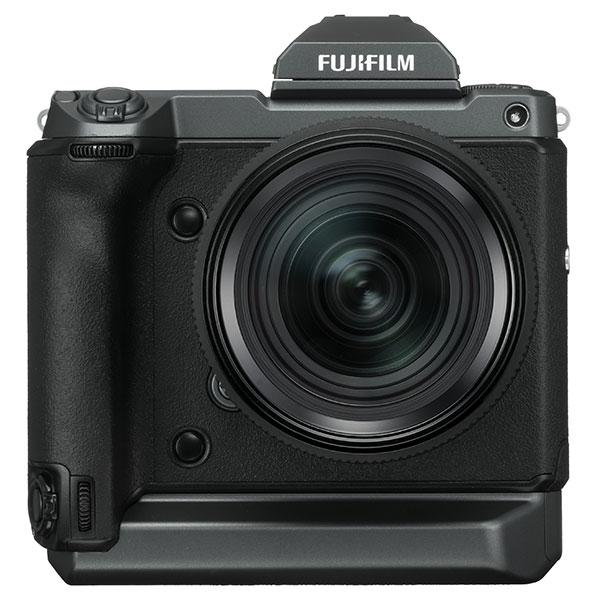 Fujifilm made more medium format camera news at the photokina show in Cologne, Germany today, saying it is developing a new flagship model, which will have a 100MP image sensor. The new camera will be the third tier of Fujifilm's GFX system of mirrorless medium format models, joining the rangefinder-style GFX 50R, which was announced this morning, and the GFX 50S, which was announced at the last photokina show in 2016. Both those models use 51.4MP, 43.8 x 32.9mm Fujifilm G Format 43.8 x 32.9mm sensors.
According to Fujifilm, the new GFX 100 model will be the world's first medium format mirrorless digital camera to feature an image sensor that has phase detection pixels across the entire sensor. This means the camera's AF system should outperform contrast detection autofocus in tracking a moving subject to help deliver greater accuracy in continuous autofocus. This model will also become the first medium format digital camera to feature an in-body image stabilization mechanism, which should help produce sharper handheld, high-resolution images.
The forthcoming GFX 100 (Fujifilm has not said when it will be available or how much it will cost yet) will boast substantially improved video recording capability compared to that of the GFX 50S and GFX 50R. It will be the first mirrorless digital camera equipped with an image sensor with the size of 43.8mmx32.9mm to support 4K video recording (4K/30P).
Here are the main features of the GFX 100, according to a Fujifilm news release:
"FUJIFILM G Format image sensor with over 100MP resolution
The camera is equipped with a 102MP "FUJIFILM G Format ("G Format") image sensor, specifically developed for this model. It delivers the highest image quality in the history of Fujifilm when combined with the fourth-generation "X-Processor 4" image processing engine that delivers superb color reproduction Fujifilm is famous for, and FUJINON GF lenses that offers ultra-high resolving power. Phase detection AF coverage on the entire sensor (approx. 100% coverage) enables fast and highly accurate autofocus regardless of your subject's position within the frame, providing a level of performance that defies the current standards of medium format digital cameras.

World's first medium format digital camera to feature in-body image stabilization
In general, the higher the number of pixels that an image sensor has, the greater the likelihood of producing images out of focus from camera shakes. This is why Fujifilm has developed a new in-body image stabilization system for the G Format. This is also a world's first for medium-format digital cameras. This has dramatically expanded the scope of achieving ultra-high resolution images (100MP+) hand-held, allowing users to explore new photographic opportunities.

World's first medium format mirrorless digital camera capable of recording 4K videoThe combination of X-Processor 4's advanced processing capability and the new image sensor with fast read speed has enabled 4K video recording (4K/30P, 10bit), the world's first for a medium format mirrorless digital camera. The use of the larger image sensor facilitates a shallower depth of field, broader tone reproduction and advanced sensitivity characteristics. This, in turn, makes it possible to record a subject's texture, three- dimensional feel and even the atmosphere of the scene with an unprecedented level of ease.

Lightweight and robust magnesium alloy body with integrated vertical grip
The new camera has the size and weight equivalent to a high-end DSLR despite featuring an image sensor which is about 1.7 times the size of a 35mm sensor. This will be the first GFX camera to feature an integrated vertical grip, making it more robust and comfortable to hold, especially when large telephoto lenses are used."