Field Test: The Nikon D800: Big Camera, Big Files, Big Image Quality
Editor's Note: While we ran a lab test on the Nikon D800 in the July issue of Shutterbug, we also wanted to put the camera in the hands of a shooter who could give us more of an "in the field" look into this impressive camera. Joe Farace stepped up to the plate.
Just when you thought the megapixel wars were over—or at least subsided—along comes the Nikon D800 with a whopping 36.3-megapixel (7360x4912) full-frame CMOS sensor. It's wrapped up in a pro-quality magnesium alloy body that's sealed and gasketed for dirt and moisture resistance. That rugged body weighs almost 2 lbs and when attached to the 24-120mm f/4G ED-IF AF-S VR II Nikkor lens (23.6 oz) that I tested, the package tips the scales at 3.46 lbs. It's big.
What's New?
While Shutterbug ran lab tests on the camera in the July, 2012, issue, I wanted to share some attributes that particularly impressed me, with some comments on how they played out in the field. The D800 has a 91,000-pixel RGB Matrix Metering System, Advanced Scene Recognition System, and, when coupled with a 51-point AF system, is capable of capturing the kind of big, sharp images that wedding, portrait, or landscape photographers can harness to sell big prints. Nikon's sensor and algorithms improve the camera's low-light ability (more later) and lets you focus to -2 EV. The autofocus system has 15 cross-type AF sensors and when used with compatible Nikkor lenses and tele-converters with apertures up to f/8, the camera employs nine cross-type sensors. In Live View mode, you can select from four AF modes, including normal, wide area, subject tracking, and face priority.
I used the D800's face detection when shooting portraits in Live View mode for an upcoming review for Shutterbug's lighting series. The camera quickly honed in on the subject's face no matter where it was within the frame, giving me sharp images even when working at wide-open apertures. The same technology is used in Auto Area AF mode with the optical viewfinder and while you won't see the same "floating boxes" over a subject's face (as you do in Live View) you will notice that the camera immediately focuses on a subject's face instead of other subjects in the frame. The new sensor with 91,000-pixel 3D Color Matrix Meter also places exposure priority on any detected faces to produce correct exposure.
The D800 uses its Advanced Scene Recognition System and Color Matrix Meter III for challenging lighting conditions. The RGB sensor analyzes each scene, recognizes color and brightness while comparing data to Nikon's 30,000-image database.
The camera's Auto White Balance system recognizes natural and artificial light sources and gives the user the option (in the Shooting Menu) to retain the warmth of ambient lighting with its Auto2 setting. The camera offers sensor cleaning, but even when being careful when mounting or dismounting the lens, at small apertures I still saw the occasional and easily correctable small dust spot.
You have direct access to Nikon's Picture Control presets via a dedicated button on the back of the body to tweak photo and video parameters such as sharpness, hue, and saturation. I found it more trouble to use than diving into the Shooting Menu and making a selection there, but you may not agree.
You can capture High Dynamic Range (HDR) images in camera using settings in the Shooting Menu and it does a pretty good job of capturing two exposures to combine a wide range of tones—you pick the spread—and is ideal for shooting events when working with a tripod is not possible. I found it a good option when photographing automobiles at car shows. Hard-core HDR shooters will prefer the camera's Auto Bracketing function, which is easy to access using a button on the top left of the camera (along with Quality, WB, and ISO), and to combine images later in the digital darkroom.
The camera's shutter speed range is from 30 seconds to 1/8000 sec and the electronically controlled vertical-travel focal-plane shutter has been tested to approximately 200,000 cycles. The camera boots up in 0.12 seconds and is ready to photograph action at a burst rate up to 4 frames per second (fps) in FX mode at full resolution or up to 6 fps in DX mode using the optional ($397, street) MB-D12 Battery Pack. Need more speed? The D800 utilizes the new and not supported everywhere USB 3.0 for fast image data transfer.
You can compose through the bright optical viewfinder, which offers 100 percent frame coverage, and can check focus through a 3.2" LCD monitor that has reinforced glass and the always-appreciated Nikon protective cover. The LCD has automatic monitor brightness control, a wide viewing angle, and more. When shooting the D800 and testing different lighting systems, I noticed the images on the LCD were slightly warmer than when viewed on my color correct monitor, but then I discovered you can adjust the LCD's hue using a button on the back of the camera.
For storage, the D800 has dual card slots, one for CF and the other for SD cards. The camera lets you use two cards at a time for backup, overflow, Raw/JPEG separation, and the option of shooting stills to one and video to the other. For high-speed recording and transfer, data can be recorded to UDMA 7 and SDXC/UHS-1 cards and I tested the camera with a 32GB Lexar Professional 1000x UDMA 7 CF card (www.lexar.com). Speaking of cards, you'll want to pick up some large capacity ones because those big Raw and JPEG files are going to gobble up storage space. After formatting my card, the camera showed that I could capture 950 Fine quality JPEG files and I used almost half that capacity in a 2.5-hour portrait session.
All That, And Video, Too
What would any new SLR be without video capabilities, and the D800 gives you a choice of resolution and frame rates, including Full HD 1080 at 30/24p and HD 720 at 60/30p. By utilizing the B-Frame data compression method, you can record H.264/MPEG-4 AVC format video for up to 29:59 minutes per clip (normal quality). You can also manually control exposure and adjust aperture setting in Live View mode for accurate depth of field. You can stream an uncompressed HD signal out of the camera via its HDMI port. This signal can be ported into a display or recording device or routed through a monitor and then to the recording device, eliminating multiple connections. This image can be simultaneously viewed on the camera's LCD and an external monitor.
In The Field
The D800 is a sophisticated camera with tactile controls, menu options, and a long list of Custom Functions (there are 50 of 'em) that provide what seems like an endless amount of customization. After unboxing, take the time to make sure that all of the camera's features work the way you like. This means diving into the 445-page, 11-oz—a Nikon 1 J1 weighs 8.3 oz—User's Manual but take my advice and do it, especially before an important shoot, so you're not fumbling with the extensive array of options in the camera's menus. I didn't have any trouble adapting to the D800 but did have to refer to the User's Manual more often than any SLR I've tested for Shutterbug. Experienced Nikon users will most likely get up to speed faster.
I first took the D800 into the town of Parker, Colorado (est. 1864) for a stroll and to familiarize myself with the camera and the capabilities of the 24-120mm f/4G ED-IF AF-S VR II Nikkor lens. I enjoyed shooting with this lens because of its fast aperture, useful zoom range, and vibration reduction capabilities, but in some cases when shooting at 24mm I could see slight pincushion distortion when architectural details were placed close to the extreme edge. Some camera manufacturers have finally seen the wisdom of incorporating a pop-up flash in professional cameras and the D800 features a built-in flash (GN 39 at ISO 100) that's compatible with Nikon's Creative Lighting System, including having a built-in Commander mode for controlling wireless Speedlights. It's useful for fill flash or just a quick snapshot.
I took the D800 into my studio for a portrait session with Misa Lynn. It's a professional camera and as such has a sync cable connector along with a hot shoe where I mounted a PocketWizard Plus III (www.pocketwizard.com) to trip the monolights in the studio.
Tip: My studio has relatively low ambient light, so one way I sped up the D800's autofocus is by setting the monolight's modeling lights at maximum output and since most studio lights have this option, it lets the camera's AF lock focus faster. Another good idea is to move the AF focus point in the viewfinder, placing it on the subject's eyes. This is easy to do on the D800 by using the multi-selector button on the back that acts like a flat joystick.
Unlike images made out of doors, the limited color palette of my studio portraits produced smaller (for the D800 anyway) unretouched JPEG files that ran at approximately 15MB. By comparison, files shot under the same lighting conditions using my Canon EOS 5D were 4MB. Speaking of colors, the files shot both outdoors and in the studio were the most neutral that I've seen from any SLR that I have tested.
You can shoot in several aspect ratios such as 5:4 for 8x10 prints or apply a 1.2x crop factor to produce what Nikon calls "a slight telephoto effect," but we all know that it's just changing apparent angle of view. D800 shooters can use Nikon DX-format (1.5x) lenses for more lens options and an apparent "enhanced focal range" at 15.4-megapixel (4800x3200) resolution.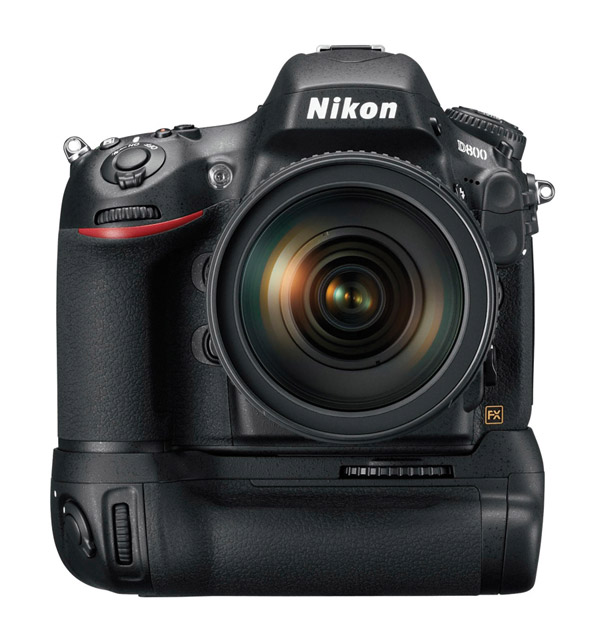 As to why you might want to do this, keep this in mind: a full-resolution image measures 24.533x16.373" at 300dpi and, depending on the JPEG image quality selected, I worked with file sizes that ranged from 32MB to finished, retouched 108MB TIFF files. While testing the camera in Parker I bumped into a Shutterbug reader and one of the first questions he asked me was how to use the camera to capture smaller files that he could use on his website, so I guess Nikon is onto something here.
Even JPEG files are big so post-processing will be a mite slower than files made with your 16.2-megapixel Nikon D5100. This was especially noticeable on one of my portrait retouching plug-ins that simply choked on the D800's files. On my Mac Pro (5GB RAM, 2x2.66GHz Dual-Core Xeon) processing times for something as simple as flattening layers takes noticeably but not painfully longer.
Tip: If these longer processing times on your Mac OS or Windows computer or crashed plug-ins get annoying, adding more RAM is a good idea. It's a less expensive alternative to replacing your system with something newer and faster, although that possibility will always be lurking in the background, especially if you're a wedding shooter dealing with hundreds, maybe thousands, of 50MB Raw images.
Images are routed through a 16-bit image-processing pipeline and can be opened in third-party Raw software such as Adobe Camera Raw, which is at Version 6.7 as I write this and is compatible with the NEF files from the D800. (Author's Note: Photoshop CS6 was launched as I was finishing this review.) Other formats captured include many flavors of JPEG, uncompressed TIFF, as well as the always-useful Raw+JPEG.
The D800's sensor design includes the aforementioned optical low-pass filter and 14-bit A/D conversion that has a high signal-to-noise ratio and excellent low-light ability. The camera's nominal ISO range is 100 to 6400 that's expandable using the camera's ISO Sensitivity Settings found in the Shooting Menu, not buried in Custom Settings. These settings give you choices of 50 (Lo-1) or 25,600 (Hi-2) or, using CF Hi-1, you can split the difference at ISO 12,800. In the past I tested a camera's maximum and expanded high ISO capabilities by shooting buildings (perhaps because I spent years photographing architecture) but this time I decided to shoot something more real world.
I photographed a model relaxing on a sofa illuminated by two table lamps (out of camera frame) with their three-way bulbs set at 50w each. The shots were made with the camera's Long Exposure Noise Reduction "on" (High and Low options are available) and with the High ISO Noise Reduction setting at Normal. The image at ISO 6400 has fine but visible noise, although it would be acceptable for photojournalistic images made under this kind of low light. It produced an exposure of 1/30 sec at f/4 and depending on how large the image is reproduced here, you may not see any noise.
The expanded setting of 12,800 (Hi-1) produced an insignificant increase of noise over the ISO 6400 with noise best described as medium and I had to bounce back and forth between other settings to see the difference. At 25,600 (Hi-2) you'll see coarse noise with increased contrast and a tiny amount of underexposure. Being able to shoot at these high ISO settings opens a gateway into the use of small LED light sources and is possible because the D800's sensor is engineered to deliver low noise images whether shooting JPEG or Raw format.
One of my last shoots was a visit to Historic Downtown Littleton (est. 1859), which is one of the few remaining historic shopping districts along the Front Range and a charming place for strolling, window shopping, or making photographs. While there I got a chance for some impromptu wet weather testing but some occasional showers didn't deter me or affect the camera in any way.
I wrapped up my time with the D800 with a visit to the VWs on the Green car show, an annual gathering of Volkswagen enthusiasts in Colorado where you can see anything from lovingly restored air-cooled cars to fast water-cooled front-wheel-drive models. The flexibility of the focal length range of the 24-120mm f/4G ED-IF AF-S VR II Nikkor lens and the versatility of the D800 to photograph what seems like anything, anywhere made it an ideal, albeit heavy, companion for both of these shoots.
Field Test Conclusions
It will take some practice to familiarize yourself with many of the Nikon D800's controls and the endless creative possibilities represented by Custom Functions and menu options. Even experienced Nikon shooters may take a bit longer than the pick-it-up-and-shoot approach they may have had with older models.
Despite have a learning curve that's not so much steep as long, Nikon's D800 is more than just a camera; it's an imaging instrument that can be configured to photograph whatever and however your heart desires. There seems to be more electronics in the D800 than in a new Mercedes and makes my old Nikon F2SB, which was sophisticated for its time, seem as antiquated as a Model T Ford. The Nikon D800 is the single most impressive SLR that I've tested in all my time writing these reviews and represents a commitment to delivering imaging excellence at a relatively affordable price.
At $2999 it's far from cheap but it won't break your piggy bank like a $7999 D3X or a $5999 D4. The D800 is everything a professional shooter needs to deliver maximum image quality to their clients and advanced amateurs who can afford one won't feel camera envy for a long, long time, even after newer models are launched. Color me impressed.
Vs. Medium Format?
Is the D800's image quality better than medium format? As reported in our July, 2012, issue, DxOMark (www.dxomark.com) thinks so. When their reference website for camera image quality testing released its analysis of the camera, it was, as of the testing, the best camera ever in terms of image quality—even better, it seems, than medium format cameras.
For more information, contact Nikon Inc. at: www.nikonusa.com.

FEATURED VIDEO