Canon EOS Rebel T5 DSLR Review
[Editor's Note: Lab test and comments are by Betternet, Shutterbug's TIPA-affiliated testing lab. TIPA (www.tipa.com) is a worldwide association of photo and imaging magazine editors. Shutterbug is the sole US member of the association, and Editor at Large George Schaub serves as a member of the Technical Committee. Please click on the Image Tech tab on the home page for more camera review tests.]
The Canon EOS Rebel T5 (a.k.a. the Canon EOS 1200D) is the newest model of Canon's entry-level digital SLRs. The T5 features a new sensor with significantly higher resolution than the previous model (18 instead of 12MP) and minimal differences in the sensor dimensions. It also has a large LCD screen with higher resolution: it's a 3-inch, rear display with 460,000 RGB dots. Compared to the higher resolution LCD screens on some rival DSLRs, the Canon Rebel T5's new screen is only average. It's also a fixed, mounted monitor instead of a swiveling/tilting display. The T5's optical SLR viewfinder has a magnification of 0.8x and a field of view of 95 percent.
This small DSLR delivers all standard exposure modes like P, S, A, and M. In addition, it has seven scene modes, including Portrait, Landscape, "Portrait at night," and Sports mode. In "Automatic+" mode the camera will choose the scene mode automatically. Exposure and scene modes are chosen with the large dial on the top, which also allows the user to switch into movie mode. Besides the shutter release button, the small setup dial behind the shutter button, the flash mode button, and the power on/off switch, it's the only control element on the top.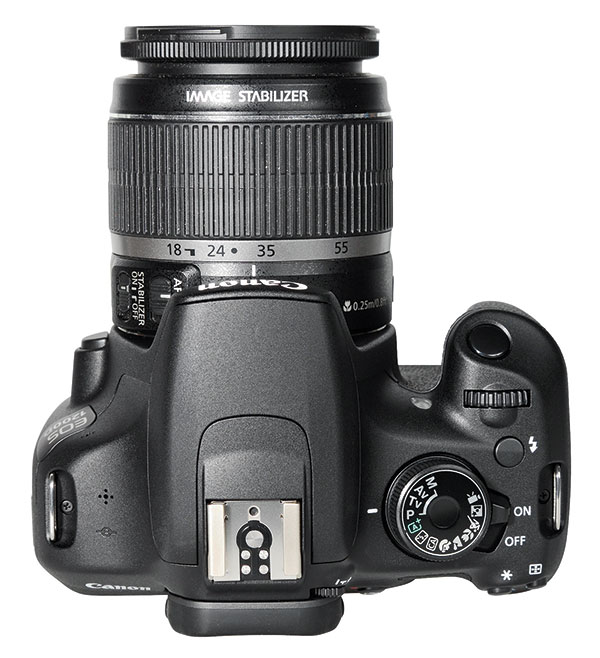 On the back there's a standard four-way cursor field for menu navigation. The buttons of the control field are also used for white balance, ISO, drive mode (single shot, continuous, or self-timer) and for setting up the AF mode. There are no joysticks or equivalent functional elements, although a "Q" button helps because it offers a Quick menu on the screen with the most important image parameters and settings.
Comments On Image Quality
Color: The Canon Rebel T5 produced very good colors with a slight oversaturation (109 percent). The overall tendency is toward a slightly cool look with enhanced red and yellow nuances. The somewhat cooler touch is noticeable in the standard test box shot, especially in the gray background. The exposure parameters of this image are set by the Canon automatically (P mode with ISO 100) and are nearly perfect.
The T5 captured skin tones that showed a tendency toward more saturated orange colors, but this effect is very slight. In contrast, the red color of the model's T-shirt in our test shot is really boosted and exaggerated. The differentiation in red colors is less than the differentiation in other colors.
Sharpness: The Canon Rebel T5 delivered nice, high-resolution images. It reproduced the ISO 12.233 test chart with 3376 lines per picture height, which is nearly the nominal sensor resolution (3456 lines per picture height). The very crisp look of its images is also a result of a very intense sharpness filtering, typical for Canon SLR cameras. The over/undershot results are very high (more than 20 percent) and we noticed enhanced and nearly double contours on hard contrast lines, such as the slanted edge line of the 12.233 chart and the Siemens stars in our standard test box shot. The very high artificial sharpness is also noticeable in the portrait shot.
Noise: The Canon Rebel T5 showed a very good performance in the noise tests. Luminance noise results were very low and kept well below 1.0 percent in images taken with ISO 100 to 3200. Only at the highest ISO speed setting did it cross the 1.0 percent line. Color noise gets visible as "color grain" in images taken with ISO 800. In images taken with ISO 3200 and 6400, it is clearly visible as color stains/blotches in the gray pattern of the Stouffer 4110 test chart. However, the anti-noise filtering of the camera stays on a low level, which means it doesn't create the "impressionist filter look" typical of many compact cameras. The dynamic range results are very good. The camera captures images with a maximum of 11.4 f/stops (ISO 200) and keeps a high level of more than 10 f/stops up to ISO 1600.
Comments On Video Functions
The Canon Rebel T5 is able to record Full HD videos with 1920x1080 pixels. It allows the user to shoot with a maximum of 30 (29.97) progressive frames per second and offers other frame rate settings such as 25p and 24p. In 720p mode it is able to record 50 or 60 progressive frames per second.
The Canon uses a QuickTime MOV container as file format and H.264 compression technology. The camera allows for manual exposure settings in video mode and ISO speed settings are allowed up to ISO 6400. Video clips taken with this high ISO speed setting show clearly visible noise artifacts combined with an intense anti-noise filtering, which causes a loss of details. Our recommendation is that it should only be used when there is no other option in low-light scenes.
The camera offers a viewfinder button on its back, which toggles between the optical viewfinder and a live preview viewfinder on the LCD screen. In video mode this button is also used as the video recording button. When using the video mode on this mode dial the user can change exposure parameters manually and it will show a 16:9 frame as the live preview on the LCD screen.
Comments On Video Quality
The Canon Rebel T5 showed an average performance in our video tests. The resolution of the videos taken in Full HD mode, with a nominal resolution of 1080 lines per picture height, were reproduced with 557 lines per picture height. This is an average result for SLR cameras and no surprise to Canon SLR users; these cameras capture video sequences with a very smooth look. Even though the images are very smooth (and even a little bit blurred) we noticed some aliasing and moiré effects in some scenes. But color reproduction in video mode is very good. The camera's auto white balance system delivered excellent performance and colors are only slightly oversaturated. The dynamic range and noise results are on an average level. The video test shot of the Stouffer 4110 chart showed a maximum of 9.46 f/stops, which is equivalent to the results of a good entry-level camcorder. Luminance noise is very low, while color noise becomes visible in videos taken with ISO 1600 and higher. At ISO 6400 mode it gets really annoying.
Lab results and test images by BetterNet, our TIPA-affiliated testing lab.
Scorecard
Pro
+ Very good results in resolution test
+ Nice colors, though a little bit "optimized"
+ Compact design, easy handling
Con
- Fixed LCD screen does not tilt/swivel
- Low-res LCD
- Average video performance
Image Tech is where we publish web-exclusive lab reports on cameras. To read the reports please go to the Shutterbug homepage at www.shutterbug.com and click on the Image Tech tab on the top navigation bar. New reports are published frequently, so check Image Tech for updates.
The Canon EOS Rebel T5 with an 18-55mm IS II kit lens has a list price of $549.99. For more information, visit www.usa.canon.com.

FEATURED VIDEO