Canon EOS Rebel T3: A Rebel For The Less Rebellious
"We've got to consider the pros and cons, make a list, get advice…" —Jim Backus in Rebel Without a Cause
I don't blame you for being confused. I just tested the EOS Rebel T3i, which I really, really liked, and along comes this review of the EOS Rebel T3. What's the difference? In practical terms the Rebel T3 is somewhat smaller in size, lower in resolution (12.2 vs. 18 megapixel), and lacks the T3i's swiveling LCD screen. Oh yeah, and it's cheaper, too. But is it any good?
What's New?
Even more so than the Rebel T3i, the EOS Rebel T3 is designed to be the "move up" camera for the shooter dipping his or her toes into the digital SLR waters for the first time. Yet, it's a camera that can be handled by anyone, including aspiring pros, and lets you make great-looking photographs under all kinds of lighting conditions with ease. The Rebel T3 features a 12.2-megapixel CMOS image sensor, a DIGIC 4 Imaging Processor, a nine-point autofocus system, and a 63-zone dual-layer metering system.
Need to shoot action? You can shoot in continuous mode up to 3 fps (frames per second), just slightly slower than the T3i's 3.7 fps. The camera is compatible with SD, SDHC, or the new extended capacity SDXC memory cards that load from the same bottom compartment as the battery, just like many point-and-shoots. The Rebel T3 shoots 1280x720 HD movies—you knew it would have to do that—and features an honest ISO range from 100 to 6400 without any dirty dancing involving so-called "extended" settings.
The camera will be offered in a kit with Canon's new EF-S 18-55mm f/3.5-5.6 IS II zoom lens for $599.99, MSRP. That's the lens I mostly used to test the camera and it features wide-angle to mid-range zoom flexibility with the advantage of Canon's optical lens-shift Image Stabilization (IS) system that should yield up to a full four stops of shake correction. The version II in the name indicates that this lens uses new IS algorithms that distinguish between normal photography and when the camera is panned to automatically provide the optimal level of image-shake correction. So there's no need to choose IS modes, making the lens less challenging for new SLR shooters.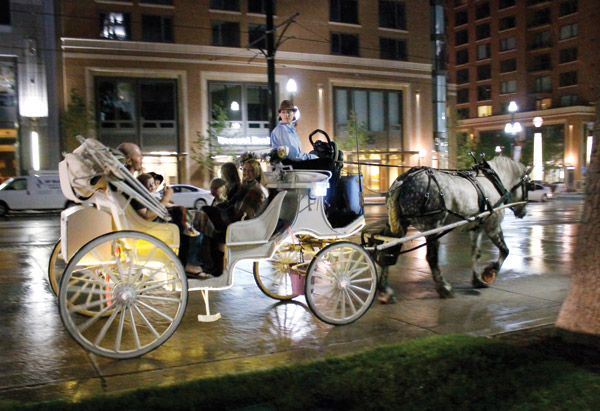 In The Real World
The Rebel T3's ergonomics are similar to the T3i's, but not completely because the latter camera's BG-E8 battery grip is not a listed accessory. Too bad, but I'm guessing that price point was the big issue and Canon wanted to keep the T3's price as affordable as possible. That said, there seems to be a tiny bit of difference in the build quality and materials used. The T3i is definitely a slightly more expensive feeling camera and you can tell that when you pick it up. On the other hand, the T3's LP-E8 battery is the same as the T3i's and should produce a maximum of 550 shots (200 if Live View is used).
Road trips: For this test I headed down to Castle Rock, Colorado, a wonderful town located midway between Denver and Colorado Springs for their annual Cruise In that features all manner of cars from hot rods to high-end imports. One of the things I wanted to do was try some HDR photography of the cars using my much-loved (but alas now discontinued) Tamron 11-18mm f/4.5-5.6 lens. Although the 11-18mm lens does not offer the latest Vibration Compensation (VC) features found in newer Tamron lenses, I was easily able to hand hold the Rebel T3 for three-shot bracketed sequences to make several ghost-free HDR shots of the cars assembled for the event.
Next stops on the Rebel T3 tour were Utah and New Mexico, making this camera the most traveled and most extensively tested of any SLR I've written about in recent years.
I said this about the Rebel T3i: "At ISO 6400 and long exposures there was some noise visible in sky areas, but it was relatively controlled using the default noise reduction settings." Subjectively, the digital noise found in nighttime images made with the T3 at ISO 6400 is noticeable, which may be attributed to an imaging sensor that's just a tiny bit smaller than the T3i's. Applying noise reduction software such as Nik Software's (www.niksoftware.com) Dfine almost but not quite eliminated noisy remnants. Yet, Mary and I found that the best part of shooting the Rebel T3 at night was having the flexibility to shoot what in some places might be called street photography.
In The Studio
The T3's pop-up flash is controlled by pushing a fashionably styled but hard to see black-on-black button that's located behind the control wheel on the front of the camera, near the shutter release. The pop-up flash does a good job as fill for close-up outdoor portraits but for indoor or full-length outdoor portraits, you need more power so take a look at one of Canon's EX Speedlites. Not surprisingly, the Rebel T3 does not have a standard studio flash connection for a sync cord but I wanted to see how the camera worked in a studio setting. While testing the Broncolor Senso/Litos (www.bronimaging.com) lighting system I used the Rebel T3 to make images during two of the sessions with the lights in my new studio. Broncolor's RFS 2 transmitter easily slid onto the Rebel T3's hot shoe and worked perfectly with the EF-S 18-55mm f/3.5-5.6 IS II lens in not only producing tack-sharp images but also in giving me cropping options. Get this: during the same sessions I also shot my EOS-1D Mark II N and the Rebel T3 consistently produced better color—reflected on its accurate LCD—than its more expensive albeit older sibling.
Like its slightly more upscale brother the Rebel T3i, the T3 is an inherently honest camera that provides a gateway—bridge if you will—from point-and-shoot digicams to a real jumping up and down digital SLR. If you can afford a T3i ($899.99, MSRP) that's my preferred choice but if you can't, the Canon EOS Rebel T3 ($599.99, MSRP) represents one of the best SLR bargains around.
Travel Tip
Since I don't have an SD card reader in my travel kit, I hooked the EOS Rebel T3 directly to my MacBook Pro using the provided cable but got a "camera not recognized" from Canon's software. A download link from Canon's website offers updates that, when I tested the camera, were not compatible with Mac OS Lion, but works fine for previous Mac OS versions. It's always a good idea to download any available updates to camera software, especially if you're running the new Lion OS. On the other hand, the .CR2 (Raw) files produced by the Rebel T3 are compatible with the latest Adobe Camera Raw that will run on Lion.
EF 8-15mm f/4L Fisheye USM Lens
In addition to the EF-S 18-55mm f/3.5-5.6 IS II kit lens, Canon loaned me their new EF 8-15mm f/4L Fisheye USM lens. The lens was designed for photographers who want the kind of look and feel only possible with extreme wide-angle and fisheye photography. While not for everyone, the EF 8-15mm f/4L delivers 180˚ diagonal angle-of-view images for all EOS SLR cameras with imaging formats ranging from full frame to APS-C and provides 180˚ circular fisheye images for full-frame EOS models.
The lens features UD glass for suppression of chromatic aberration, a Subwavelength coating for reduced ghosting, and a newly developed Fluorine coating that keeps soiling, smears, and fingerprints to a minimum. That's good because the curved front element precludes the use of any kind of protection filter. Any other filter used must be gels that can be loaded into a rear holder that accepts up to three filters.
The new EF 8-15mm f/4L Fisheye is built to the standards of the Canon L-series of lenses, meaning only the finest optics, best construction, and best performance. Because of the (removable) lens hood, even with the EOS Rebel T3's 1.6x multiplication factor, the EF 8-15mm f/4L Fisheye can create vignetting when shot at 8mm. To help you understand the difference in angle of view, I've prepared two sets of comparison shots: the first shows the EF 8-15mm f/4L Fisheye at both ends of its range when mounted on the Rebel T3 and the second shows the lens when used with a full-frame camera, in this case, the EOS 5D.
Tip: Remove the lens hood when shooting at the 8mm setting, especially with a full-frame camera because although it creates a circular image, it will vignette at the top. That solves one problem—vignetting—but creates another one because it sticks that bulbous front element out even further into the slipstream. So be careful out there because this is an expensive ($1499) lens.
For more information, contact Canon U.S.A., Inc. at: www.usa.canon.com.