Canon EOS Rebel SL1 DSLR Review
The EOS Rebel SL1 is an ultra-small SLR system; in fact it is smaller than many bridge cameras and even lighter than many other digital cameras.
Nevertheless it's a real SLR system with Canon's APS-C-sized image sensor, which is a little smaller than other APS-C-sized sensors made by Nikon, Sony and other manufacturers. Due to itsvery small body the grip on the right hand side is also is a bit smaller than usual and the handling of the camera is a bit tricky for photographers withlarge hands. The small body doesn't allow for a status LCD on the top, so all information on image parameters and menu settings are shown on the LCD screen on the back.
The LCD screen is very big (3") and sports high resolution (1,040.000 RGB dots.) In addition, it is touch sensitive and allows for changing numerous parametersdirectly with a touch of a finger. The LCD screen can also be used to define the active focus sensor or change parameters like ISO speed. Unfortunately, the LCD screen is fixed. A swivel monitor would be helpful in many photographicsituations and of course when recording video.
The new Canon is able to record full HD video with up to 1920 x 1080 pixels with all the standard framing rates. The camera offers manual exposure settings in video mode and supports continuous, silent auto focusing when used with Canon's STM lenses. The camera can take up to 4 frames per second in full resolution and up to 7 Raw images in a series. The official number of images in series when shooting in JPEG mode is 28 frames, but we took up to 68 shots in series when using a fast 16 GB Class 10 SDHC in our tests.
The Canon SL1 doesn't offer WiFi functionality, but is compatible with Eye-Fi cards for wireless image transfer to a server in the studio.
As an entry level camera it offers active scene detection in full automatic mode as well as 10 manually selected scene modes. The four most important scene modes (portrait, landscape, sport, macro) are chosen directly with the large modedial on the top; six additional scene modes like "Food" or "HDR recording" are available in the menu when the mode dial is set to "SCN". In addition, the camera offers all standard exposure modes P, Tv, Av, M (P, S, A, M) and, tocorrect the automatic exposure settings, a +/- 5 EV stop compensation.
Setting up the camera is easy: The parameter dial near the shutter release button, the (4 way) cursor field on the back and the touch monitor allow for fast menu navigation. A second parameter dial on the back would be helpful to change aperture size and shutter speed at the same time when recording in M mode.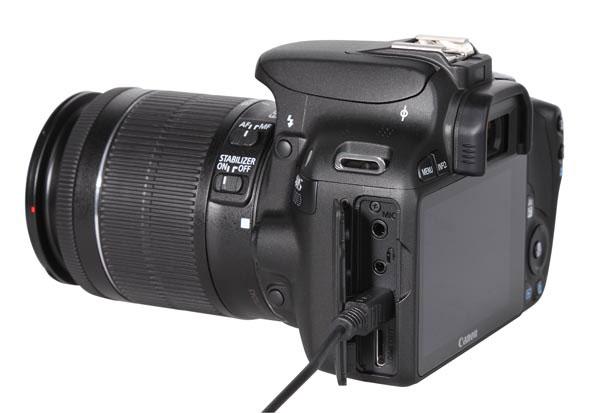 Comments on Image Quality
Color: Just like nearly all Canon SLRs, the SL1 showed a very good performance in the color reproduction tests. The standard test box as well as the portrait shot have natural looking colors,albeit a little over-saturated but still on an acceptable level. The automatic white balance system causes a slightly cooler look in many images. Red colors show a little shift into the yellow direction and some blue nuances are also boosted for what one could call an "optimized" color look. Yellow, green and – most important – the skin tones are nearly perfectly reproduced.
Sharpness: The sharpness is very good, but not perfect. The camera reproduced the test chart with 3032 of 3456 lines in picture height on the image sensor. The good result is partly achieved by avery intense sharpness filtering, which causes clearly visible overshot effects on contrast lines (see Siemens star and other black and white elements in the test image.) This artificial sharpening is more intense than the USM filtering done by most other digital SLRs.
The high sharpness filtering causes a slightly artifical look in the hair structure in our portrait shot and some minor Moiré problems.
Noise: Up to ISO 1600, the noise results are very good. The luminance noise stays on a very low level even for an APS-C camera and the color noise is filtered out very efficiently, all of which give images a clean and smooth look. The noise spectrum is very smooth and on a low level.
At higher ISO speed settings the filtering effects get clearly visible and the color noise is noticeable as color clouds or smeared colors. While ISO 3200 images are still acceptable this effect gets really annoying at ISO 6400 and ISO 12,800.
The dynamic range results are extremely good for an entry level system. The camera achieved up to 11.4 f-stops as a maximum at ISO 200 mode and more than 10 f-stops even at ISO 1600. In the two highest ISO speed settings (6400 and 12800) the dynamic range decreases rapidly to 8.69 and 7.78 f-stops, respectively.
Pro:
+ extremely compact body for an SLR system
+ easy handling, a lot of individual settings and many function elements (mode dial, setup wheel, touch screen, second shutter release button for live preview or video recording)
+ creates images with nice colors
+ full HD video recording, manual exposure settings in video mode
Con:
- body coated by a "cheap" looking plastic cover, which nevertheless is handy and provides a good grip
- missing swivel monitor (for video recording)
- sharpness is a little exaggerated by intense sharpness filtering
Contact: www.canonusa.com
Shutterbug's Image Tech lab tests and comments are by Betternet, our TIPA affiliated testing lab. Edited by George Schaub.

LATEST VIDEO