Nikon D750 DSLR Review
Technically speaking, the Nikon D750 is the follow-up to the Nikon D700, which was released six years ago. That's a lifetime between digital camera models, and to say that the D750 is not nearly as groundbreaking as its predecessor from way back in 2008 is not a put-down of this new full-framer from Nikon. It just shows how far imaging technology has come and how much the D700 was ahead of its time.
But the Nikon D750 is a fine camera in its own right as I learned while testing this 24.3-megapixel, FX-format DSLR during a recent trip to Puerto Rico. If it doesn't, necessarily, have the "wow" factor of its predecessor, which was one of the first more affordably priced and compact full-frame DSLRs on the market, that's just because the market has expanded.
Nowadays, Nikon's full-frame line includes four DSLRs in a range of prices to suit different photographers. The Nikon D750 ($2299) slots between the 24.3MP D610 "entry-level" full-frame camera ($1999) and the pro-level 36.3MP Nikon D810 ($3299) and its specifications are about where you'd expect them: nestled closely between those two models. At the same time, the D750 is a clear step down from the big, tough, and extremely fast D4S ($6499), Nikon's flagship, full-frame, pro DSLR. Or, in other words, the D750 is decidedly a "photo enthusiast" camera, though it has many features borrowed from Nikon's pro models, including some stellar video skills.
Here's what I thought of the Nikon D750 after my time field-testing it in Puerto Rico.
Build
The Nikon D750 sticks to the "Goldilocks principle" of new products: i.e., not too big and not too small. While it's a feature-rich camera, the D750's body is relatively portable and lightweight, tipping the scales at approximately 27 ounces, with the battery loaded. Nikon, in its pre-release hype on the D750, made a big deal of emphasizing the DSLR's "monocoque" camera build, which uses carbon fiber for the front body and cover and magnesium alloy for the rear cover and top cover. In real-world use, the camera feels sturdy but not hefty, balanced and ergonomic. Surprisingly, it's a bit lighter and narrower than the entry-level, full-frame D610 model, a camera that always felt a bit flimsy to me.
For my trip to Puerto Rico, I wanted to travel light, particularly when it came to camera gear. I used the D750 with the AF-S Nikkor 24-120mm f/4G ED VR kit lens (the D750 kit sells for $2996) and the new AF-S Nikkor 20mm f/1.8G ED, which is a lens I quickly fell in love with while shooting street photography in Old San Juan. That camera and two-lens setup, along with a 15-inch MacBook Pro and iPad, fit neatly into my Tenba Discovery Photo/Laptop Daypack, with still plenty of room for peripherals, accessories, snacks, maps, and a Stephen King novel I brought for the plane ride.
While certainly not as durable or weather-resistant as the D4S, which is a veritable tank of a camera, the D750 is gasketed and sealed to prevent dust and moisture and the shutter is rated at a respectable 150,000 cycles. As part of my field test, I photographed people riding horses along the beach and got considerably splashed as the horses galloped along the shore. (See corresponding photo.) Salt water can be very damaging to digital cameras but the D750 was unaffected by the saline spray. Overall, the build of the camera feels like a significant step up from the D610, without adding heft or making it less portable. But anyone more comfortable with a serious pro body, like the D4S, might find the D750 lacks muscle.
Features
As mentioned previously, while the D750 might not have the build of a professional camera, it's loaded with useful, pro-worthy features. I'll get into a discussion of the effectiveness of these features in the Performance section, but here's a rundown of what Nikon's packed into this camera.
Nikon's choice to put a "newly designed" full-frame CMOS chip into the D750 with the same 24.3 megapixels of resolution as the D610 doesn't take many risks. The sensor is equipped with a low-pass optical filter, unlike the D810, which, in an effort to increase resolution, sharpness, and dynamic range, has no filter.
The D750 offers a significant upgrade over the D610 when it comes to autofocus performance. The D750 shares the same Advanced Multi-Cam 3500-FX II, 51-point AF focus system as the D810. The AF system uses 15 cross-type AF sensors with 11 cross-type sensors that are functional up to f/8.
Where the D750 actually goes beyond the D810 is in its low-light focusing capabilities: it can lock onto subjects in as little as -3 EV illumination, which is a first for Nikon's cameras. Speaking of low light, the D750 features an ISO range of 100-12,800 that's expandable to (Lo-1) 50 to (Hi-2) 51,200. The camera also offers Nikon's 3D Color Matrix Metering III system, employing a 91,000-pixel RGB sensor, over version II of the system in the D610, which uses a 2016-pixel sensor.
While some rumor sites had pegged the D750 as an "action camera" in the pre-release buildup, speed is not exactly this model's forte, though it is quick, with the ability to shoot at 6.5 frames per second (fps) shooting speed in either FX (full-frame) or DX (cropped) formats. It's powered by Nikon's EXPEED 4 image processor, which is another upgrade over the D610, and sports a 3.2-inch, tilting, vari-angle LCD screen with 1229K dots of resolution. (This is Nikon's first full-frame DSLR with a tilting screen.) The Nikon D750 has dual SD Card slots, which is a handy feature for data overflow or for splitting still and video files, or Raws and JPEGs, onto two separate cards while shooting.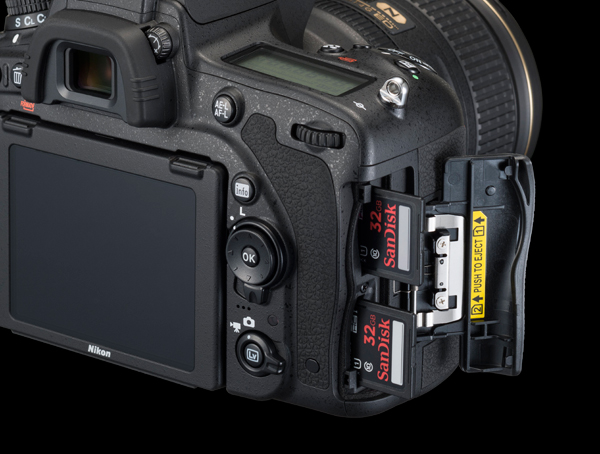 In another step up from the D610, the D750 has the same video features as the higher-priced D810, including full 1080p HD (1920x1080 resolution) at 60/30/24p; the Power Aperture feature; headphone and microphone jacks; Zebra stripes to spot overexposed areas; as well as the ability to select frequency ranges for the internal stereo microphone.
Performance
While it certainly doesn't give the 11 fps-shooting D4S a run for its money, the Nikon D750 is a very capable performer suited for a number of different types of photography. During my trip to Puerto Rico, I used it to photograph fast-moving salsa dancers in tricky indoor lighting; colorful street scenes in Old San Juan; golden hour at the El Morro fort along San Juan Bay; free-falling cliff divers along the Atlantic Ocean; dark caves filled with ancient Indian petroglyphs; and the aforementioned horses charging through the surf.
It was quite a workout for the D750, and while it didn't excel at any one particular test, it was a solid all-around full-frame DSLR. (See accompanying photos with details in the captions for all these shoots.) I was particularly impressed with how the D750 handled photographing the dancers along with the backing band of musicians. I borrowed a Nikkor 70-200mm f/2.8G ED VR II lens to use with the D750 for that particular shoot and it was a winning combo. I was primarily shooting at ISO 6400, and my images looked sharp and crisp with very little image noise despite the fairly substantial 24.3 megapixels of resolution.
The D750's burst speed of 6.5 fps is a slight upgrade over the D610 (6 fps), but the buffer rate for these two cameras is nearly identical and that's not ideal if you shoot in Raw+JPEG mode, as I often do. Using a 32GB SanDisk Extreme (45MB/s) card with the D750, I could sustain my bursts for about two to four seconds of continuous capture before the buffer would have to clear so I could shoot again. This was fine for the dancers since I'd shoot short sequences of one performer and then move on to the next one, but a bit more frustrating when I tried to shoot extended bursts of the horse charging toward me and had to wait every few seconds for the buffer to clear, thus missing some key shots. If you're just shooting JPEGs, however, I had no problems sustaining 20-second (and more) continuous shooting, even at the highest resolution (FINE) setting.
The D750 also felt a step slow, at times, during normal operation of the camera. When trying to quickly play back images after capturing them, for example, I'd periodically get the hourglass symbol as the camera tried to call up the shot. Also, sometimes menu functions would sometimes take an extra split second to register after pressing a button, which can get aggravating when you're in a hurry. I noticed a similar operational sluggishness on several other D750 models being tested by colleagues. This is strange considering that the D750 is powered by the newer EXPEED 4 processor and should be pretty zippy. I was testing a final production D750 model—not a prototype—so hopefully a firmware upgrade will be forthcoming from Nikon to remedy this.
Image Quality
The D750's image quality was exceptional, across the board. I mentioned earlier in this review about how the D750 produced crisp, low-noise images in shots of dancers I captured at ISO 3200 and 6400. I was even more impressed with the clean results at ISO 12,800 in images captured in extreme low lighting in the La Cueva del Indio (Caves of the Indians) in Arecibo. A photo included in this review, which I captured at ISO 12,800, is sharp enough that you can see the individual grooves in the stone that have been worn away by the elements, with very little to no chroma or luminance noise to distort them.
In better light, the D750 positively shined, producing vibrant but accurate color, natural-looking skin tones, and ample amounts of resolution that would rival some lower-end medium format camera systems. For a DSLR aimed at enthusiasts, that's a pretty remarkable achievement. I think landscape, portrait, and street photographers will find the D750 well suited for their needs. Even though the D750's sensor doesn't seem drastically different from the one in the D610, I thought that consumer full-framer produced excellent image quality so the new model is in good company. And even though the D750 uses an optical low-pass filter, which should, ostensibly, affect resolution, sharpness, and dynamic range, I found the differences between this camera and the higher-end D810 to be barely noticeable. As for video quality, the D750 is the equal of the pro-level D810, and costs $1000 less to boot.
Conclusion
On paper, the D750 might not seem like the most exciting camera Nikon has ever produced, but this middle-tier, full-frame DSLR is a very solid, all-around performer with some of the best image quality we've ever seen from a camera selling for under $2500. While the D750 may not be the fastest DSLR we've ever tested—and probably needs a firmware upgrade to fix some of its operational lags—and not really suited for extreme fast action (despite its pre-release hype), it's a great option for landscape, portrait, and street photographers. Boasting image quality that rivals some low-end medium format cameras and video quality that's on par with professional HD-DSLRs, the D750 is a serious imaging machine in a relatively lightweight and affordable package.
For more information and full specs, visit Nikon USA here.
More D750 sample images from my test shoot in Puerto Rico are below. Click on each shot to see a full size photo.

FEATURED VIDEO