Watch This Spectacular Video of the Northern Lights Shot from the Window of a Passenger Plane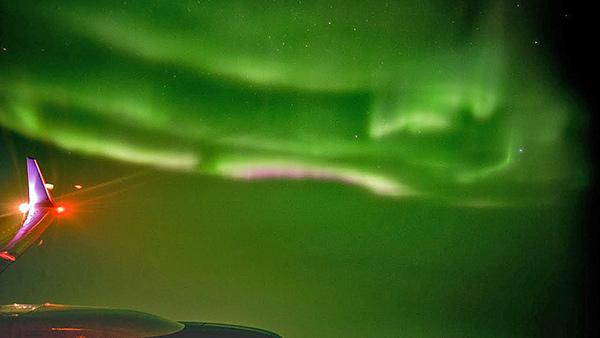 We've run dozens of stories of photographers shooting amazing photos and videos of the Northern Lights, aka the Aurora Borealis. But many, if not most, of those images and clips have required some serious traveling and trekking by the photographers to capture their Northern Lights moments. Sometimes though, you just stumble upon them by sheer luck.
In the case of landscape photographer Aryeh Nirenberg, he shot the mind-blowing footage of the Northern Lights you see below from the window seat of a passenger plane at 35,000 feet.
"This was captured on Delta Flight 446 from JFK in New York to KEF in Reykjavik, Iceland on December 31st 2016," Nirenberg writes. "I had a whole row to myself so I set up my Nikon D810 with a tripod at the plane window and captured this footage."
So the next time you're booking a flight to Iceland, you might want to seriously consider getting a window seat.
If you liked that clip, check out these photos and videos of the Northern Lights that we've reported on previously:
Look at this Stunning 4K Video of Whales & the Northern Lights in Norway by Philip Bloom
Here's the Backstory on Chris Burkard's Once-in-a-Lifetime Shot of a Surfer in Iceland (VIDEO)
Nature Photographer Creates Stunning Landscapes of Finland's Winter Under the Northern Lights
Adventure Photographer Camps On Greenland's Frigid Icecap to Capture the Aurora Borealis

FEATURED VIDEO