Student Union - Shaun Bangert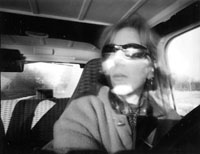 Photos © 1999, Shaun Bangert, All Rights Reserved
Shaun Bangert
University of Michigan School of Art & Design
Currently. Second year of graduate studies, pursuing a Masters in photography. Teaches advanced, intermediate, and color photography courses at Siena Heights University.
Focus. "I love the entire process of photography--not just taking the pictures but also the darkroom experience. Although I do a lot of work digitally on a computer, in the darkroom I seem to have a direct contact with the image, much more so than with a computer, where there always seems to be a separation."
Goal. "To teach photography, from basics to advanced, but particularly the fine arts aspect, and to motivate students to think about issues and ideas they can express in their photographs."
Cameras. Pentax K1000, Honeywell Spotmatic, Nikkormat, Calumet 4x5; "and the toy cameras--Holga and Lubitel."
Spectrum. "I have three distinct bodies of photographic work: self-referential, digital manipulations, and `straight' photography of my family and environment."
Influences. "Sally Mann, Ralph Eugene Meatyard, Mike and Doug Starn, August Sander."
Film. For black and white, T-Max 100 and 400. For color, "just about everything--Kodak, Fuji, and Agfa."
Shaun Bangert was recommended to us by Carol Jacobsen, assistant professor, University of Michigan School of Art & Design.
If you are a professor, instructor, or department head and have a student whose work deserves attention, contact us by fax: (407) 267-1894, e-mail: editorial@shutterbug.net, or by mail at Shutterbug, 5211 S. Washington Ave., Titusville, FL 32780.

FEATURED VIDEO