Student Union - Ryan Conn
Ryan Conn
Savannah College Of Art And Design
Savannah, Georgia
On The Record. "Documentary photography is an opportunity to revive the belief that there's truth in photography. Once we believed that the picture was a true moment; lately we've come to doubt that because of computer manipulation and staged events. Although the photograph is not as respected as it used to be, and perhaps not taken as seriously, I think there can still be truth in it."
Currently. In his junior year, majoring in photography.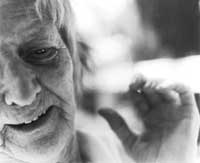 Photos © 1999, Ryan Conn, All Rights Reserved
Current Project. "I've been documenting aspects of the life of my grandmother and her three sisters in the house where they all live. I feel I'm getting to know them more as I continue to photograph them."
Goal. Documentary photogra-phy, but "I've had a lot of experience with school, but nothing with real life. I don't think I'll know for sure until I've had a chance to see more."
Education. "The facilities here are topnotch, and the professors are outstanding. The orientation is very commercial--they make sure we're equipped to get a job."
Influences. Bill Burke, Walker Evens, Weegee, Julia Margaret Cameron. "There are so many...it seems everyday I discover someone new."
Camera. Nikon N50; Mamiya 645.
Film. Tri-X, Kodak Professional E100.
If you are a professor, instructor, or department head and have a student whose work deserves attention, contact us by fax: (407) 267-1894, e-mail: editorial@shutterbug.net, or by mail at Shutterbug, 5211 S. Washington Ave., Titusville, FL 32780.

FEATURED VIDEO