Student Union - Jorel Cuomo
All Photos © 2004 Jorel Cuomo, All Rights Reserved
Homework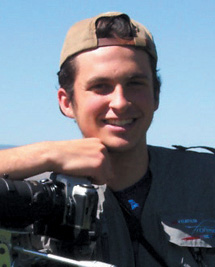 Jorel studied photography, and his other high school subjects, as a home student enrolled in Vision HCP, an alternative education school. He plans to continue his photo studies at either Brooks Institute or Colorado Mountain College. Photography is already his career, as he sells his nature prints and schedules portrait sittings and event photography through his website, www.jorelcuomo.com.

Although nature photography has been his primary interest--he is a 2004 recipient of a North American Nature Photography Association student scholarship--Jorel has lately been thinking more about portrait and people photography. He plans to emphasize portrait work in his studies, but doesn't want to be a studio photographer. "I want to be outdoors as much as possible," he says, and would eventually like to be doing commercial assignments for manufacturers and suppliers of outdoor clothing and equipment.
Please Read This
Do you know a student whose work deserves recognition? If so, contact our editorial department by e-mail: editorial@shutterbug.com or call (321) 225-3121.

FEATURED VIDEO