Student Union - Jared Milgrim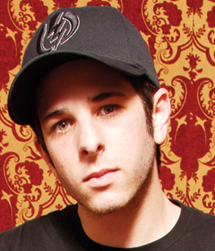 Jared Milgrim
Brooks Institute Of Photography
Santa Barbara, California
Rock On
Jared will graduate this summer, but he's already well on his way to a career as a professional photographer; in fact, most would consider him already there, as he shoots assignments for musicians' promotions and CD packages, has an agency representing his work and a website (www.JRMPhoto.com) that showcases his skills and accomplishments.
All Photos © 2006, Jared Milgrim, All Rights Reserved
Jared says that high school photography classes gave him "an amazing foundation," as well as a love of photography. He also took workshops at Brooks while still a high school sophomore. A relative in the music business opened a few doors for him, and his photographic ability and affinity for music did the rest. The future? "I'd love to travel with bands," Jared says, "and do documentary photography of the group on tour."
If you know a student whose work deserves recognition, contact our editorial department by e-mail at: editorial@shutterbug.com or call (321) 225-3121.

FEATURED VIDEO