Student Union - Eric Michael Svik
Photos © 2003, Eric Svik, All Rights Reserved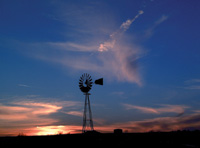 Sam Houston State University
Huntsville, Texas
Time And Place

When we spoke with Eric he was finishing up his studies at Southeast Community College in Lincoln, Nebraska, in anticipation of attending fall classes in the photography program at Sam Houston State.

Originally a business student, Eric says, "It took me a long time, but with photography I've found what I want to do." His goal is a career as a nature photographer for magazines and nature journals.

"When I go out to shoot, I just let everything go," Eric says. "I often don't even have a specific place I'm going to photograph. I'll kind of wander and let things happen. When I look for something specific, more than likely I'm not going to get that shot. I'll get home and the shot I totally didn't expect is the one that's perfect. The best things seem to happen when you least expect them.


Do you know a student whose work deserves recognition? If so, contact our editorial department by e-mail: editorial@shutterbug.net or call (321) 269-3212.