Student Union - Cheryl Mayhew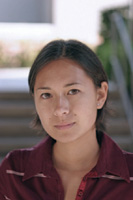 © 2004 Rudy Vega, All Rights Reserved
Cheryl Mayhew
University Of California
Irvine, California
Late Night

Cheryl is in her third year at the university, where she's majoring in studio art with a concentration in photography. Her goal is a career in advertising that will combine her interests in both art and photography.

The nighttime images you see here are from a personal project. Cheryl photographs on deserted streets long after dark with a tripod-mounted medium format camera. Her exposures range from 15 to 45 seconds. Cheryl does her own developing and printing.
Photos © 2004, Cheryl Mayhew, All Rights Reserved
One of her chief influences, she says, is Brassai, the noted chronicler of the world after dark and author of Paris by Night.
Cheryl Mayhew was recommended to us by Rudy Vega, photo instructor at the University of California, Irvine.
Do you know a student whose work deserves recognition? If so, contact our editorial department by e-mail: editorial@shutterbug.com or call (321) 225-3121.



LATEST VIDEO

SPONSORED VIDEO