Student Union - Camilla Slertman
Camilla Slertman
School of Visual Arts
New York City
Currently. In the first year of the graduate program in Photography and Related Media.
The Route. "I was working [in a completely unrelated field], when I took a black and white printing course at the School of Visual Arts, and the instructor encouraged me to apply to the graduate program."
Education. "The SVA program doesn't focus too much on technique--it's expected that you have that down before you enter. Here they really make us think a lot about our photography, about why we're doing what we're doing, and I think that helps develop style."
Influences. "I don't look at other photographers too much--I'd like to establish my own style--but one that I like in particular is Deborah Turbeville. I'm influenced mostly by painters, and filmmakers like Akira Kurasawa and Ingmar Bergman."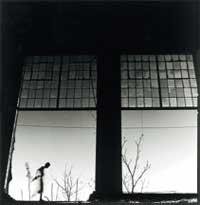 © 1999, Camilla Slertman, All Rights Reserved
Goal. Fashion photography for one of the major fashion magazines in New York City. "I'm already working with some model agencies in New York, taking photos for my portfolio and the models' books."
Preferences. "I like to shoot outdoors, and I'll take the train out of the city on weekends to find interesting locations; then I'll return with a model. I never put anyone in clothes, I always have them wear fabric that I drape around them. The choice of the model and the fabric is often suggested by the location."
Film. Ilford 100, Agfa Ultra, and Kodak Portra.
Camera. Hasselblad 503CW.
Camilla Slertman was recommended to us by Charles Traub, chairperson of the graduate program at the School of Visual Arts, New York City.
If you are a professor, instructor, or department head and have a student whose work deserves attention, contact us by fax: (407) 267-1894, e-mail: editorial@shutterbug.net, or by mail at Shutterbug, 5211 S. Washington Ave., Titusville, FL 32780.

FEATURED VIDEO