Student Union - Anna Shteynshleyger
Anna Shteynshleyger
Yale University School Of Art
New Haven, Conneticut
Currently. In her junior year of a four-year degree program.
Goal. To be an advertising and commercial photographer, "with, someday, a studio of my own."
Education. "There are some very technical required classes, but I also got a good background in art history and the history of photography. And there's a lot of personal freedom here to explore and think about the concept and the esthetics of the photograph. It's not just a technical school, although most people think that."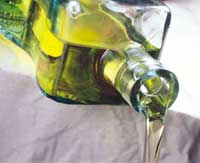 Photos © 1999, Anna Shteynshleyger, All Rights Reserved
Influences. "It's hard to pick out any photographers--there are so many good images everywhere--but I admire Rodney Smith, for his graphic style in black and white fine art and fashion; and Irving Penn, for the simplicity and perfection of his images.
The Still Life. "At this point, in school, still life photography gives me the freedom to work with the entire process. I can define the whole image and control everything. I enjoy working with people, too, but commercial still photography means more freedom to me, more control over the image."
Vision. "You look at the setup and the image so many times and for so long that you become too familiar with it, and sometimes you become blind to it; you don't see the smaller details. You have to train yourself to really look and see what is missing and what details you can make better."
The Road Ahead. "I've done no assisting so far, but will go for that after graduation. I think it will be in New York, which is a good place to learn the business. I'm originally from Sweden, and ultimately plan to go back to live and work there."
Cameras. A 4x5 Sinar, Canon 35mm system, Mamiya 645.
Anna Jonsson was recommended to us by RIT professor Alan Vogel.
If you are a professor, instructor, or department head and have a student whose work deserves attention, contact us by fax: (407) 267-1894,
e-mail: editorial@shutterbug.net, or by mail at Shutterbug, 5211 S. Washington Ave., Titusville, FL 32780.

FEATURED VIDEO