Student Union - Amy Postle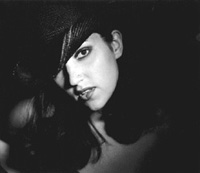 Photos © 2001, Amy Postle, All Rights Reserved
Brooks Institute Of Photography
Santa Barbara, California
Eastbound
"The goal all along has been to work for Vogue magazine," Amy Postle says. She'll soon be graduating and heading to New York City, where she hopes her art and graphics training as well as her photography education will land her a job as an Art Director. From that vantage point she hopes to work her way into shooting fashion photography.
An advertising major at Brooks, Amy has done her share of assisting, including an internship stint in New York, but she doesn't want to go that route. "I got a lot of real-world experience from assisting, and I enjoyed it, but to break into the business I'd rather try the more exciting fashion magazine environment."
Amy Postle was recommended to us by Paul Meyer, an instructor at Brooks Institute of Photography.
Do you know a student whose work deserves recognition? If so, contact our editorial department by e-mail: editorial@shutterbug.net or call (321) 269-3212.

FEATURED VIDEO