Shutterbug's Top 10 Most Popular Photography Stories of 2018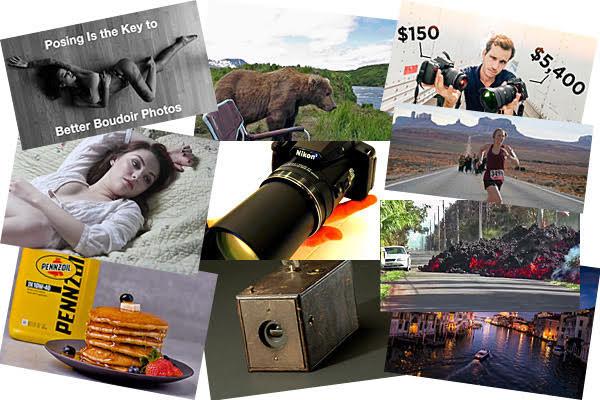 You must really like us! For the fourth consecutive year, Shutterbug.com saw record traffic growth in 2018, beating the previous year's numbers by 8%.
What can we attribute all these eyeballs – including from a surprising number of new visitors – to our website? There's still a strong desire out there for fun photography stories, helpful photo how-tos, and informed but accessible reviews of the latest imaging gear.
That's all reflected in our annual roundup of the Top 10 Most Popular Stories on Shutterbug.com. In the below list of our most popular articles of 2018, a veritable smorgasbord of photo topics cracked our top 10.
Included is everything from viral photos and videos, to our recommendations of our favorite superzoom cameras and our picks for the greatest cameras of all time, to boudoir photography tutorials, night photography tips, and more.
Check out our list, click through to read the stories, and keep visiting Shutterbug.com. As we like say, we grow as a photography website as you grow as photographers!
To read a full story, just click on the headline link. (To see Shutterbug's most popular stories of 2017, click here.)
1. Watch Incredible Time-Lapse Footage of Lava Consuming an Entire Car in Hawaii (VIDEO)
We've been sharing photos of the powerful beauty of lava flow from the erupting Kilauea volcano in Hawaii on our Instagram feed, but here's some new footage showing its destructive danger. (More..)
2. Husband Turns Wife's 5K Race Photo into Hilarious Photoshop Meme
Here's some Photoshop fun to end your day. When Reddit user zacharino's wife ran her first 5K race, she surprised everyone by finishing first in her age group. Even better was her fierce race photo, which shows her hauling ass with an intense look on her face and headphones jammed into her ears. (More..)
3. These Are Our 7 Favorite Superzoom Cameras for Getting Close to the Action
Superzoom point-and-shoot cameras are an attractive option for everyone from casual shooters to serious enthusiasts because they provide unmatched versatility and value, typically in compact, portable packages. (More…)
4. You Can Shoot Sensual Boudoir Photos at Home with Simple Gear & Natural Light: Here's How (VIDEO)
There's a lot of interest in boudoir photography these days, and a recent tutorial on the subject was our most popular story over the past several months. Therefore, we decided to feature the video below, with a very basic technique for shooting boudoir photos, using simple gear and available light. (More…)
5. Watch These 9 Photography Tricks Advertisers Use to Make Food Look Delicious (VIDEO)
We love learning insider tricks that photographers and food stylists use to make images of food look more scrumptious. In the below video from Blossom, you'll learn nine surprising food hacks that advertisers use to get you salivating at their food photos. (More…)
6. Watch a $150 Nikon vs a $3000 Sony in This Camera Shootout. The Results May Surprise You
Is having an expensive camera really that important for capturing great photos? That's the question the intriguing new video below from photographer Pierre T. Lambert hopes to answer. (More…)
7. A Top Portrait Pro Demonstrates How to Pose Models for Better Boudoir Photos at Home (VIDEO)
Anita Sadowska is a professional fashion photographer based in Dublin, and in this quick tutorial she teams up with an experienced model to demonstrate simple posing techniques that will help you shoot boudoir photos at home like a pro. (More…)
8. Watch This Massive Bear Casually Sit Down in the Grass Next to a Photographer (VIDEO)
Now here's something you don't see every day! In the short video below, a photographer captures gripping footage of a giant brown bear (a grizzly?) casually strolling up to him, yawning, and then briefly sitting down in the nearby grass as if it owned the place. (More…)
9. Here's a Cool Trick That Lets You Take Amazing Night Photos Without a Tripod (VIDEO)
If you've ever tried to take to take a photo at night without a tripod you know the results can be very blurry or very noisy or, in most cases, both. But sometimes it's difficult to use a tripod when, for instance, you're photographing a street scene in a well-known location where there might be lots of people, aka tourists. (More…)
10. The Top 20 Greatest Cameras of All Time
Selecting the greatest cameras of all time is inherently subjective, and a great way to start arguments. In compiling the list below for Shutterbug of the "20 Greatest Cameras of All Time," I tried mightily to temper my own preferences and prejudices by vetting it with a handful of bona fide camera experts, but I take full responsibility for any errors of commission, omission, or ruffled feathers. I've split my "greatest hits" list squarely down the analog/digital divide, with 10 film cameras and 10 digital models making the cut. (More…)

FEATURED VIDEO