These Were the TOP RENTED Photo and Video Products of 2020
(Editor's Note: This story originally appeared on the Lensrentals blog.)
Each year, we take a look at the data and rentals we were able to provide for our customer base and use it to get some perspective on where the industry might be heading. Certainly, this year was a different one, with the pandemic putting many stops to the industry and the jobs available – but we still were able to rent out thousands of piece of gear each month, to help other create their vision. While much of the event photography space was stopped in its wake, there was still a substantial amount of gear rented for personal projects and other things.
As always, we're so thankful to have your business this year, despite how tough it may have been for you and your colleagues. So let us take a look at the most popular gear rentals of 2020.

If this isn't your first year seeing this annual list (you may want to peek at our list for 2019, 2018, 2017, and 2016), you'll see that for the top spots, it's more of the same year after year. The Canon 24-70mm f/2.8L II has been the top rented lens for us for years now, and the Canon 5D Mark IV has held the top spot for cameras when it was released back in 2016. Will that change with the new flagship of the Canon EOS R5?
Only time will tell, but it didn't make this year's list, as it wasn't released until a few months ago, and stock has still been difficult to get ahold of. Another point of interest is that no new gear has made the top 20 this year, and it has just been a year of the standard rentals from previous years. A number of things could account for that, from brands like RED camera holding off their release schedule because of the pandemic, or the pandemic putting halts on so many opportunities within the industry.
While the most popular rentals are interesting, let's dig into it further and talk about individual lens mounts and how much each lens mount takes of the market share. This was a big year for the Canon RF mount, which should be no surprise. With seven lenses announced in 2020 for the RF mount, and two new cameras to the lineup, Canon has made a big push towards their mirrorless platform. Nikon has also pushed their Z platform, though they didn't see the rentals to show much of an improvement from previous years.
When it comes to video mounts, the industry is still predominately using the Canon EF mount of lenses, with PL mount lenses coming in a distant second – with those margins shrinking. Surprisingly, the Sony E mount has seen a pretty substantial dip on the video side, which could be cause for speculation (I'll let the comments handle that).

If we broaden the view a bit, we can take a look at market trends as a whole and how they correlate to individual lens brands and their marketing strategies. If we take a look at individual lens brands, you'll see that the biggest thing to notice is that Nikon has now fallen to fourth, behind Sigma. However, no one had as big of a fall (on the photo side) as Sony has, with a -1.59% market share drop. When you move to the video side, you see that Sigma and Angenieux both had tough years, losing some of their market share to Canon and Fujinon, while Zeiss stayed steady in their share.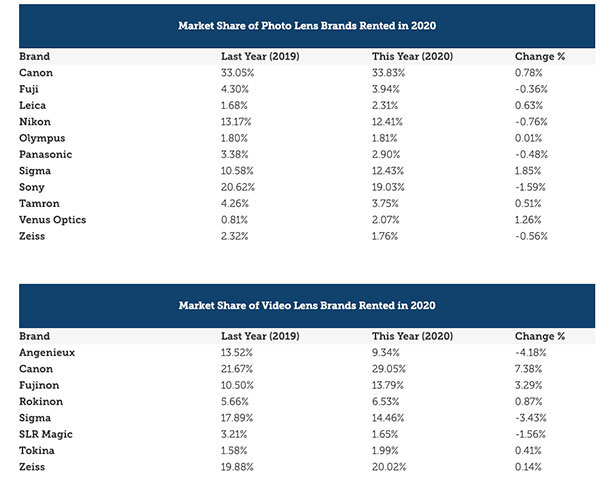 Next, let's take a look at different trends within the camera market. We rent a large variety of camera types, from small action cameras like GoPro HEROs, to cinema-quality systems from ARRI and RED. When we look at the data below, the most obvious statistic to note is that mirrorless is eating away at the DSLR market, as brands like Canon and Nikon focus even more of their attention and resources on their mirrorless platforms.
Additionally, medium format cameras doubled their marketshare this year, which Fuji's platforms have a lot to account for. ENG (electric news gathering) cameras also took a small dip in their numbers, as a result of what could likely be chalked up to cancellations of productions because of Covid-19 – but your guess is as good as mine.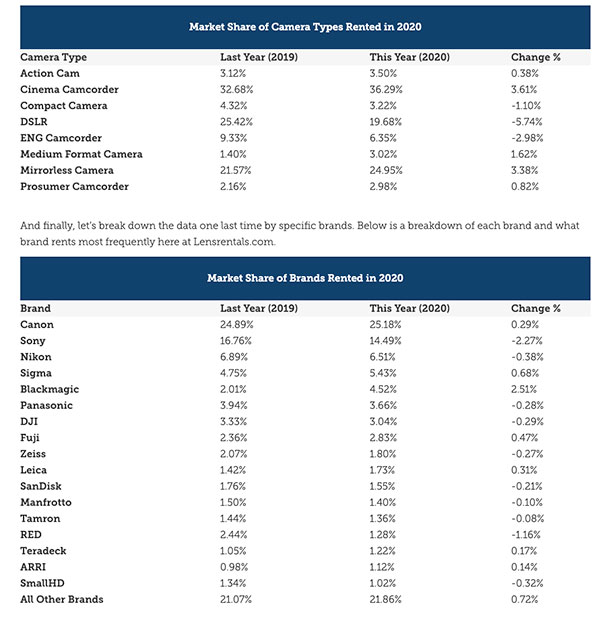 Did any of this data surprise you? Let us know what you found most interesting in the comments below, and stayed tuned for another article in a few days, which will break down specifically new products released in 2020.