Shutterbug's Exclusive photokina Coverage; Integral Lens Digital Cameras: Upping The Megapixel Ante Page 2
Other Fine Digicams
The super-zoom cameras (with 15x and longer lenses) are very popular among families who shoot sports and wildlife. The new 10-megapixel Olympus SP-565 UZ with 6.2x4.6mm sensor is a smaller/lighter (13.2 oz) and more affordable ($399) version of the SP-570 UZ with a slightly smaller 2.5" 230,000 dot LCD screen. It's nearly identical otherwise, with the same wide angle to super telephoto lens (26-520mm), Image Stabilizer, hot shoe for external flash plus support for wireless flash. This is a full-featured digicam with 33 Scene modes and many overrides, Face Detection AF, Continuous Tracking focus, 1.3 fps Burst mode plus a 13 fps option at the 3-megapixel resolution level.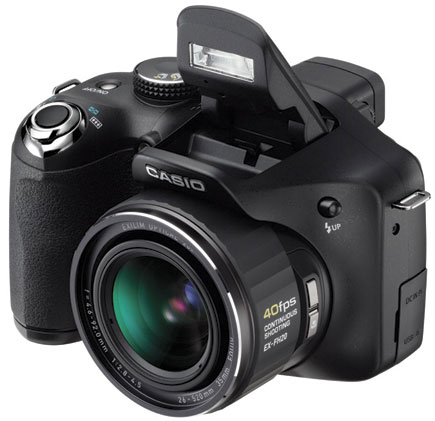 Anyone who wants to shoot at an incredibly fast rate will want to check out the new 9.1-megapixel Casio EXILIM EX-FH20 with a 26-520mm zoom and an Image Stabilizer. This marvel can blast off dozens of 7-megapixel JPEGs at an unbelievable 40 fps or shoot 224x56 pixel movies at a blazing 1000 fps; higher video resolution—up to a full 1280x720 (HD)—is available, too, at much slower rates. This is a smaller, lighter (17 oz), more affordable ($600) version of the 6-megapixel EX-F1 which is even faster, but the new model also employs a smaller 6.2x4.6mm CMOS sensor.

This Casio super-zoom camera with its ultrahigh-speed framing rate is likely to attract those who like to shoot fast sports action. In High-Speed mode, shutter speeds can be as fast as 1/40,000 sec, although that would require bright light and a very high ISO level. The Casio EXILIM EX-FH20 is a quite well equipped camera in other respects, too, with JPEG and DNG (Raw) Capture modes, Face Detection and Continuous Tracking AF, many Automatic modes, the basic overrides, and a 3" (with 230,400 dots) LCD screen. While the claims as to speed may be difficult to believe, they're definitely true, confirmed by a hands-on experience.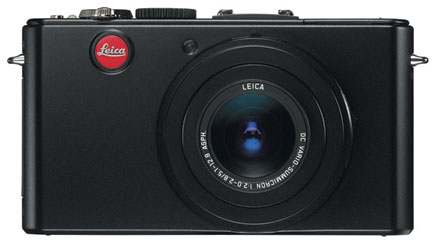 Very similar to the existing Panasonic Lumix DMC-LX3, Leica's brand-new D-LUX 4 ($849) features a unique raw format and converter software from Phase One. This is a gorgeous 10.1-megapixel camera with a large 8x6mm CCD sensor and three aspect ratio options, an HD 16:9 Movie mode (1280x720 pixels at 24 fps), an aspherical 24-60mm f/2-2.8 DC VARIO-SUMMICRON lens with Image Stabilizer, a 3" 460,000 dot LCD screen. The compact D-LUX 4 (9.35 oz), with its numerous modes, overrides, and "intelligent" automatic features, also accepts optional accessories: conversion lenses and filters, a flash unit, a handgrip, and a classy external optical viewfinder (with 24mm brightline frame) that fits into the hot shoe.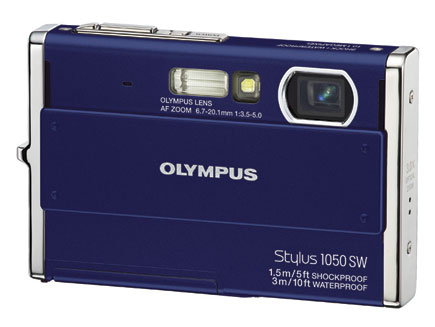 Featuring the most unusual control system currently available, the Olympus Stylus 1050 SW ($300) can be controlled by tapping the camera body, from various angles, in order to access desired features and make settings. Apparently, this is most useful when wearing bulky gloves. The 10.1-megapixel digicam, with 2.7" 230,000 dot LCD, a 38-114mm aspherical lens, and a 6.2x4.6mm CCD sensor is also waterproof, freezeproof, and shockproof. It's quite well equipped with Advanced Face Detection AF and Smile Shot, numerous Automatic modes, and the essential overrides, but lacks an optical or mechanical Image Stabilizer. A "Perfect Shot Preview" |mode allows the user to preview certain camera adjustments; this is a very useful amenity.
Products Under Development
In addition to actual cameras, it's worth noting a couple of new developments that will be significant in the near future. Canon has developed a CMOS sensor to replace the CCD in some PowerShot cameras. This chip (along with the DIGIC 4 processor) offers two benefits: a fast 4 fps Burst mode and very high definition 1080p (1920x1080 pixel) movie capture, with stereo sound. Virtually all of the latest digicams (of all brands) already include a Movie mode, but usually at a lower 640x480 pixel or 1024x768 pixel resolution. Canon is already using a 6.2x4.6mm CMOS sensor in a 10-megapixel camera (SX IS) available only outside North America, but it's likely that a future US model will also employ the new sensor, perhaps even in a larger size.

Fujifilm also announced an entirely new sensor, the 8x6mm Super CCD EXR developed as part of their "Real Photo Technology" program. Intended for use in a premium-grade 6-megapixel FinePix digicam in 2009, the "flexible" sensor will allow for three options to be used as a situation warrants: high resolution, high dynamic range, or high ISO with minimal digital noise. This chip employs a new arrangement for the mosaic color filter and other modifications that make it quite different from a typical Bayer sensor. While the EXR technology could also be applied to the larger sensors used in D-SLRs, that's unlikely according to the company because the improvements provide the greatest value with small sensors with miniscule pixels.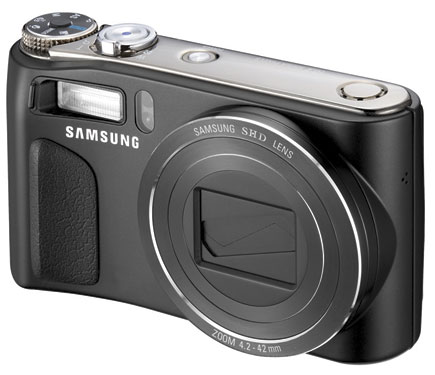 A prototype shown only under glass, the Samsung HZ1 (a tentative model name) was billed as the "world's first compact camera featuring 10x optical wide angle zoom with a focal length starting at 24mm." This is a very slim (1" thick) 10-megapixel model with a Samsung (6.2x4.6mm) CCD and a 2.7" 230,000 dot LCD will also provide an option for making 1280x720 pixel videos at 30 fps. Final specifications were not available at photokina, but this camera should include Face Priority AF with smile and blink detection, zooming capability during video capture, and an Optical Image Stabilizer.
Fujifilm FinePix Real 3D camera
A Unique Camera
One of the few truly unique concepts that I saw at photokina, the new Fujifilm FinePix Real 3D system that requires no special glasses. It starts with a twin-lens digicam with two sensors; each lens can capture stills or movies from a slightly different position, producing the basis of the 3D image. Subsequently, the Real Photo Processor 3D synchronizes the data provided by the two sensors, blending it into a high-quality still photo or the frames of a digital movie. Special Fujinon lenses were developed to ensure maximum conformity between the left and right images. Thanks to a new engineering approach, screen flickering and image deterioration are also minimized.
Fujifilm FinePix Real 3D print illustration
A functioning FinePix Real 3D camera—with a 2.8" 230,000 dot LCD—was available at photokina and it worked surprisingly well. The image on the LCD did resemble a 3D photo. Commercial labs will be able to make 3D prints and the samples that I examined were quite impressive as well. The company has also developed a new 8.4" 3D Photo Frame with over 920,000 dots, also designed to minimize screen flickering and image ghosting, for a crisp, high-resolution 3D image. A newly developed "light direction control module" in the back of the LCD controls light to the right eye and left eye to enable convenient 3D viewing. It's impossible to predict whether this entirely new concept will attract numerous consumers, but Fujifilm definitely deserves accolades for developing a practical digital 3D imaging system.

LATEST VIDEO

SPONSORED VIDEO
Testing Tamron's SP 150-60mm G2 lens while capturing birds and alligators in Apalachicola, Florida.