Fujifilm Unveils X100V Digital Camera; We Take This New Rangefinder-Style Compact for a Test Drive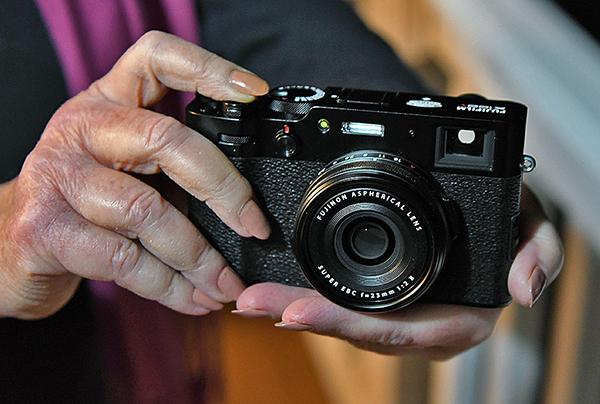 Fujifilm just announced the latest update to its popular X100 series of retro-style digital cameras, the much-anticipated 26.1-megapixel Fujifilm X100V. Shutterbug was one of a handful of media outlets invited to take the new Fuji camera for a test drive on the streets of New York City last week ahead of today's launch.
Although we've included some images we captured with the new Fujifilm X100V in this first look review, it's important to note that our test camera was a pre-production model and, as such, we will not be commenting on image quality, video (it can shoot 4K) or performance until we receive a final production model.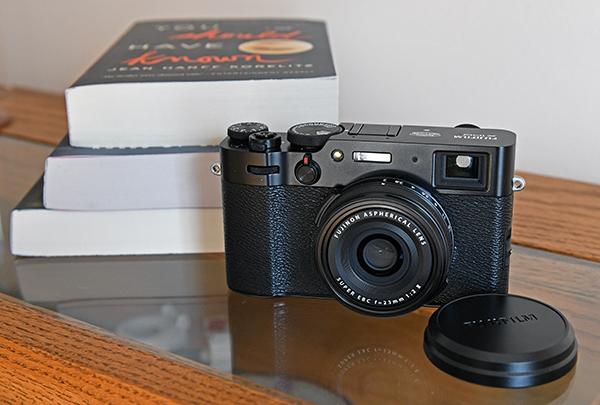 Like previous versions of the X100 camera, including its direct predecessor, the X100F, the new Fujifilm X100V is designed for street photography and photojournalism. And like the older models, the X100V features a fixed, non-interchangeable lens, in this case a new 23mm F2 lens.
With the new X100V, Fuji continues with a rangefinder-like camera body and controls that appeal to the days of shooting 35mm film. But even if you've never held a 35mm camera or a rangefinder for that matter, the Fujifilm X100V will bring a new and exciting experience to capturing digital images.
Built around a 26.1MP back-illuminated "X-Trans" APS-C-sized CMOS sensor, the Fujifilm X100V also utilizes the quad-core X-Processor 4. According to Fuji, a new algorithm in the processor delivers better face and eye detection performance down to -5EV.
Here are some key new features of Fujifilm X100V camera:
• Redesigned 23mm f/2.0 lens which promises "higher resolution, lower distortion and improved close focus performance." The lens is the same size as its predecessor, though, so you can still use the Fujifilm SCL/TCL conversion lenses. And, you can still make good use of the built-in ND filter, which has been expanded to 4 stops.
• New two-way tilting, 3-inch rear LCD screen
• Weather-resistant sealing—which is a first for the X100 series. One caveat, though: you'll need to use the optional AR-X-100 adapter ring and PRF-49 protection filter to totally weatherproof the lens (a lens shade should provide protection as well). The top and bottom of the camera are covered with milled aluminum, which adds to the rugged body and the classic look.
• Advanced hybrid viewfinder: choose between the 0.52x magnification optical viewfinder (OVF) or the 3.69M dot OLED electronic viewfinder to compose your shots. Offering 95% frame coverage, the OVF provides parallax-correcting frame lines designed to "provide an uninterrupted view of the world, while the camera's EVF delivers a real-time representation of the image as it is being made." According to Fujifilm, the Electronic Rangefinder (ERF) function can also be selected to display a small EVF at the bottom right corner of the OVF, which gives photographers another composition tool.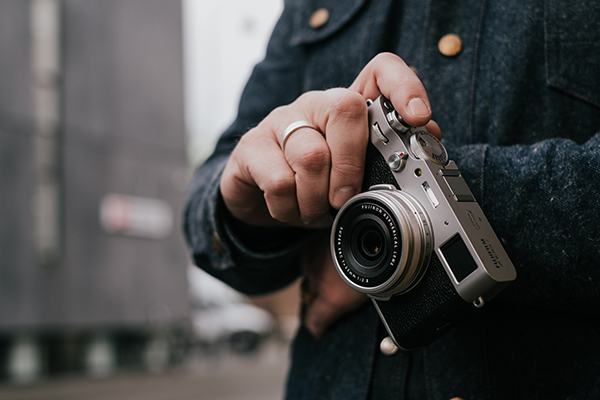 Smaller, but still welcome improvements can be found with the X100V's more comfortable grip and the ISO dial. Pop-up the latter to change ISO and the dial ring remains in the upright position so you don't have to hold the ring while you adjust light sensitivity. Read below to find out what we thought of the new Fujifilm X100V during our test shoot last week.
Hands-On Impressions of the Fujifilm X100V
I loved the look and feel of the compact and highly portable Fuji X100V camera. Measuring 5.04 x 2.94 x 2.1 inches and weighing about 16.9 ounces (including battery and SD card), the X100V was conveniently sized to carry around or tuck into a small bag (or larger pocket). The camera was at the ready anytime I needed it.
So many of us are used to shooting with a zoom lens and while I appreciate the flexibility of quickly accessing various focal lengths, working with the Fujifilm X100V's fixed, wide-angle lens makes you see and think differently and I think that's a good thing. The phrase "zoom with your feet" applies here for sure.
Fuji's hybrid OVF/EVF system, combined with the 3-inch touch AF LCD, offers several different viewing options with the camera. And although I'm more of a viewfinder shooter, I tended to use the Fujifilm X100V's tilt-LCD during our walk and shoot around town for composing my shots.
The two-way tilting rear screen was great for shooting at different angles and worked well for discreet street shooting since your subjects will likely be unaware you're photographing them. At the same time, I really appreciated the hybrid viewfinder—especially the large and bright optical VF but defaulted to the LCD for most shots, despite the fact it was a sunny day, which might have made it difficult to see the LCD (it was fine).
Chilly temperatures during our street shoot with the Fujifilm X100V brought out my gloves which prohibited the use of the LCD for touch AF, but the camera's controls, buttons and dials were all easy operated in my leather-clad hands. The only small issue I had was adjusting the aperture ring. Manual aperture rings are a big plus in my book but with gloves on, it was a little difficult to feel the two "wings" (tabs) to change the aperture especially since the lens is so low profile.
But after a time, I managed to make it work with the Fujifilm X100V. Without gloves, locating the wings and rotating the ring was a breeze. Of course, if you want to shoot shutter speed priority, just set the ring to A and leave it there.
In addition to its hybrid OVF/EVF, among other innovations, Fuji is also noted for its film simulation modes and the X100V is no exception with its assortment of color and monochrome options. Be sure to review the various modes within the menu. The film simulation on my test unit was set to S, which I assumed meant Standard. Nope, it was S for Astia—and its subtle color/contrast look.
I later changed it to Std (Standard/Provia), so the colors and contrast of some of the test shots may be a little more subdued than the Standard shots. It's great to have the versatility of the Fujifilm X100V's film simulation modes. Shoot in Raw and you can actually convert your images to any of the film effects during post-processing in, for example, Adobe Photoshop.
I really enjoyed using the new Fujifilm X100V and look forward to shooting with a full production model when it becomes available. The camera's size, features and usability were all plusses. But, for me, it was the way it made me break free from old digital habits and think about photography like I did back in my 35mm days that really won my heart.
Pricing and Availability
Both the classic black and black/silver versions of the Fujifilm X100V will be available in late February 2020 for $1,399.95.
To see our hands-on review of thehe X100V's big brother, the Fujifilm X-Pro3, which we named one of the best cameras of 2019, click here.