World's Cheapest Digital Camera X6 Ultra Mini May Be World's Smallest at 1.77 x 1.18 x 0.79 Inches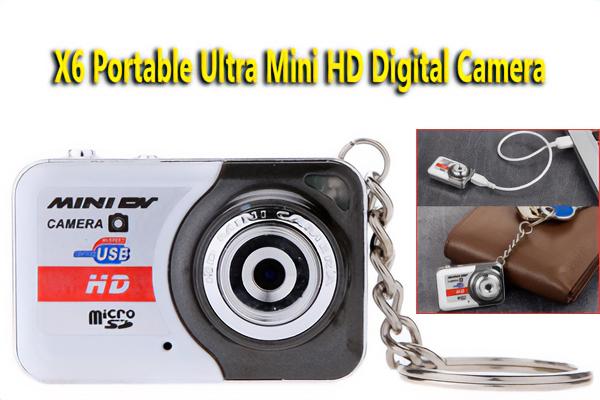 The full name in the product listing is X6 Portable Ultra Mini HD High Denifition [sic] Digital Camera Mini DV Support 32GB TF Card with Mic USB Flash Drive for Camera. It costs less than $11.
Before we go any further, I am not recommending that anyone purchases this camera. That said, the price is $10.99 plus $1.61 shipping from AliExpress.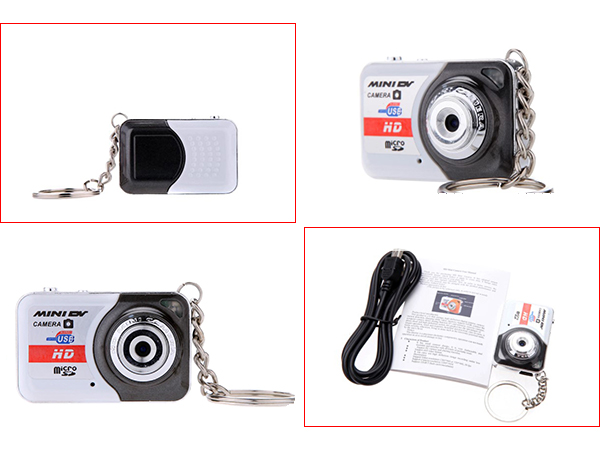 The product description supplied on the AliExpress website makes a couple claims that I strongly suspect are exaggerated, not due to deceptive intentions, rather because of translation errors. I think. Anyway, read it for yourself below and decide.
Product Description (Verbatim)
"The Mini HD Digital Camera uses unique ultra-portable design, which makes it easy to carry and apply to every area. And, The mini camera can shoot videos, take photos and record voice, and it also supports motion detection mode. The card slot of the mini camera supports the TF Card / MicroSD card (up to 32G). Moreover, it has Time set, Auto-power off function and supports Charging during it is in video state. The product has the advantages of simple operation, small and exquisite, beautiful and practical and easy to carry, etc. The mini camera is widely applied to business, home security, education, media, judiciary, travel and life, etc. The mini HD Digital camera is popular among people because it is a one of indispensable practical tools for many people. It brings much convenience, safety and funs to your daily life."
I'm really curious what the applications are for "judiciary." Any guesses?
The product listing goes on to include Features, Specifications and a couple footnotes. I'm going to skip all of that because, unfortunately, parts of it make no sense. Also, there is no mention of an LCD or viewfinder of any kind, so it's unclear how to aim or compose.
The only reference to focusing I could find is this single sentence: "When you make a video, please focus on the object and keep 50cm under sufficient illumination."
That certainly clears things up.
This product came to my attention in an email solicitation I received a few days ago. For the record, the emails allege to come from Alibaba.com Singapore Ecommerce Private Limited, c/o 26/F Tower One, Times Square, 1 Matheson Street, Causeway Bay, Hong Kong.
AliExpress is a self-proclaimed "cross-border online B2C eCommerce marketplace" that offers over 100 million items. They are part of the Alibaba Group.
I have purchased some items from AliExpress. I have had good success buying Chinese fountain pens from Stationery Station Store via AliExpress. I collect pens; they have a good selection, low prices and reliable delivery practices. My experience with other vendors has been about 90% excellent and 10% absolute disaster. But that one-in-ten chance of total disappointment isn't severe enough to keep me from looking for weird stuff—not necessarily bargains really, just unique and/or bizarre.
Backstory
Because so much of the world's manufacturing is done in China, thousands of companies work as subcontractors to produce parts and components. Sometimes these items are sold directly to consumers for DIY projects or repair. You can buy screws, diodes, LEDs and countless other items in bulk—like the 1,390 piece kit of components that's priced at $13.39 plus $1.58 shipping. Package includes 100 LED Diodes, 600 Resistors, 120 Electrolytic Capacitors, 300 Ceramic Capacitors, 100 Diodes and 170 Transistors. Tell me some creative person couldn't make jewelry or Christmas tree ornaments from this treasure box. I mean, you can help me think of some excuse to order it, no?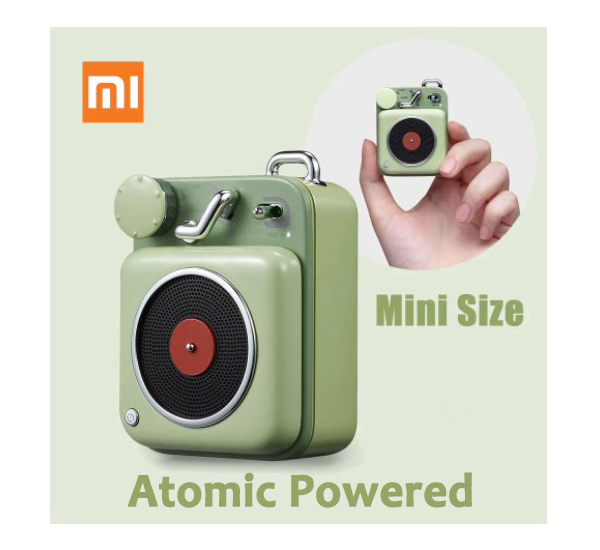 And there are so many indescribable, unidentifiable products. The Xiaomi Mijia Atomic Record Player B612 above is a good example. I didn't order it because it took too long for me to figure out that it's a Bluetooth speaker. But I'm attracted to anything Atomic, so I was curious despite the color (early '70s Bathroom Avocado).
There are unique products as well. Who isn't tempted to turn cucumbers into screws? Apparently this little beauty works on other vegetables, too. Stand down Chick-fil-A; I now have another source for sculptured potatoes. Not clear how to eat the stuff once it's been carved, but it might provide a way to trick kids into eating healthy. I close my eyes and I can see them on every school menu across the country: Curly Cucumbers Clubs. See? With a little imagination every solution can find a problem to solve.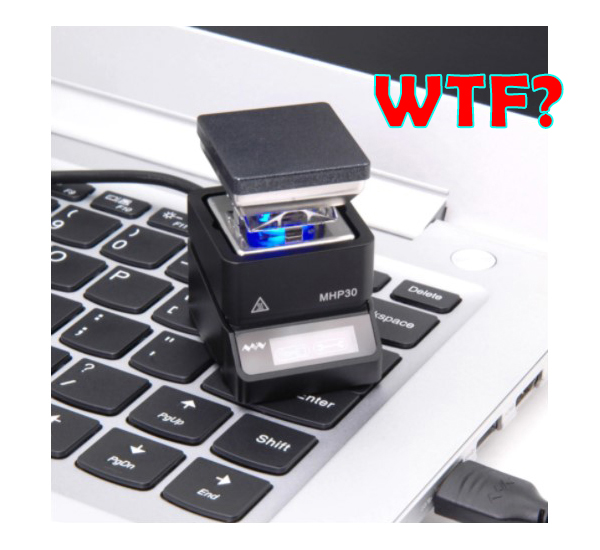 This one is a real Stump the Band. I have no idea what this is, but it's described as "MHP30/MHP30PD 30 *30mm Intelligent Heating Tool Portable Volume Built-in OLED Display Screen True Color Lamp Hot Plate Preheater." It costs $17.36 plus $1.92 shipping.
Changing the Subject
Of course, most of the wacky stuff I look at is photo-related. Here's one treasure. You can change the subject with this $23 handheld filter. The image suggests that the filter also changes the color. Actually, the original sample image was orange (like outdoor film shot under tungsten light) and I intentionally overcorrected it. To me this seems like a very large hunk of polycarbonate doing the job of a small multi-image filter. I'm not including a link because I have a conscience.
Conclusion
If any of you are braver than I and order the X6 Portable Ultra Mini Digital Camera from AliExpress, please let us know here or on our Facebook page. I'd love to see some images from it.
UPDATE: Heaven only knows why I kept looking, but I found this puppy on Amazon under the name of Tickas (which sounds strangely appropriate up here in Lyme Disease territory). Note that the Amazon seller (macrovava) is located somewhere in Asia and has an Approval Rating of just 79% (and only 63% over the past 30 days.) Personally, I stick with sellers in the 98-99% range—why flirt with trouble? With a huge caveat emptor warning, you can order the Tickas Digital Camera X from Amazon for $15.99.
—Jon Sienkiewicz
(As an Amazon Associate, Shutterbug earns from qualifying purchases linked in this story.)