Shutterbug's Exclusive photokina Coverage; Integral Lens Digital Cameras: Upping The Megapixel Ante
The primary emphasis was on D-SLRs during the photokina 2008 show, but many new digicams with integral lenses were introduced, including some inexpensive models strictly for quick snapshooting. While those may find eager buyers, I'll concentrate on cameras intended for the photo enthusiast. In these categories, only a few trends became obvious, starting with resolution: 13- and 14-megapixel sensors are now typical in the upscale models while 10-megapixel resolution is becoming the norm in many other categories.

In terms of features, video capture and larger LCD monitors, often 3" in size, have become standard. Optical or sensor-shift stabilizers, advanced Face Detection AF/AE, and other "intelligent" features are being adopted by most manufacturers. I also found a few fascinating new amenities, some to be available in cameras introduced later this year.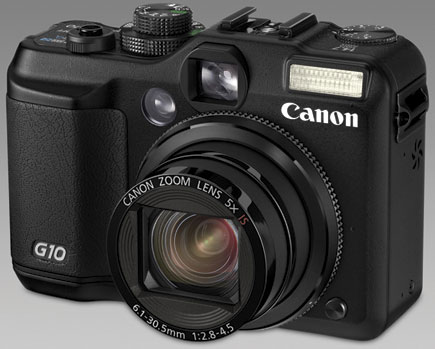 High-Resolution Digicams
Canon rejoined the "megapixel wars" with two new 14.7-megapixel models, both with optical viewfinders and large 8x6mm CCD sensors. The PowerShot G10 ($500), with JPEG and Raw Capture modes, is the flagship of the line, replacing the G9 that many serious photographers use as a backup to their D-SLRs. It's slightly larger than the G9, features a new 28-140mm wide zoom with stabilizer, improved autofocus, higher (with 460,000 dots) resolution 3" LCD, plus a new DIGIC 4 processor for great speed (1.3 fps Burst mode) and superior quality.
A smaller digicam, the PowerShot SD990 IS ($400) employs similar technology but is equipped with a 36-133mm equivalent lens with stabilizer, optical zoom, 2.5" 230,000 dot PureColor LCD II, numerous Automatic modes plus many overrides, including a Manual mode. Autofocus has been improved with more reliable Face Detection AF. Improved Motion Detection Technology automatically boosts the ISO for a faster shutter speed when motion is detected and the new Servo AF option provides more effective tracking focus.
Nikon's resolution leader, the new COOLPIX S710 ($380) with stainless steel body is surprisingly portable (1" thick; 5.5 oz) and equipped with a 14.5-megapixel (8x6mm) CCD sensor, new EXPEED processor, 3" 230,000 dot LCD, and a 28-101mm lens with VR stabilizer. This is a well equipped camera with lots of Operating modes, including manual, plenty of overrides, and Face Priority AF with Smile Shutter and Blink Warning.
Now the flagship of Nikon's line, the 13.5-megapixel COOLPIX P6000 (with 7.6x5.7mm CCD sensor) is loaded with automatic and advanced capabilities and it's compatible with optional Speedlights and a 0.76x wide angle converter. This mid-size digicam ($500) is equipped with lots of analog controls, a fast EXPEED processor, a 28-112mm ED lens with VR stabilizer, a 2.7" monitor (with 230,000 dots), and improved Face Priority AF. Extras include a Raw Capture mode, D-Lighting and Distortion Control, and a built-in GPS receiver for automatic geotagging as to the location where each photo was taken. The P6000 also includes an Ethernet connector for image sharing (using a LAN cable) at Nikon's "my Picturetown" website.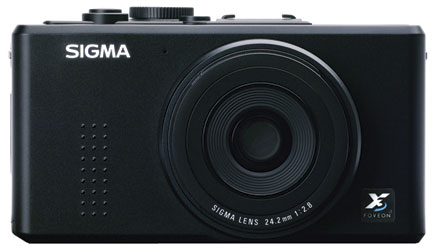 A companion for the existing DP1 with 28mm f/4 equivalent lens, the new Sigma DP2 is very similar in most respects but is equipped with a longer and "faster" 41mm equivalent f/2.8 lens with two molded glass aspherical elements. (Price not yet set.) This model employs a faster TRUE II processor. All current Sigma cameras employ the 20.7x13.8mm Foveon X3 sensor that's discussed in our D-SLR report. Although there are only 4.69 million pixel locations, the X3 sensor features 14 million oversized photodiodes (7.8 microns in size) stacked in three layers. According to Foveon, that translates to an effective resolution of 2652x1768x3 pixels or 14.1 megapixels. As well, each of the pixels is capable of absorbing all three colors of light, something not possible with conventional sensors.

FEATURED VIDEO