Seeing the World in Black and White: The Majestic Photography of Sebastião Salgado
By any definition, Sebastião Salgado is one the most important photographers working today. Currently he has a large exhibition of his work on display at the International Center for Photography (ICP) in New York City through the very beginning of January 2015. It is will be the last photo show at this location, before ICP's move next year to a new exhibition space in New York's Bowery neighborhood.
It's has been a long journey for both Salgado and ICP to this moment. ICP was the dream of photographer Cornell Capa, Robert Capa's brother and a renowned photographer in his own right. In 1968 Capa launched his dream with a book of images and a lecture series both entitled "The Concerned Photographer."
With this name, Capa gave a definition to an area of photography that had a specific point of view. For Capa, the concerned photographers are committed humanists. Unlike photojournalists or documentary photographers, these are hardly neutral observers; rather they are passionate reporters who take sides. They are champions of the poor, the displaced, the victims of war and social conflict.
Their images are different too because they don't present their subjects as strange or exotic "others." They are simply men and women whose differences are superficial at best. Concerned photography arose out of the ashes of World War II and the desire to heal the horrific wounds of the war. This theme of the universality of man was first popularized in the incredibly successful post-war exhibition and subsequent book "The Family of Man."
Capa's "Concerned Photographer" lectures were designed to bring together the work of these photographers and to kick off his campaign to create a home for this kind of imagery. It was also an extraordinary opportunity for a young photographer like me. Each week, one of Capa's "pals" would drop in and show their photographs, talk about photography and the life of a being a photographer. Capa's pals included photographers like Ernst Haas, Marc Riboud, Bruce Davidson and André Kertész.
Sebastião Salgado has been working in the tradition of concerned photography for over forty years. His exhibition at ICP is titled Genesis and it is the third in his extended series of images concerning the relationship of man to the natural world, which includes Workers (1993) and Migrations (2000). It is the result of nearly eight years of worldwide photography and presents more than 200 superbly printed black-and-white images. ICP is the first U.S. venue for the exhibition and will be on display there until January 11, 2015.
Through these images of wildlife, landscapes, seascapes, and indigenous peoples, Salgado presents a compelling appeal for greater planetary action to deal with the issues of environment degradation, climate change and the loss of indigenous populations.
Salgado's gorgeous black-and-white imagery of people and places is, to say the least, "biblical" in scale. His landscapes show a world that is an eternal stage set for the machinations of man. The environment is stark and within the frame, individuals are often alone. This biblical scale vision runs through much of Salgado's work. In one of his most famous images from the Workers series, hundreds of half-naked miners swarm over the inner wall of an open mine pit. Salgado says that when he first saw the huge pit full of miners he thought that this is what the building of the Tower of Babel must have looked like.
Born in the Brazilian state of Minas Gerais in 1944, Salgado earned a master's degree in economics and worked for a while in the coffee trade before turning to photography in 1973. In 1994, he and his wife, Lélia Wanick Salgado – who curated the show at ICP – formed their own agency, Amazonas Images, to represent his work. With the agency to represent and market his photos, Salgado set out on a number of self-assigned social documentary projects that took him to over 100 nations. He has won dozens of awards and in 2001 he UNICEF named him a "Goodwill ambassador."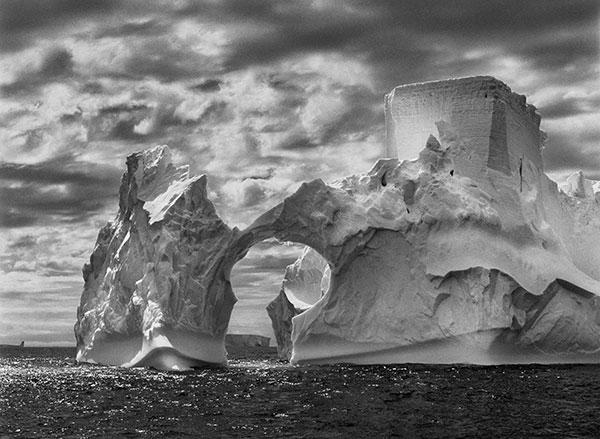 It was perhaps inevitable that Salgado would cross paths with the German movie maker Wim Wenders (Paris, Texas, The Buena Vista Social Club). Both men share a deep concern for "outsider" societies and indigenous people. Working with Salgado's son, Juliano Ribeiro as co-director, Wenders and Salgado have recently released a movie about Salgado's travels around the planet taking the photographs for the Genesis exhibition.
The movie's title is another of Salgado's biblical references. Called "The Salt of the Earth" (Le sel de la terre), it get its title from the Sermon on the Mount: "You are the salt of the earth, but if the salt has lost its flavor, with what will it be salted?"
The film was shown at the Cannes Festival in the Spring where it won the "Certain Regard" award for documentaries and on October 15th it opened in theaters across Europe. You can get a taste of the movie and a sense of Salgado's search for images in the film's trailer below.
Narrated by Wenders, it provides a glimpse of Salgado and the people he calls the Salt of the Earth. Looking at Salgado' images you see the same subjects, often facing the same problems that first motivated Cornell Capa and other concerned photographers to take up their cameras and roam the world to tell the story of a troubled mankind.

FEATURED VIDEO