Unforgettable Marilyn: How 8 Photographers Captured Screen Legend Marilyn Monroe
Good photographers are said to have a good "eye" that distinguishes them from other photographers. There's no better way to understand this than to see how several very good photographers photograph the same subject. A case in point is a new exhibition of photographs of Marilyn Monroe titled "Inoubliable Marilyn" ("Unforgettable Marilyn") at Paris's La Galerie de l'Instant (December 12, 2014-February 25, 2015).
It's a welcome reminder too of how photographers once worked with movie stars and celebrities. Their approach is in sharp contrast to the way modern celebrity photographers work and the images they create like the recent, tortuously Photoshopped images of Kim Kardashian.
Over the years, Marilyn Monroe has been the subject of numerous books, movies and exhibitions that focus for the most part on her tragic life and the mystery surrounding her death. However Julia Gragnon, owner of l'Instant sees this show in a different light: "Marilyn never ceases to move us and fascinate us, her aura crosses time and the generations like magic!"
However these images don't depend solely on Monroe's "aura" for their interest. They are the work of some of the best photographers of the 1950s and 1960s, for whom Monroe is a springboard for their imagination and vision.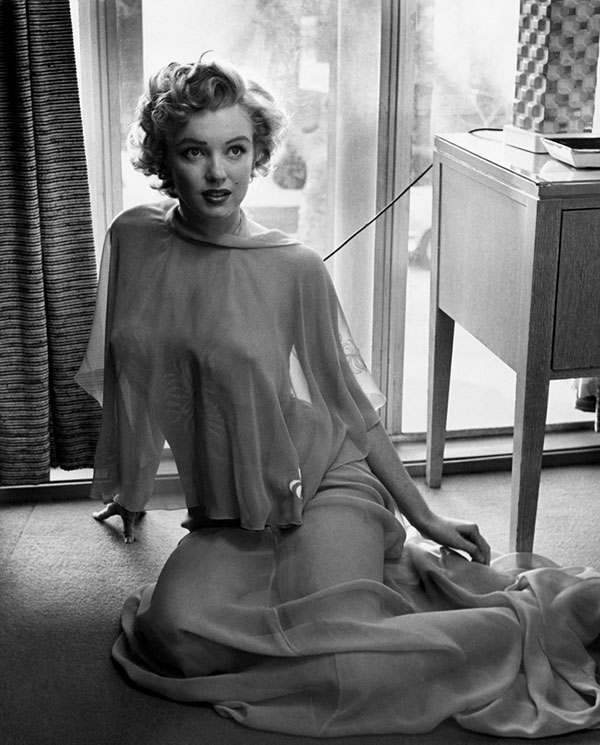 Perhaps the most remarkable image in the exhibition is by André De Dienes. He photographed Monroe when she was just 20 and terribly shy. De Dienes responded to this by hiding her under a dark sheet with only her arms and hands framing her face, visible.
Despite not showing Monroe's face, it is a very expressive image. With its theatrical lighting, it feels like something out of a Greek tragedy and, in a way, ominously foreshadows both her career as an actress and her death.
Different Photographers, Different Styles
It is like that with each of the images in "Unforgettable Marilyn." They are more than snapshots of Monroe but rather reflections of the personal style of the photographers. A good example of this is the Arthur Felig photo. Better known to the world as Weegee, Felig had gone to Hollywood in the 1950s where he met and befriended Monroe.
In his photo of her, she's playfully blowing him a movie kiss. What makes it unique is that he also catches a bystander behind the star staring at her breasts. It is a classic Weegee moment that turns an ordinary picture into a piece of social commentary.
Sam Shaw was a Hollywood photographer and film producer, best known for his photo of a young Marlon Brando in a torn t-shirt. In 1957 he made the photo of Monroe reading a newspaper on a park bench as a young man just a few feet away from her focuses his attention on his companion, oblivious to the beautiful star's presence.
It is a sly comment on glamour and fame.
Recently, the actress Keira Knightley said in an Interview magazine article that photographers who started out with film were better to work with than digitally raised shooters. While widely reported in the photo press, few writers took the time to read the entire conversation that Knightley had with photographer Patrick Demarchelier.
Earlier in the interview she notes: "You said something really interesting to me on the shoot: 'You have to relax your face, because that's what good movie acting is, a relaxed face. It's the same thing as having pictures taken.'"
Demarchelier: "The face is supposed to be relaxed. The more you relax…"
Knightley: "You're absolutely right. It's very funny, because no photographer has ever said that to me before and made the kind of connection between the two things..."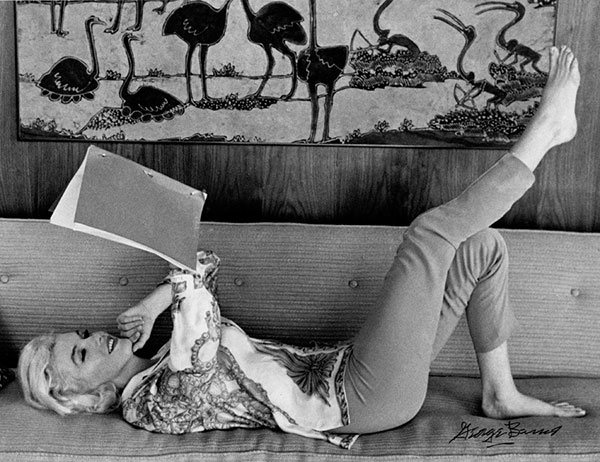 That should have been the eye catching sound bite because it speaks not to digital versus film debate but rather to the difference between a photographer who knows his craft and the "I have a camera therefore I am a photographer" crowd.
Demarchelier's long experience guides his eye and that applies to the photographers whose work appears in "Unforgettable Marilyn."
Monroe vs. Kardashian
This is clearly demonstrated in Bert Stern's images of Monroe taken just two months before her death in 1962. Compare his color nude shot of a smiling Marilyn with the image of Kim Kardashian. Stern sees Monroe fully as a woman who is a natural beauty and vulnerable.
Kardashian, on the other hand, is presented as something else, artificially polished and oiled: untouchable. She's a classic odalisque and like the Ingres painting, the Grande Odalisque, the most notable aspect and most criticized aspect this image are her elongated proportions and shall we say lack of anatomical accuracy.
Like many, if not most, extensively Photoshopped images of women, she doesn't look right or natural and we respond coldly to her.
Besides the color shots, Stern also shot black-and-whites of Monroe and they are totally different. In one black-and-white nude shot, Monroe's hands are clenched and she seems to almost be closing her eyes.
Stern, bothered by this image, later slashed across it with an orange cross. Yet it is amazing how in these two images taken within moments of each other Stern has created two different visions of Monroe, both of which resonate emotionally.
Finally take a look at Stern's darkly elegant image of Marilyn in a black dress. She is lost in troubling thoughts, her head resting in her hands. It is an image that has nothing to do with Monroe's fame but rather it is a deeply compassionate image of a woman struggling with life.
A photograph by a photographer who is responding to her as someone he cares about.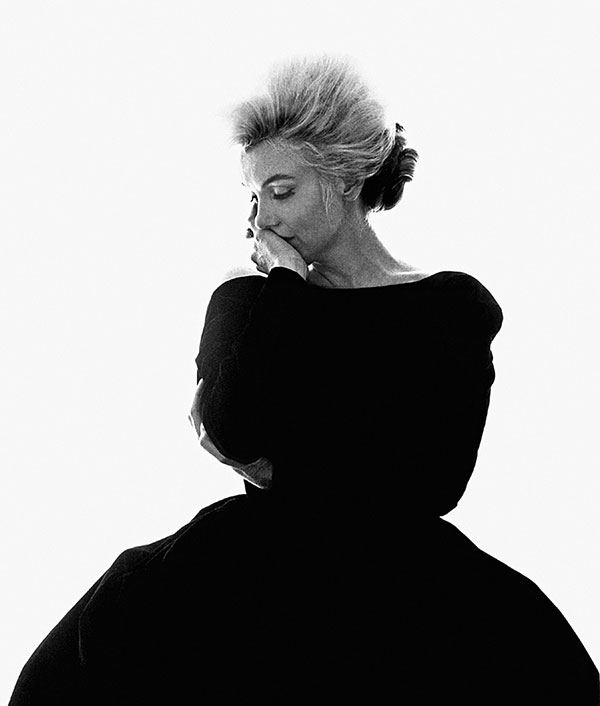 It is this empathy and love that comes through in all the exhibitions photographs and it is what makes "Unforgettable Marilyn" unforgettable.

FEATURED VIDEO