New Photo Show: Storyteller, The Photographs of Duane Michals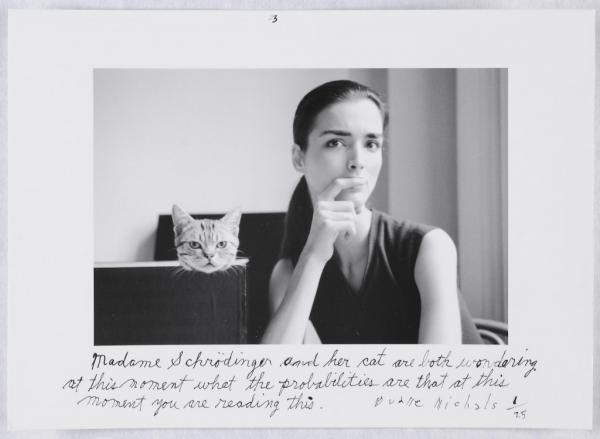 Storyteller: The Photographs of Duane Michals is a comprehensive retrospective opening on November 1, 2014 at the Carnegie Museum of Art (CMOA). The show will be the largest presentation of this pioneering photographer's work, and is organized by Linda Benedict-Jones, curator of photography at CMOA. The exhibition draws from select loans and the museum's holdings, which constitute the largest single collection of Michals' work, and span six decades. The works in Storyteller include Michals' classic sequences from the early 1970s as well as rarely seen images from later in his career.
Born in 1932 and raised in a steelworker family in McKeesport, Pennsylvania, Michals broke away from established traditions of documentary and fine art photography in the 1960s when he added handwritten messages and poems to the prints, produced multi-image narrative sequences and experimented with double and triple exposures. His work was poignant, provocative and sometimes sentimental, flying in the face of the dominant photographic aesthetics of the time.
Storyteller unfolds in thematic groupings ranging from portraiture to meditations on the mind's interior world: from childhood and imagination to desire and death. Michals' love of Pittsburgh and Paris is evident in sections exploring the beauty, quirks and particularities of these places.
A section called The Mind's Eye shows Michals' absorption with photographing things that cannot actually be seen, such as A Man Going to Heaven or The Human Condition. One theme, Painted Expression, shows how Michals has picked up a brush to apply oil paint to both B&W photographic prints as well as to 19th century tintypes, resulting in unique photographic works.
Storyteller also touches upon Michals' extensive portfolio of commercial photography and portraiture, which spans several decades, and includes assignments for Neiman Marcus, Esquire, Vogue, and Gap, as well as commissioned portraits of such figures as Nancy Reagan, Sting, and Willem de Kooning.
CMOA has acquired 139 of his works, ranging from his earliest images made in Russia in 1958 to hand-painted tintypes that he began creating in 2012. Michals always felt an attachment to Pittsburgh, a subject of many of his photographs, and of 2 books, the sequence The House I Once Called Home (2003) and the book-length A Pittsburgh Poem (2013). Lending institutions to Storyteller include Musée d'Art Moderne de la Ville de Paris, Museum of Fine Arts, Houston, Musée des Beaux Arts (Montreal), High Museum of Art (Atlanta), and Museum of Modern Art (New York). While Michals has had several solo exhibitions throughout Europe in the past decade, this is his first major museum exhibition in the United States since 1992.
Presented alongside Storyteller will be the exhibition Duane Michals: Collector, which highlights works from Michals' private art collection that are promised gifts to the museum. Storyteller: The Photographs of Duane Michals represents a reexamination of a historically significant photographer. Michals' pioneering photography infused the medium with a personal, critical approach that translates universally.
The Carnegie Museum of Art is located at 4400 Forbes Avenue in the Oakland section of Pittsburgh.
More info about the show here.