Picture This!
Silhouettes
Our Picture This! assignment this month was Silhouettes, and we could have published the Big Book of Silhouettes with all the great images we received. From what we saw we can say that readers have mastered this image technique, with a great mix of people, nature, and architecture. Clearly, silhouettes are a photographic effect that can only be seen with a "photographic" eye.
Bubble Backlight: Catherine Terroni wrote, "My son blew this perfect bubble in our backyard in Yardley, Pennsylvania. The hill has an unobstructed view of sunsets, creating a perfect spot for silhouettes." Terroni worked with a Nikon FM and Sigma 35-135mm lens on Fujicolor Super HQ 200 film.
© 2003, Catherine Terroni, All Rights Reserved
Soaring Seagulls: Photographer Jerry Litynski caught these birds in flight on Okaloosa Island, Florida, with a Nikon F5 and 1000mm f/11 Reflex Nikkor lens on Kodak Gold 200 film.
© 2003, Jerry Litynski Photography, All Rights Reserved

Hanging In There: These window washers were 150 ft above the streets of downtown Portland, Oregon. Photographer Robert Blalock wrote, "This image was created using a just out-of-the-box Sony Cyber-shot DSC-F828 on its maiden voyage at about 150mm and a very steady hand, while standing atop a newspaper box to get just the right perspective."
© 2003, Robert Blalock, All Rights Reserved
Dancer: Ann Oliver made this moody photograph of a dancer at Lisa Allen Danceworks in St. Mary's, Georgia, with a Nikon D100 and Tamron 28-200mm lens. The D100 was set at ISO 1600.
© 2003, Ann Oliver, All Rights Reserved
Silhouette Combo: Hank Meier's image from Lancaster, Pennsylvania, was made from two different images--the tree, wagon, and figure being one and the sky being the other. He photographed both with a Nikon N90 camera and Tamron lens and combined the film images after scanning in Photoshop.
© 2003, Hank Meiser, All Rights Reserved
Little Fisher: Joe Duty caught this peaceful moment with a Nikon D1X and Nikon 28-70mm lens. He made this photo at ISO 400
© 2003, Joe Duty, All Rights Reserved
Fighting Fire: Joel Bonner made this photograph of brave firefighter Randy Jordan as he sprays water on a house fire in Brookhaven, Mississippi. Bonner worked with a handheld Sony Cyber-shot DSC-S70.
© 2003, Joel Bonner, All Rights Reserved
Tunnel Shot: This fascinating photograph of people rushing for their connecting flights was made by Ed Nazarko at O'Hare International Airport in Chicago. He photographed with a Nikon Coolpix 5700 in raw mode at 1/7 sec at f/2.8.
© 2003, Ed Nazarko, All Rights Reserved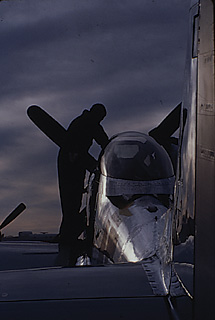 Mechanic At Work: Charlene Aro wrote, "I have been covering the Reno National Championship Air Races for some 30 years and each day I usually roam the pits until the final rays of sunlight vanish below the horizon, searching for shots of opportunity." This photo was made with a Nikon 8008s and Nikkor AF 75-300mm lens on Kodak Ektachrome 100.
© 2003, Charlene Aro, All Rights Reserved
Sandhills At Sunset: Jim Mitchell caught this great moment of sandhill cranes in flight at the Bosque del Apache in central New Mexico. He worked with a Nikon N90s and Nikkor 300mm lens with a TC20E II tele-converter and exposed on Fujichrome Provia 100 film.
© 2003, Jim Mitchell, All Rights Reserved

LATEST VIDEO

SPONSORED VIDEO
Testing Tamron's SP 150-60mm G2 lens while capturing birds and alligators in Apalachicola, Florida.