Picture This!
Sacred Spaces
Our Picture This! assignment this month was Sacred Spaces, places that inspire us to consider the less material and more spiritual side of life. Readers responded with many images of awe-inspiring landscapes with special meaning, places of worship, of pure light and color, and, in some cases, of places that have special meaning for the photographer. All this could go to prove that the divine can suffuse into nearly everything we see. Many things can prompt us to raise our camera to our eye and make an image; the sacred in life is certainly worthy of time and consideration in this regard.
Rays Of Light
While photographers Rod and Sue Martinez did not give us the locale or camera specs, their image of a stained glass window, made in black and white, showed how light itself, formed with symbols and forms, can inspire a sense of the divine in us all.
© 2008, Rod & Sue Martinez, All Rights Reserved
Temple Of The Moon
Gary W. Potts wrote: "The Temple of the Moon is a sacred location for Native Americans located within Capitol Reef National Park, Utah." Made in the best light possible, the image was made with a Nikon D200 and an 18-70mm lens. Shot on a Gitzo tripod with a Kirk ball head, exposure was f/16 at 1⁄40 sec.
© 2008, Gary W. Potts, All Rights Reserved
Serra's Quarters
Those who know the history of the West will appreciate this study of Father Junipero Serra's simple quarters in the first mission in San Diego, California. J.E. de Sequera made this photo with a Nikon D80 and a Nikkor 18-70mm lens; exposure was f/3.8 at 1⁄25 sec at ISO 400.
© 2008, J.E. de Sequera, All Rights Reserved
Tent Of Life
SFC John Lebherz wrote: "This is a triage tent at the Multi-National Forces Hospital in Al Asad Air Base in Iraq…This is the 'Tent of Life' you see once the MedEvac choppers bring you in…This tent has been the space of many lifesaving procedures. (It) is most definitely a Sacred Space."
© 2008, SFC John Lebherz, All Rights Reserved
Monastery Library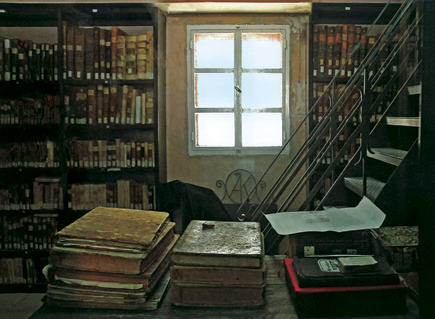 Irwin H. Segel made this photo of the interior of the Library at the Monastery of St. Catherine in Sinai, Egypt. He wrote: "The library holds the world's second largest collection of early books and manuscripts. A portion of the Codex Sinaiticus (a 4th century manuscript of the Bible) is housed here." The photo was made with a Nikon D300; exposure was f/5.6 at 1/100 sec at ISO 3200.
© 2008, Irwin H. Segel, All Rights Reserved
Tahquamenon Falls
This manipulated image of nature's beauty was made by Keith Vanstone, who shot the photo with a Mamiya 7 and a 50mm f/4.5 lens on Kodak VPS. He then scanned it using an Epson 2450 and did the extra magic in Photoshop.
© 2008, Keith Vanstone, All Rights Reserved
Oklahoma City Memorial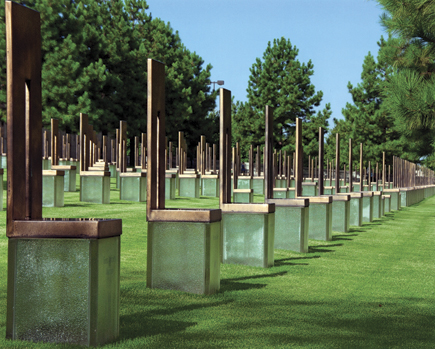 James Worthington sent us this stirring image of the Oklahoma City National Memorial. He wrote: "All the chairs are located in spots where individuals died. The small chairs (represent) the children."
© 2008, James Worthington, All Rights Reserved
Moment Of Prayer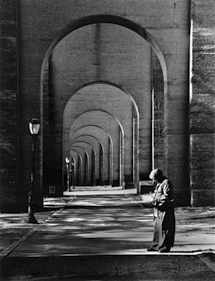 Joe Constantino made this image on Randall's Island, New York, under the Triborough Bridge. He photographed with a Nikon N80 and a Nikkor 24-120mm lens on Kodak T-Max 400 film.
© 2008, Joe Constantino, All Rights Reserved
Beacon Of Hope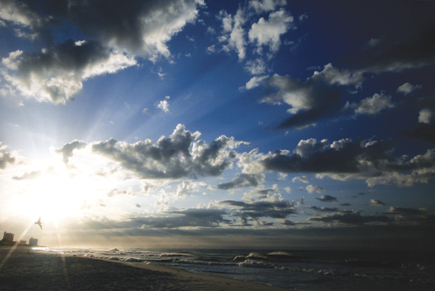 This image shows the gorgeous quality of light of an early morning in Pensacola Beach, Florida. Pauline Blasingame made the shot with a Canon EOS Digital Rebel XTi and a Canon EF-S 10-22mm lens; exposure was f/13 at 1/250 sec.
© 2008, Pauline Blasingame, All Rights Reserved
Petroglyphs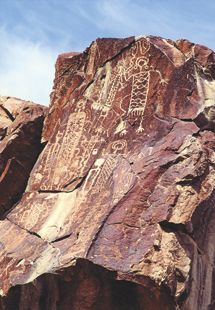 Jeff Dye recorded these ancient drawings at Shaman Rock in the Coso Range, California. He shot with a Nikon F4 and a Nikkor 80-200mm lens on Fujichrome Velvia film.
© 2008, Jeff Dye, All Rights Reserved

LATEST VIDEO

SPONSORED VIDEO
Testing Tamron's SP 150-60mm G2 lens while capturing birds and alligators in Apalachicola, Florida.