Picture This!
Keep It Steady—Tripods Only!
Our Picture This! assignment for this month was Keep It Steady--Tripods Only, the idea being that even with modern marvels such as Vibration Reduction lenses there are some shots that can only be made with the help of a steadying tripod. Readers responded with images made at shutter speeds beyond any hand holdable range that depicted motion in ways impossible to see with the unaided eye, or caught instants in the dimmest light; some even used their tripod to catch a sequence of images that they later combined using HDR (High Dynamic Range) techniques to resolve excessive contrast. The subjects ranged from flowing water to flowing luminescence (in the form of fireworks) and numerous cityscapes at night. In all, this was one of the toughest to judge this year owing to so many great entries.
A Glimpse Of Hibernation
While ice is water in solid state, Tony White delivered a variation on the theme by combining the solid and flowing liquid in one shot, made near Paintsville, Kentucky. He worked with a Nikon D100 and a 24-50mm AF Nikkor lens; exposure was f/22 at 4 seconds at ISO 200.
© 2007, Tony White, All Rights Reserved
Bistro Bella Terra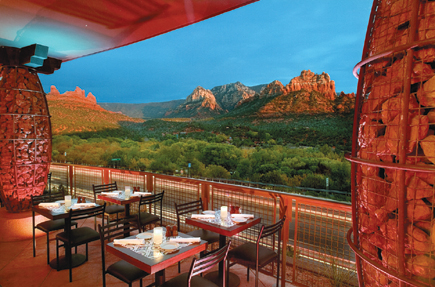 Bob Coates made six exposures over an 80-minute time period with his Fuji S2 mounted on a Manfrotto tripod, ranging from 1/125 sec to 15 seconds, with all exposures layered and blended in Photoshop.
© 2007, Bob Coates, All Rights Reserved
Carnival Fun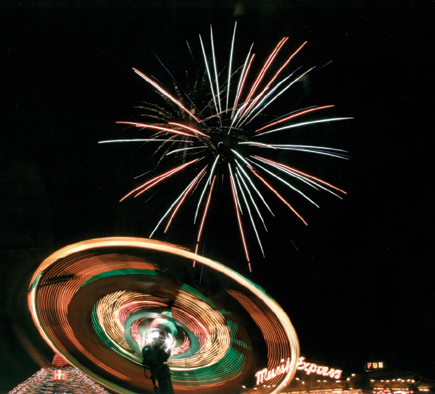 Among the many fireworks shots received this one combined the burst and fall of the pyrotechnics with a swirling carnival ride, all caught on one frame by Wendy Sisson with a Canon EOS 10D. Exposure was f/13 at 1 second at ISO 200 with a Canon 24-85mm lens.
© 2007, Wendy Sisson, All Rights Reserved
Damascus By Night
Said Sami Nasereddin made this photo of the outer walls of ancient Damascus, Syria, with a Nikon D100 and a 24-120mm Nikkor lens; exposure was f/20 at 4 seconds, all of which preserved crisp detail along with the flow of traffic on the street.
© 2007, Said Sami Nasereddin, All Rights Reserved
Hong Kong Cityscape
The marvel and lights of nighttime Hong Kong are revealed by this 12.3-second exposure made by Kunio Chan. The Nikon D80 with an 18-200mm VR Nikkor lens set at f/10 was mounted on a Manfrotto 3021B Pro tripod.
© 2007, Kunio Chan, All Rights Reserved
Maple Swirl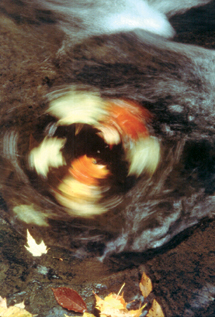 Although no exposure time was recorded, Mark Morlan's photo of leaves caught in a whirlpool in Cuyahoga Valley National Park in Ohio captured the spirit of our assignment. He worked with a Canon AE-1 Program and a Tamron SP 28-135mm lens on a Gitzo 320 Studex tripod and exposed on Ektachrome 100 film.
© 2007, Mark Morlan, All Rights Reserved
Byzantine
To capture the detail in this dimly lit chapel in Maza, Greece, Jim Mitchell mounted his Nikon D2X on a Gitzo tripod and exposed at f/8 at 1/2.5 sec at ISO 100.
© 2007, Jim Mitchell, All Rights Reserved
Green Vase HDR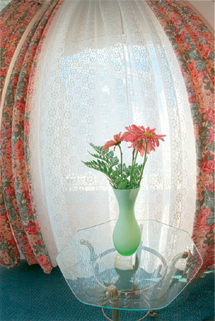 Michael Grossman made two exposures with his Canon EOS 5D and 15mm fisheye lens, at 1/8 and 1/125 sec, and combined the two using Photoshop's HDR merge function, which blends exposures made for highlight and shadow detail into one exposure.
© 2007, Michael Grossman, All Rights Reserved
Wildcat Falls
This classic waterfall shot was made by Bill Sharpton with a Pentax *ist D and a DA 16-45mm lens mounted on a Gitzo 2220 tripod with Arca B1 head. Exposure was f/22 at 3 seconds at ISO 200.
© 2007, Bill Sharpton, All Rights Reserved
The Devil's Son-In-Law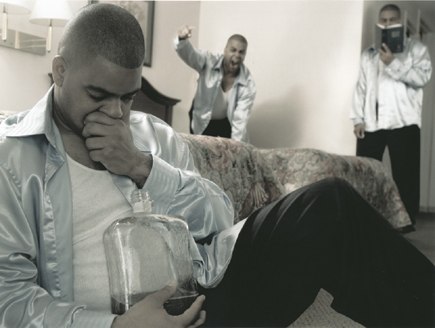 This narrative shot by Vincent Capers Jr. depicts, as the photographer wrote, a self-portrait of him "having a serious conversation with my other selves about the good book and the good bottle." Capers shot three exposures with a Nikon D70 mounted on a Benbo Trekker tripod, then combined them in Photoshop CS2.
© 2007, Vincent Capers Jr., All Rights Reserved

LATEST VIDEO

SPONSORED VIDEO
Testing Tamron's SP 150-60mm G2 lens while capturing birds and alligators in Apalachicola, Florida.