Picture This!
Reflections
Light is a dancer. Given an opportunity to bounce around, it will. Given a surface, it will play upon it. Given the right time of day, it will glance around corners and capture scenes that would otherwise be unseen. The subject of our Picture This! for this month was reflections, and readers responded with some of the most fascinating photographs we've seen for quite a while. Some revealed beauty, others a playfulness that matched that of light.
Oil Drops: Photographer Tommie Shaw made this photograph after a rainstorm with the pattern provided by the photographer and the color variations from the oil droplets. Camera was a Nikon F3T and Nikkor 105mm lens.
© 2005, Tommie Shaw, All Rights Reserved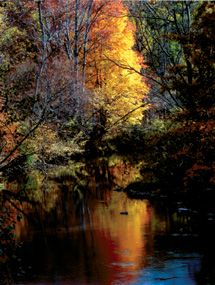 Fall Foliage: Wayne Miller made this painterly photograph in northwestern Pennsylvania with a Canon EOS D30 set at ISO 100; exposure was f/22 at 1/8 sec.
© 2005, Wayne W. Miller, All Rights Reserved
Venice House Reflection: This architectural abstract was photographed by Frank Goroszko with a Contax RTS III and Sigma 75-200mm lens on Fujichrome 50 film.
© 2005, Frank Goroszko, All Rights Reserved
Building Interior: Light and glass combined for this complex view of the Gannett Building in McLean, Virginia. Peter Del Toro photographed with a Nikon D70 and Nikkor DX 10.5mm fisheye lens.
© 2005, Peter Del Toro, All Rights Reserved
Photographer's Reflection: Bonnie Miller photographed her husband shooting the landscape when they visited the coast of Maine. She worked with a Canon EOS D30 set at ISO 400.
© 2005, Bonnie Miller, All Rights Reserved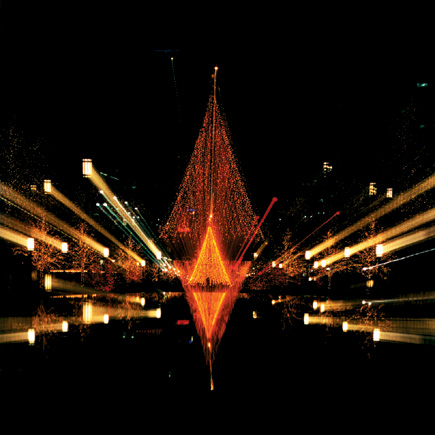 Holiday Reflections: Rod A. Martinez made this photo of a holiday tree reflected in a pool in front of the L.D.S. Temple in Salt Lake City, Utah. He used a Canon EOS 10D set at f/16 with a 4-second exposure. He mounted the camera on a Gitzo tripod with Acratec ball head and zoomed during exposure.
© 2005, Rod Martinez, All Rights Reserved
Foggy Harbor: This play of masts in a Santa Barbara harbor made for an elegant line drawing effect. Ed Welch photographed with a Canon EOS Digital Rebel and Canon IS 28-135mm lens set at ISO 200.
© 2005, Ed Welch, All Rights Reserved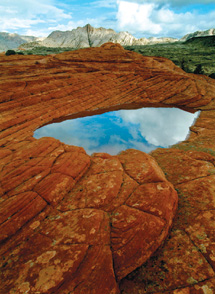 Petrified Dunes: Jeff Dye made this photograph in Snow Canyon State Park, Utah. He worked with a Fuji FinePix S2 Pro and Nikkor 12-24mm lens with a Heliopan thin circular polarizer and Singh-Ray ND graduated filter. His camera was mounted atop a Gitzo tripod with Arca-Swiss ball head.
© 2005, Jeff Dye, All Rights Reserved
Egret In Plumage: Allyson Hurley photographed this Great Egret in breeding plumage in Fort DeSoto, Florida, with a Canon EOS-1v and 500mm f/4 lens with a 1.4x tele-converter on a Gitzo tripod with Wimberley Arm on Fujichrome Velvia 100 film.
© 2005, Allyson Hurley, All Rights Reserved
Balloons In A Pond: Kathryn Salmon caught these colorful balloons at the Reno Balloon Races with a Canon EOS 20D and Tamron 11-18mm DI lens.
© 2005, Kathryn Salmon, All Rights Reserved
Please Note
We receive hundreds of submissions for Picture This! each month and want to be sure we properly identify each image we publish. Please be sure to attach your name and image information to the back of each submission.

LATEST VIDEO