Photo Tips on How to Capture the Colorful Albuquerque Balloon Festival
The idea of flying above the earth in a craft composed of a wicker basket and a large balloon lifted by heated air and at the mercy of air current and vectors has always been a subject of wonder and fascination. Indeed, it was the first method by which humans went aloft, a sensation witnessed by amazed crowds in Paris way back in 1783. Fast forward 232 years later, and add hundreds of balloons more, and you get a sense of the thrill you can experience at the Albuquerque International Balloon Fiesta, held this year from October 3-11 in New Mexico. Aside from the excitement of watching gallant crews working together to get these giant balloons aloft, there are numerous photo ops, including the many shapes and colors of the balloons, the inflation with blasts of jetted air, a full and often raucous midway, and nights of fireworks displays that all in all make it a photographer's dream shooting locale. Here are some photo tips to help you get the most from the event.
Low Light
Each day at the festival begins with a Dawn Patrol at 6 a.m.: a small ascension of balloonists whose craft glow in the slowly lightening sky. It can be cool in the desert dawn, so dress in layers. Bring along a fast lens (f/2.8 or faster) and activate image stabilization. Test to see what ISO will be required: ISO 800 worked for me. You can get up close so bring a wide-angle lens (28mm or wider) and use spot or center-weighted metering read off the glowing balloon itself to ensure that your exposure will not be overly influenced by the darker sky.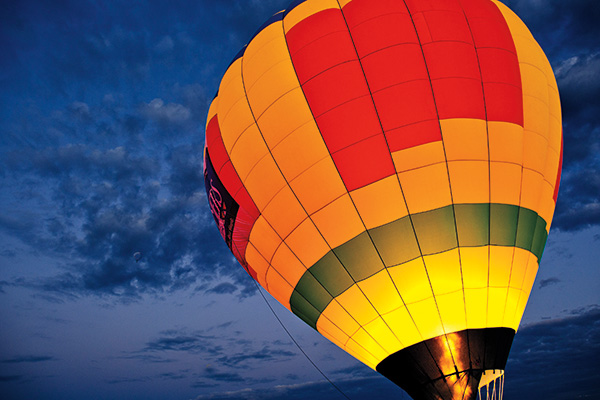 On The Field
Right after dawn crews hustle to spread out their balloons for inflation. You don't have to shoot the action from stands or behind a fence and you're free to roam the vast grounds for great close-ups of the diversity of color and shapes of the craft, as well as shots of crews at work. Bring along a small photo backpack or shoulder bag and pack moderate wide and tele zooms: a 24-80mm and 70-210mm will do the trick. The bright light means you won't need a tripod and the zooms need not be particularly fast: an f/3.5-5.6 zoom will suffice. Mix it up: shoot details of the colorful balloons and crews at work. Leave room in your pack to stash that outer layer, as the day can warm up quickly.
Up And Away!
The really big show takes place at 7 a.m., when the Mass Ascension of balloons takes place. For these shots you can stay within the grounds or, alternately, move (generally) south toward the edge of the field to catch photos of the hundreds of balloons as they lift and stream overhead. This is when that long-range zoom comes into play, but if positioned right you can get great shots with a shorter zoom as well.
Fireworks At Night
Many nights during the festival are capped off with a big fireworks display. When shooting fireworks I like to fill the sky by capturing sequential bursts, and while the common wisdom is to use a tripod, I enjoy the unpredictable results from working handheld. I experiment with a few methods: one is to set a long exposure time, say two seconds, and wait for a strong display; another is to work with multi-exposure and set Auto Gain to prevent overexposure and take two or three shots on the same frame. One important point: set a low ISO to avoid excessive noise and turn NR (Noise Reduction) ON. You'll need a long tele lens to fill the frame.
If You Go
Many photographers have a bucket list of places to visit and events to attend. If you haven't already done so, I'd strongly suggest adding the Albuquerque International Balloon Fiesta to yours.
2015 Dates: October 3-11
Where: Albuquerque Balloon Fiesta Park
Hotels: Book as early as you can for weekends. You can stay anywhere in the Albuquerque vicinity, as you will have to drive or park and ride to the grounds anyway.
Best Photo Times: Arrival predawn, late afternoon. Entrances and parking areas are well marked: hotels will be helpful in this regard. Take advantage of Park & Ride to avoid long entrance lines. RV facilities available.
Dress: Chilly mornings and evenings, warm days: layers are best.
Gear: Interchangeable lens mirrorless/DSLR or superzoom compact camera. Lenses: 24mm wide; 210mm or longer tele lens; or wide to tele zoom. Faster lenses will afford more leeway for Dawn Patrol shots. Camera backpack. Compact, lightweight tripod. You may have an opportunity to get a ride in a balloon where space can be tight, and weight matters, so do not overpack!
Cautions: Ascensions are highly weather dependent, with high winds, rain, etc., causing cancellations. Local radio and TV stations provide full coverage of the events and possible delays and cancellations, so stay tuned.
Cost: $8.00 per session (morning or evening), 12 and under free. No refunds for weather cancellations once on grounds.
Photogenic Side Trips (About One Hour Radius): Sandia Peak Tramway; Petroglyph National Monument; Tent Rocks; Bandelier National Monument; Santa Fe; Old Town Albuquerque. (Add another half hour for the fabulous Ghost Ranch area.)
Contacts: www.balloonfiesta.com
Hotels, Restaurants, Etc.: www.visitalbuquerque.org
(Editor's Note: Destination Travel is a new Shutterbug column that offers tips on how to capture popular photo destinations.)

FEATURED VIDEO