Phase One Unveils XF Medium Format Camera System With Faster Autofocus, Revamped User Interface, New Lenses and 80MP IQ3 Back
Phase One just unveiled a major overhaul of its medium format camera system. Called the Phase One XF Camera System, the new medium format platform features several key upgrades, revamps, and additions including "robust, aerial-grade mechanics, advanced electronics, a new autofocus platform, new modularity options, new software and customizable touch controls," according to Phase One.
There's also a new 80MP IQ3 digital camera back, new Capture One Pro 8.3 software, and two new Phase Two Schneider Kreuznach Leaf Shutter lenses at focal lengths of 120mm and 35mm. According to Phase One, both pieces of premium Schneider Kreuznach glass are "designed to resolve beyond 100MP." Whoa!
There's a lot to digest with the new Phase One XF Camera System so here are the highlights, as laid out by the Danish-based company in this morning's press announcement:
"New Autofocus Platform – The XF Camera System marks an important milestone for Phase One -- a new patent pending and fully controlled in-house autofocus system: the Honeybee Autofocus Platform (HAP-1).

New Flexible OneTouch User Interface (UI) – Based on clean Scandinavian design principles, the OneTouch UI is a seamless and highly customizable combination of dials, keys and touch screens, allowing photographers to personalize camera controls for their specific shooting requirements, via camera or software. Using a new modern Phase One Camera OS, the OneTouch UI is user upgradeable and will evolve in accordance with customer needs and feedback.

New IQ3 Digital Backs – A new full frame IQ3 80MP digital back is the first of its kind to offer exposures of up to 60 minutes using a new and Phase One-exclusive imaging sensor. It joins the new IQ3 60MP and IQ3 50MP digital backs -- all three of which feature a high-bandwidth interface that enables advanced tools in the new OneTouch UI, including power-sharing capabilities.

New Lenses Ready for 100MP and Beyond – Two new Phase One Schneider Kreuznach Leaf Shutter lenses -- 120mm and 35mm -- are both designed to resolve beyond 100MP. They add to Phase One's range of 20 high-resolution medium format optics, including a dedicated Leaf Shutter range, a Focal Plane range, specialty and zooms, and support for 60 legacy lenses.

New Capture One Pro 8.3 – Delivering the market's best RAW image quality, more than 25 advanced photographic tools, and industry leading professional workflow, Capture One Pro 8.3 is built specifically for the XF Camera System and supports more than 300 different models of 35mm DSLRs. It offers the option to customize XF camera controls and delivers up to 30 percent faster tethered shooting.

New Modular Viewfinders – The XF Camera System introduces a new 90° Prism viewfinder and a new waist-level finder. The full frame solid glass prism viewfinder is the brightest of its kind, and comes standard on all XF cameras. The new waist-level viewfinder (an industry classic) can measure exposure thanks to the HAP-1 autofocus platform ability to perform light metering."
The new Phase One XF camera system configurations are available now at the following prices (no, they are not cheap but you weren't expecting them to be, right?):
XF camera body, IQ3 Digital Back, Prism Viewfinder & Schneider Kreuznach 80mm LS lens:
XF IQ3 80MP - $48,990
XF IQ3 60MP - $41,990
XF IQ3 50MP - $40,990
Phase One Schneider Kreuznach Leaf Shutter lenses:
35mm - $6,490
120mm - $6,490
According to Phase One, the new XF camera is built on a new electronics architecture with faster processors and new sensor advancements (including gyroscopic sensors and accelerometers) along with an integrated wireless Profoto flash trigger.
Here's the lowdown on the new autofocus system:
"The 'Honeybee Autofocus Platform' (HAP-1) is designed with a new custom processor and high-resolution CMOS AF sensor that combines a unique floating-point architecture and fully programmable interface. It is built for precision in typical professional environments using a new white spectrum focus assist light and Phase One developed patterns. With the new Hyperfocal Point Focusing feature, it is possible to set a Hyperfocal point for each lens and have HAP-1 automatically return to that specific point when needed."
And here's how Phase One describes the new New XF OneTouch User Interface, which is designed "for power and simplicity.":
"Intuitive Touch - There are two touch screens: A 1.6-inch grip screen is designed for clear visibility under any lighting condition using a transflective capacitive touch display. On the back is a 3.2" retina touch screen designed to show high-quality image previews, with the ability to zoom to 100 percent with a single tap.

Soft-configured controls – The XF Camera controls can be controlled from the camera or via tethered computer/mobile device. Three customizable dial and six customizable controls let photographers personalize the operation of each control to support their needs at any given time.

Upgradeable Camera OS – The new XF Camera OS powering its OneTouch UI allows for easy and fast upgrades that will provide both new features and unique customization in accordance with the feedback of our customers. XF Camera Systems users are encouraged to submit ideas and feature requests and will be able to easily upgrade their system at regular intervals to benefit from new features."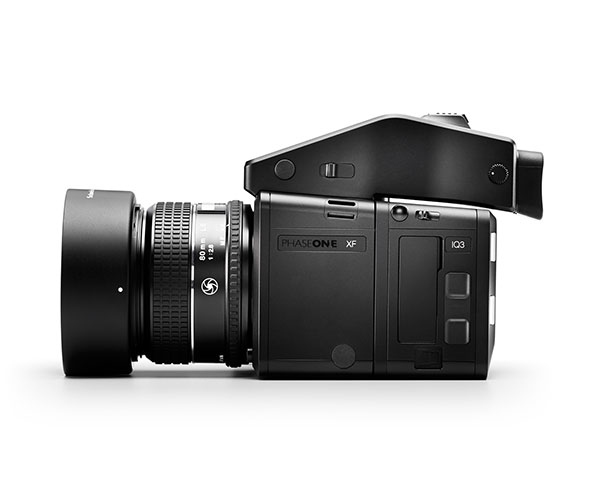 FEATURED VIDEO