Imagination To Reality; Mental Stimulation To Take Your Photos To A Higher Level
Imagine you're on a trip of a lifetime and want to bring back memories that will last more than a lifetime. It all began with my deciding to teach a class in Tuscany, Italy. I was already going there for a convention of photographers, so Jeff Medford, my assistant, suggested that we combine it with a class. It was so successful that we're planning more out-of-the-country classes (see my website, www.montezucker.com, for details). This class was different from most; it was designed to stimulate the imagination of the participants and to give them an insight into how photographic technique could take their natural artistic talents and bring them to a higher level.

The class content was inspired by the national tour that Eddie Tapp and I will be doing this fall. To be sure, portraiture was a significant aspect of the class, but at the same time I was teaching how light, color, composition, and Photoshop can all greatly increase the quality of photography that one can do, regardless of photographic interest and level of competency.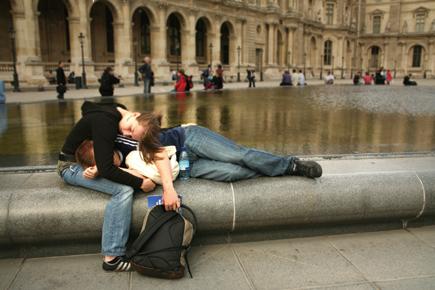 © 2006, David May, All Rights Reserved
The pictures in this column are from the class. They show how talent is developing within three nonprofessional photographers who were a part of my group--Jeff, my assistant; David May, a photographer interested in pursuing a future in photojournalism; and Alex Bar-Av, a close, personal friend who just loves to take pictures. All of us were shooting with the Canon EOS 5D or the EOS 30D. We were all using Delkin 2GB memory cards and ExpoDiscs for custom white balancing. When there wasn't time to do a custom white balance, we used the cameras' built-in Daylight or Shade settings.
Image Design
Much of what I was teaching was to be aware of keeping your images simple--with a focal point in each picture that would be the resting place for the viewers' eyes. My first thrill and surprise was when Alex and I stopped at the same house and saw two completely different images in our minds' eyes. I saw an intriguing scene. Alex saw a floral stem. Until he took my class Alex had only played around taking snapshots. The natural talent that he possessed was heightened by his awareness of design and placement of the focal point of the photograph. Just as we place eyes in the upper third of a portrait and strive for a base to each photograph, the same principles apply for a still life.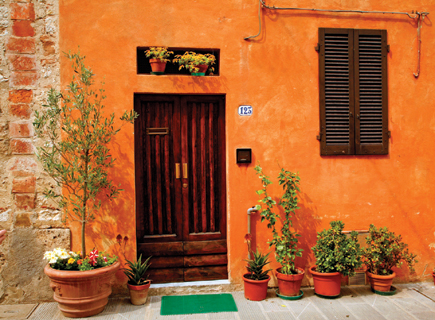 © 2006, Monte Zucker, All Rights Reserved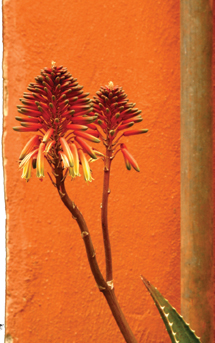 © 2006, Alex Bar-Av, All Rights Reserved
Color & Composition
David applied different concepts that he had learned in class to his photography. Color and composition were the two principles he became aware of during the class. As a result he saw two totally different pictures in Venice that were motivated by these two topics. The red and blue interior of two boats tied side by side attracted his attention as he walked across one of the many bridges there. Those two principles showed up also in his picture of glass vases on display in a Venetian shop, captured by increasing his ISO to 1000 and setting his white balance for fluorescent.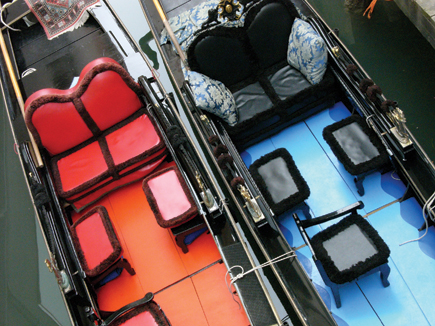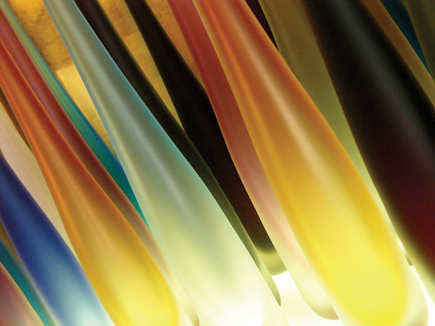 Photos © 2006, David May, All Rights Reserved
Candids
David's true interest, however, lies in capturing people off-guard in interesting and compelling moments. He did that beautifully when he photographed the couple resting while the world was bustling past them. To keep the couple the center of interest we used a couple of Eddie's Photoshop techniques. We first blurred the background with a layer of Gaussian Blur, leaving the couple in the foreground untouched. We also toned down the background by creating an Adjustment Layer with Curves and painting out the foreground. Then, we brought down the Opacity of that layer to almost imperceptibly darken the background.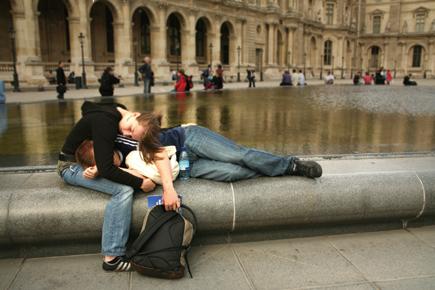 © 2006, David May, All Rights Reserved

FEATURED VIDEO