Gitzo Century Compact Camera Messenger Bag Review
You know the brand Gitzo for their world renowned tripods. The company is 100 years old this year and they're celebrating their first century by now offering camera bags worthy of their reputation for innovative design and meticulous craftsmanship.
April 6, 1917: the United States declares war on Germany. The Great War had been raging across Europe since July, 1914, and the US remained neutral until near the end. Fighting ended on the 11th hour of the 11th day of the 11th month, and the Treaty of Versailles was signed on June 28th of the following year.
Amidst the horror and confusion that was WWI, Gitzo was founded in France by Arsène Gitzhoven. Initial product lines included cable releases, shutters and other camera accessories. Production continued until another war caused them to temporarily suspend operations in 1942. Pretty amazing, considering that Germany began shooting in France in 1940.
The Doughboys carried Gas Mask Packs as they slogged through the trenches and into their first combat engagements through the Luneville sector in the Lorraine region of France. A large pouch with a fixed strap and a large flap cover, the archetypical design of the gas mask pack lives today as the Gitzo Century Compact Camera Messenger Bag.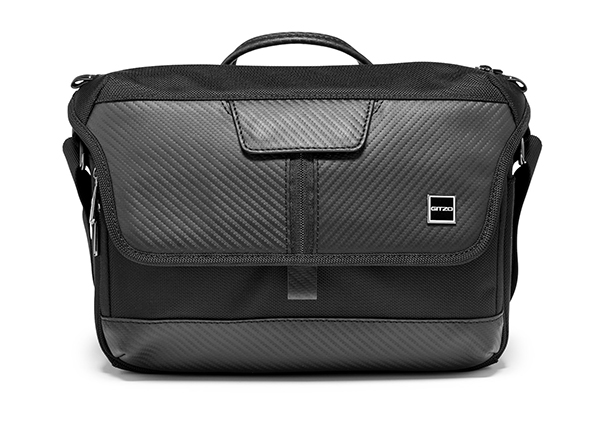 Construction
The Gitzo Century Compact Camera Messenger stands a cut above similar products in this category because of its superb construction, genuine Italian leather trim and carbon fiber pattern design. Billed as a carry solution for mirrorless and/or compact cameras, it measures roughly 8.3 x 13 x 4.7 inches.
I found it suitable for larger cameras as well, and had no problem stowing my large, aging Sony Alpha α700 with 24-50mm f/4 Minolta zoom and two additional lenses. Gitzo says it also accommodates a DJI Mavic Pro plus remote control and small accessories, but I lack the equipment to test myself.
The top of the pack features a heavy-duty zipper that allows quick and convenient access to the contents. The front flap has an interesting covered pouch that remedies age-old problem of where to store lens caps after removing them during use. To be honest, I had a devil of a time figuring out the function of the pouch until I spoke to the folks at Manfrotto, importer of Gitzo and owner of the brand.
Features
Inside the Gitzo Century Messenger you'll find a tablet pocket that measures about 7.9 x 9.7 x 0.6 inches—large enough for most tablets except, of course, the largest iPad Pro. If you use these measurements to determine if your tablet fits, don't forget to include some margins for slippage.
Continuing inside there is a hideaway fabric cover that can be buried out of sight or stretched into place and secured by Velcro. I'm not sure why anyone would use it, but it takes up zero space and—who knows?—could prove useful during a zombie apocalypse or other unforeseeable disaster.
Also inside is a rather standard set of three gray interchangeable dividers that allow you to customize and subdivide the storage space. The partitions are nicely padded and more supple than most, and I found them easy to arrange.
Stuffed inside there's a Rain Protector that unfolds to shroud the Century Messenger and protect it from foul weather. The outside fabric, also, is moisture resistant, but if you're like me you won't use your valuable equipment to test the effectiveness of the water repellant.
The Rain Protector presents a minor problem that I encounter with many, many bags: where to store it when it's not needed. It's not reasonable to carry the pouch inside the bag because it occupies too much space. And setting it down somewhere at home means I run the substantial risk of never finding it again.
Lowepro and a few other brands provide hidden marsupial pouches that hold a flattened and folded rain cover. I wish every manufacturer followed their example.
Security & Support
The front flap cover of the Gitzo Century Compact Messenger is secured by a unique G-lock flap closing system powered by Fidlock. It's a magnetic lock that can be quickly and easily opened and closed. I was skeptical at first, despite Fidlock's sterling reputation, but in actual use—through hundreds of opens and closes—I can attest that it works as advertised.
Behind this snap closure, spanning entirely across the front of the bag, is a generously sized zippered pouch that is further subdivided by four pockets. While most so-called "organizer pockets" are worthless in my opinion, this one is handy for business cards, a small (as in flat) flash unit, several filters and similar miscellany.
Continuing our virtual tour to the back of the bag we find a leather-trimmed strap connector that easily slips over the extended handle of a set of baggage wheelies or luggage handle. Also, there's a flat zippered pouch good for holding maps, an owner's manual, tickets or an extremely thin sandwich.
Topping off there's a sturdy, leather-trimmed haul handle and a permanently attached adjustable shoulder strap complete with strong metal hardware and a nicely padded, slip resistant shoulder pad.
I left out the tiny pouch that's on one end because it's really too small to be useful.
The Gitzo Century Compact Camera Messenger is available for $169 from popular photo retailers. Also offered is the larger Gitzo Century Traveler which is very similar in design and construction, measures 11 x 15.4 x 5.5 inches and fits a 13-inch notebook computer. The third member of the Century line from this century-old company is the Gitzo Camera Backpack.
Conclusion
The verdict? Messenger bags of this ilk are as plentiful as pigeons in Manhattan, and I've examined at least a dozen models over the years—maybe two dozen. But in terms of quality construction, aesthetics and usability, I place the Gitzo Century Compact Messenger close to the top, smack-dab on par with the Tenba Cooper 8, which I reviewed here in 2015. Which is better is a tossup—they're priced about the same and both have that high-end, ultra-luxury look and feel. The Gitzo is a bit larger, and that's points in its favor; but the Tenba is more compact and has a removable strap. Tough decision, so I'll leave it up to you.
—Jon Sienkiewicz

FEATURED VIDEO