This Sharp Econyl Photo Backpack is Environmentally Friendly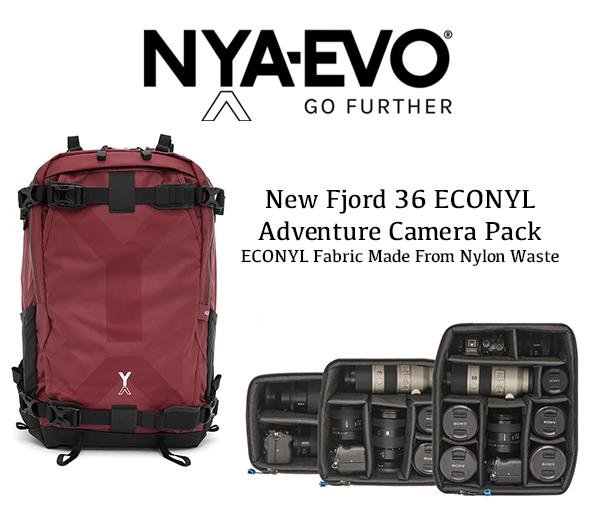 Prominent camera bagmaker NYA-EVO has introduced their popular Fjord 36 camera backpack with its main fabric made of Econyl, a sustainable material manufactured from nylon waste that would otherwise be part of the world's solid, non-biodegradable junk pollution.
We reviewed the original NYA-EVO Fjord 36 when it first launched a couple years back. You can read that Shutterbug review here. We delved into the details then, so in today's post we cover the highlights only. Note that the biggest negative we expressed about the original backpack accessibility) has been addressed in this new version.
But the big story is the Econyl fabric that's used in its production. Instead of adding more manmade substances that potentially could remain in our Earth's backyard forever, the process of generating Econyl instead removes scrap nylon and reuses it.
What is Econyl?
Econyl is manufactured by the Italian firm Aquafil, a self-described pioneer of the "circular economy," a comprehensive system that's defined as being narrowly dedicated to durability, reuse, remanufacturing and recycling of products so that items stay in useful circulation, as well as the overall transition to renewable energy and materials. Aquafil Group has 19 locations around the world and has been operating since 1965.
Why is Econyl Significant?
Aquafil claims that for every 10,000 tons of Econyl raw material they are able to save 70,000 Barrels of crude oil and avoid the equivalent of 65,100 tons of CO2 emissions. Econyl is as pure as virgin nylon and can be recycled.
Features of the NYA-EVO Fjord 36 Econyl
The NYA-EVO Fjord 36 Econyl is a durable 36L (Liter) general purpose backpack that becomes a photo backpack via the inclusion of a Removable Camera Insert (RCI). RCIs come in three sizes so you can decide what portion to assign to camera gear based on how much room you need for your other stuff.
Unlike most camera backpacks, the Fjord 36 features a built-in, full-size aluminum frame that makes light work of heavy loads. NYA-EVO claims that an average person can carry 15 kg (33 pounds) of cargo with relative ease. Their load stabilizer system moves weight to the frame, and the frame transfers it to the hips. The removable belt is a big help, too. I didn't try an overload, but the concept makes sense.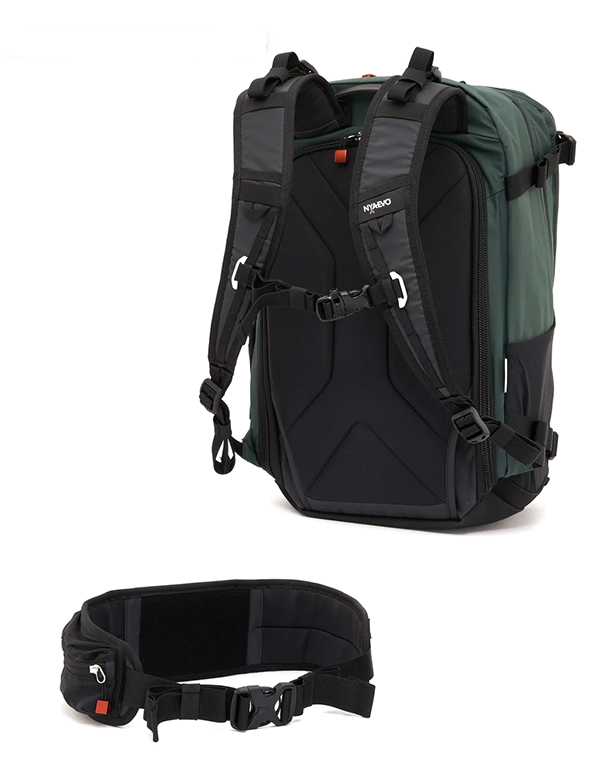 In addition to providing excellent protection for the contents, the Fjord 36 is fitted with various attachment points for miscellaneous adventure gear (e.g., skis, snowboard, helmet, rope, ice axe) and accommodates laptops up to 15 inches (or a 16-inch MacBook Pro).
Construction
You access contents in the main compartment through the top or back. There is a large, multipurpose pocket in front. We find internal organizational compartments for small camera accessories (memory cards, snacks) on the interior rear access panel. Two internal zippered mesh pockets allow storage of point-and-shoot camera, light meter or travel accessories.
The external surfaces are coated with thermoplastic polyurethane for weather protection. There'salso an included rain cover, should extreme protective measures be necessary. Zippers are YKK Aquaguard for rain sealing. The tubular frame is made of T6-6061 aluminum, and the bottom is made of high-durability Hypalon that protects the bag if you set it on a wet surface.
The pack features a removable internal separator that divides the camera gear from other contents for added protection. But the real organization happens when you add a Removable Camera Insert (RCI).
Removable Camera Inserts
All NYA-EVO RCIs are now made with recycled materials. More than a bag within a bag or camera cradle, the RCIs provide excellent protection and are easy to customize. When not in use they collapse flat for efficient storage.
Available in three sizes, the large (RCI-L) leaves 0% free space in the Fjord 26, 15% free space in the Fjord 36, and 40% free space in the Fjord 60-C. If you need to carry a lot of gear, the RCI-L is the most sensible choice.
Specifications
Weighing in at 4.4 pounds (2000g) the Fjord 36 is no flyweight when empty. It measures 12.6 x 19.7 x 9.8 inches (32 x 50 x 25 cm) width, height and depth. This size may get you in trouble when flying, as it just slightly exceeds United's stated carry-on standards, but check with your airline for most accurate information. United's website lists their restrictions as 14 x 22 x 9 including handles and wheels.
Conclusion
The idea of a photo backpack with modular camera gear organizers is far from new, but the NYA-EVO stands apart from the crowd due to its built-in aluminum frame and striking appearance. Build quality is first-class and the materials used in fabrication are all of the highest quality. Workmanship is superb. The ability to combine photo and general stuff is not unique, but it's well executed and the choice of three sizes of inserts is a real plus.
Availability and Price
The NYA-EVO Fjord 36 Econyl lists for $299. Choose from black, dark red, forest green or dark navy blue. Price does not include an RCI.
—Jon Sienkiewicz