NYA-EVO Fjord 36 Adventure Camera Backpack Review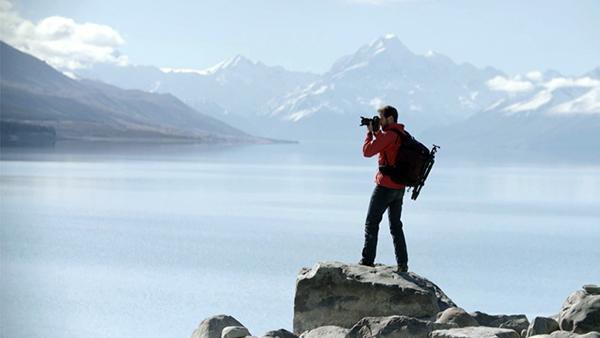 Summer is the best time to think of winter things. If you're a skier, snowboarder or an ice adventurer of any kind, you'll love this photo backpack from newcomer NYA-EVO.
It's been a good year for adventure-type camera backpacks. Recently we've looked closely at the Mountainsmith TAN, RVCA Zak Noyle Camera Backpack and current leader of the (back)pack Shimoda.
The latest entry to reach my workbench is the Fjord 36 from NYA-EVO. While useable in any situation, it's aimed mainly toward the snow sport crowd, judging from the feature set. Because of this cold weather orientation it's taken me longer to warm up to this bag, no pun intended. More on this later.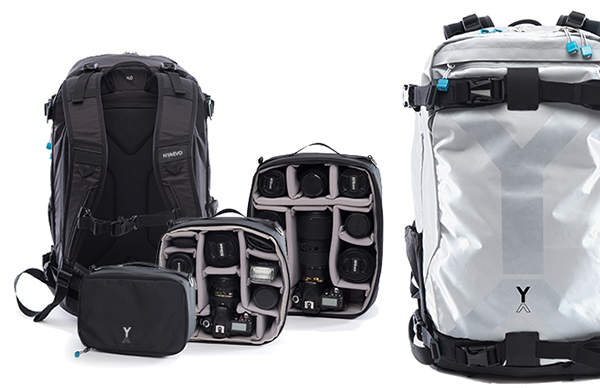 Design
The NYA-EVO Fjord 36 features the familiar removable camera module design. NYA-EVO calls theirs RCIs (Removable Camera Insert) and they are available in three sizes. Even when the largest RCI is used there is still room at the top of the bag for non-photo items like gloves, food or clothing. The RCI units are held in place by disappearing Velcro tabs and that adds to the overall solid feel of the backpack.
The camera storage area is accessible through the back only. That's the most secure way if you're negotiating through a troubled urban area. But this method means it takes longer to reach the contents.
There's a useful organization pocket in the front, a laptop sleeve and a pair of stretchy side pockets that will hold a water bottle or similar shape comfortably even when the bag is packed full and tight. The bottom of the bag is protected by an oversized section of waterproof Hypalon synthetic rubber and the outer skin is water resistant. A raincover is included in the package.
I asked Mario Jutronic, NYA-EVO's marketing guru, about his favorite features and he was quick to point out the contoured (slightly curved) shoulder straps which do indeed enhance comfort, especially after long periods of carry.
External Carry
But I think the differentiating strongpoint of the Fjord 36 is the easy ability to hang all sorts of tools, accessories and miscellaneous equipment on the outside. External attachments start with a unique, expandable net that can be stretched over a helmet to secure it safely at the top of the backpack. There are also efficient and thoughtfully designed means to attach a tripod, monopod, skis, ice axes, ropes, snowboards or ski poles. Whew.
Very High Quality Construction
Clearly built to last a lifetime or longer, the NYA-EVO Fjord 36 is constructed of the highest quality components and built on a sturdy aluminum frame that perfectly maintains the shape and structural rigidity of the backpack while remaining totally unobtrusive. Even the zipper pulls are overbuilt and easy to manipulate.
Best Documented
Unlike most bags and backpacks, which rely on the user to more-or-less figure out configurations on their own, the NYA-EVO Fjord is the best documented photo backpack I've ever encountered, hands down. Take a look at their fully illustrated User Guide and see it you don't agree.
Origins of the NYA-EVO Fjord 36
In 1975 Jim Domke, who at the time was a full-time photojournalist and editor for the Philadelphia Inquirer, invented the now iconic Domke Bag to carry his camera and lenses because he couldn't find a suitable product in the marketplace. Necessity is the mother of invention, but genuine need is the baby daddy.
Since then there has been a number of individuals and groups who have designed and created camera bags and photo backpacks to meet their specific needs because they were motivated by the same muse who motivated Domke—if I can't buy the exactly right one, I'll make it myself. Kickstarter has enabled many of these dream bags to become marketplace realities.
This has been a fortunate thing for photographers everywhere because we benefit from the experience and brilliance of others. It should be noted, though, that these true-grit origins don't necessarily make the product any better than something more conventionally spawned.
The genesis of the NYA-EVO Fjord 36 followed this formula. I'm eager to see the products they may be offering in the future.
Conclusion
Personally, I have mixed emotions about the NYA-EVO Fjord 36 Adventure Camera Backpack. The list of positive attributes is pretty long, but there are a couple of negatives that turn me off. Overall I give it high marks because it deserves high marks, but if your first priority is a camera-toting backpack, this bag is not your best choice. If you seek a very well made and highly adaptable backpack that secondarily also can carry camera equipment safely, then this may be a good choice for you.
My problem is that I do not use a photo backpack to carry skis, ice axes, ropes, snowboards or ski poles. Therefore it's hard for me to appreciate that capability. The NYA-EVO Fjord 36 is crackerjack at accommodating these cold weather accessories, and if that's your bag, then this is your backpack.
Because access is through the back, it's necessary to remove the backpack to fetch a lens or grab the camera. Yes, you could stow a frequently-used item in the top storage area, but the rear-only access means that access is always slow and deliberate. And that a huge turnoff in my book.
Available now directly from NYA-EVO at $279 for the Fjord 36 Adventure Camera Backpack alone and for $378 with the Medium RCI. RCI's alone are priced $79, $99 and $119 (small, medium and large).
—Jon Sienkiewicz

FEATURED VIDEO