Domke Everyday Photo Backpack is Light, Versatile and Ruggedly Handsome: REVIEW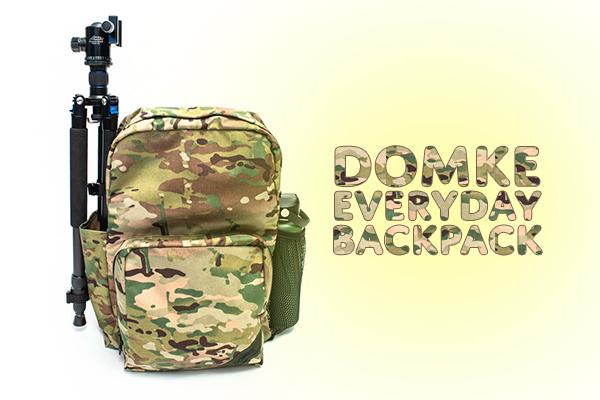 The photo backpack is the best innovation since dry dog food, so when an iconic camera bag brand like Domke produces their version, people expect to see lightning in a jar. Does the Domke Everyday Backpack deliver? Or is it just another bowlful of puppy kibbles?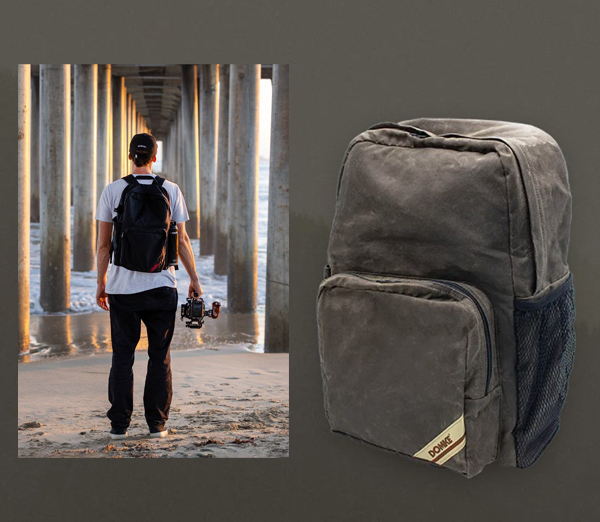 The Domke Everyday Backpack is a simple design that's remarkably light in weight (2.5 pounds) and very stylish. It's made in the USA, a rare quality these days, and the overall construction, choice of materials and layout are superb. Color choices are camo, black or Domke RuggedWear brown. External measurements are 19 x 13 x 7 inches.
The outer shell of the Domke Everyday Backpack is thin but durable 500 denier Cordura nylon. The exterior material is water and abrasion resistant, and repels stains. The sample we evaluated for this review was MultiCam camouflage pattern similar to NATO Woodland Camo.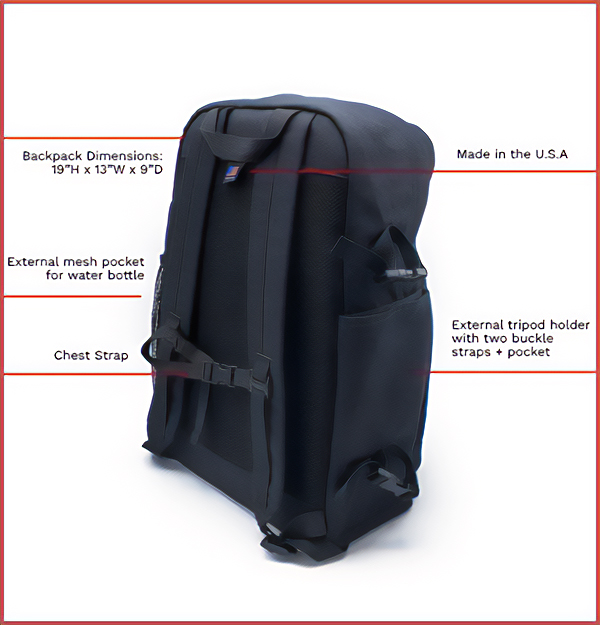 Design and Layout
The Domke Everyday Backpack opens from the front, so it's easy to access the camera gear in the upper compartment as well as access the laptop sleeve. Some backpacks open from the back only, and while they are sold based on the potential of providing greater security, they're markedly more difficult use because they must be removed—and in most cases set on the ground—before you can retrieve the contents.
If you routinely carry a laptop computer or large tablet, you're in luck. I was able to slip my aging 17-inch MacBook Pro into the laptop sleeve with no effort. My heirloom computer is bigger than many 17-inchers, so calibrate accordingly. Not surprisingly, my tiny MacBook Air disappeared into the pouch without a whimper.
Lift the tray that forms the bottom of the upper area to access the lenses and gear stored below. The lower compartment measures 10 x 13 x 5 inches. Nicely padded divider inserts in the bottom compartment can be configured to form silos that are more than 10-inches deep, quite long enough for my Fujifilm XF50-140mm f/2.8 zoom which mics at 6.9-inches. This extended size is a welcomed feature because all too often photo backpacks are too short to stow a long 75-200mm f/2.8 equivalent and still have room for a camera with short zoom attached. The extra depth also enables you to load in several lenses and other equipment.
The internal padded dividers (upper, lower or both) can be removed easily (common hook and loop fasteners) to parlay the Everyday aspect of the bag. The generous 13-inch width allows for quite a bit of cargo.
On the front, below the main compartment opening, is a large zippered flap-type pouch that can easily hold nine regulation baseballs without stretching. Inside it features a row of stitched organizer pockets (three small, one large). The front side of the pouch is not at all padded, just one thickness of 500 denier nylon, so be aware of this when you pack. You can carry things like electronic flashes or light meters in this pouch, but if you do so, first pack them into their own padded case, otherwise they will not be protected.
The zippers that close both sections are two-way models, YKK brand. Zipper quality is a subtle but revealing clue to overall quality, and YKK zippers are the best in my opinion.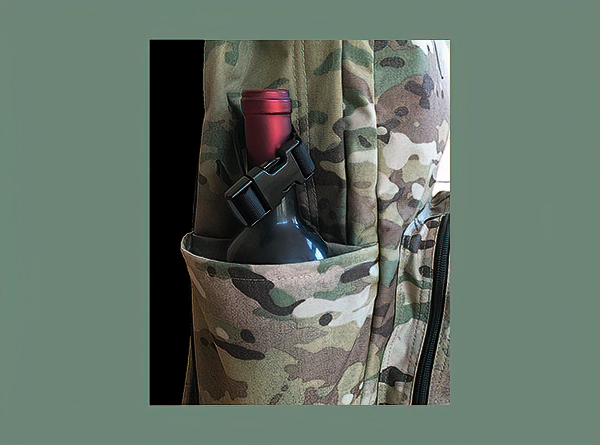 On the left side (if you are facing the front of the Domke Everyday Backpack) there's a pocket that's 9.5 inches deep and about 6 inches wide. A bottle of Grgich Hills 1985 Cabernet Sauvignon (or lesser vintage) fits neatly inside the unpadded pocket. There's also a pair of tripod lashes that can be used with or without the pocket as you wish. On the other side of the bag, a net pocket stores a 1-liter bottle of Evian or anything the same size.
On the back we find a pair of adjustable shoulder straps and sternum strap. The straps are thinly padded and unremarkable. There's an unpadded grab handle on the very top, too. I prefer to see more padding on straps and grab handles; these are Spartan. When I watch people carrying a backpack, they often drape one strap over one shoulder. Proper padding makes that practice more comfortable.
The bottom has a stiff reinforcing board but the bottom exterior is not treated to safeguard against wet surfaces, so refrain from setting this bag down in the snow or on anything you don't want to track into the house.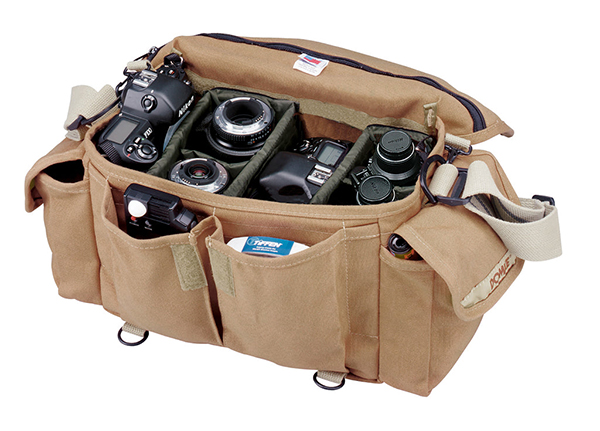 Domke Heritage
When you think of Domke, the first image that comes to mind could be the legendary tan canvas F-2 model. That's not surprising because that original bag is still the most popular bag for many pros. It's heavy on function and light on protection, but the Original Domke F-2 design is both iconic and practical.
We recently wrote about some popular Domke gadget bags in a story you can read here: 3 Photo Shoulder Bags From Domke That You Should Know About and reported on Domke's line of denim colored photo bags in this article.
Also, take a look at this story, How to Buy a Gadget Bag, for a checklist of things to consider when camera bag shopping.
Conclusion
The Domke Everyday Backpack delivers on the promise of being a light, strong photo backpack that offers exceptionally good access to the gear inside, and it looks really great. It's well made, living up to the rich Domke heritage, and should provide many years of service.
This is not the best photo backpack for mountain climbing or week-long treks into the hinterlands. For just about everything else, it's outstanding. Commuters, college students and photographers who want a good looking backpack that's comfortable to carry should look no further.
Cost and Availability
A Made-in-USA Domke Everyday Backpack in camo, brown or black can be yours for $199 directly from the Domke homepage.
—Jon Sienkiewicz
(As an Amazon Associate, Shutterbug earns from qualifying purchases linked in this story.)

FEATURED VIDEO