Review: PGYTECH OneMo Camera Shoulder Bag Features Innovative Expanding Upper Deck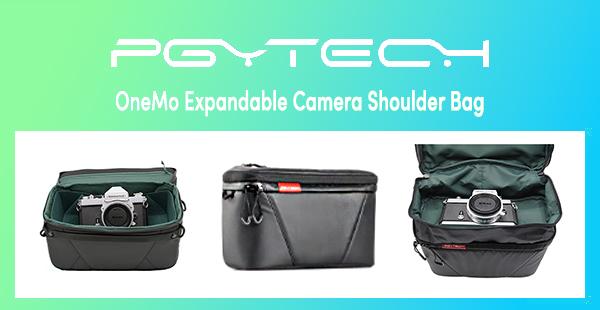 Remarkable new design makes the PGYTECH OneMo Camera Bag extremely useful for all occasions. Compact, splashproof (IPX4) and drone-friendly, it also has a very friendly price.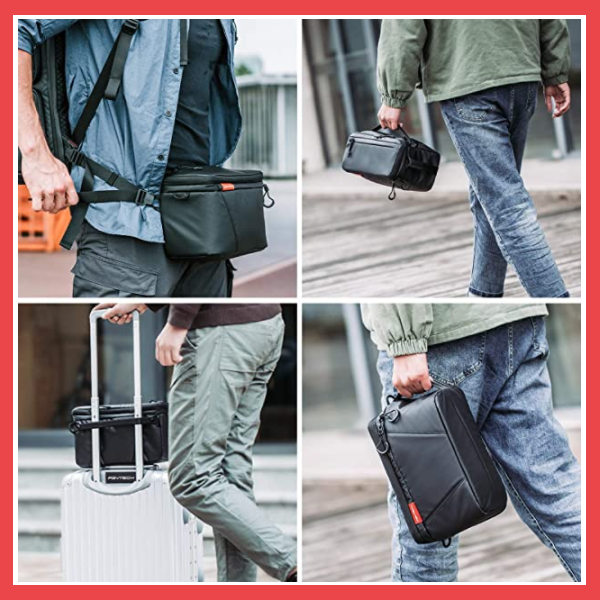 Top Specs
Expandable (top compartment) by 3L
Switch between Shoulder Bag and Waist (Fanny) Pack
Drone-friendly (very much so)
Splashproof (IPX4 class)
Waterproof SBS Zippers
Multi-layer sandwich construction
Abrasion resistant and easy-to-clean surface
Versatile internal dividers
High-density XPE foam padding
Holds mirrorless and two lenses or comparable
Dimensions: 7.5 x 13 x 5.5 inches (not expanded)
Weight: 14 ounces empty
Fabric: polyester 85%, polyurethane 15%
Lining: polyester 100%
The PGYTECH OneMo Expandable Camera Shoulder Bag is available directly from PGYTECH $69. Price includes a Lifetime Limited Warranty (see website for qualification details).
The young folks at PGYTECH are drone experts. They offer a broad variety of accessories for drones on their website and are drone users themselves. So it's natural that all of their camera bags and packs are well-suited to carry drones and drone controllers.
PGYTECH appeared on our radar when they introduced the Pgytech OneMo Photo/Drone Backpack, which we reviewed (read it here). We were highly impressed by the quality and innovative design. Here's what I wrote about the OneMo Photo Backpack: "I like this bag and the price is right. It's comfortable in the field, permits rapid access of the contents and looks sharp. It's well made and well designed and leaves very little wanting. I can recommend it wholeheartedly, especially if you have a drone habit."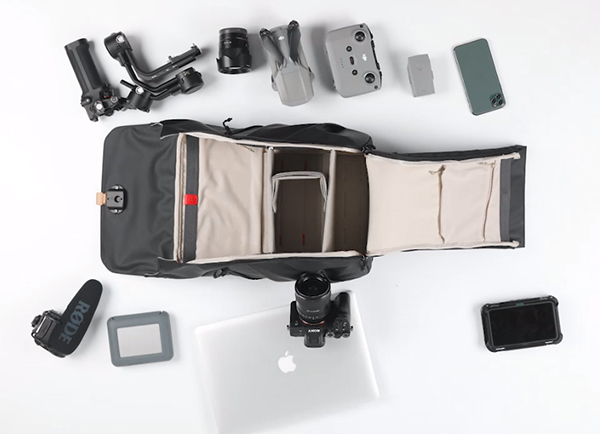 PGYTECH followed the OneMo with the OneGo. We reviewed it, too. Read our findings here.
I'm just speculating here, but I think their next bag may be made of deerskin (OneDoe), perhaps followed by a coffee-lovers' pouch (OneJoe), a caviar line (OneRoe) and a backpack for podiatrists (OneToe). And for holiday giving? The One-ho-ho-ho.
The top of the PGYTECH OneMo Camera Shoulder Bag has a quick-fetch zippered slot-type pocket that's ideal for wayward lens caps, business cards, etc. It holds quite a bit, actually. Inside the lid there's a zippered mesh pouch, and inside the pack we find a soft green fabric and a set of interesting flexible dividers.
On either end and either side there are strap attachment loops. Their locations make it easy to convert carry mode from shoulder to waist-pack. On one end there's a haul handle for vertical carry; it also accommodates a PGYTECH Beetle Camera Clip as shown above. There's a sturdy strap on the back you can slip over a rolling suitcase handle, luggage trolly or use as a haul handle. And that's it on the outside—very sleek and clean design.
The big secret and coolest feature is the expandable top. Unzip the inconspicuous zipper and expose a upper-deck level that easily stores my Nikkormat FTn body (as shown in the picture above) with plenty of space to spare.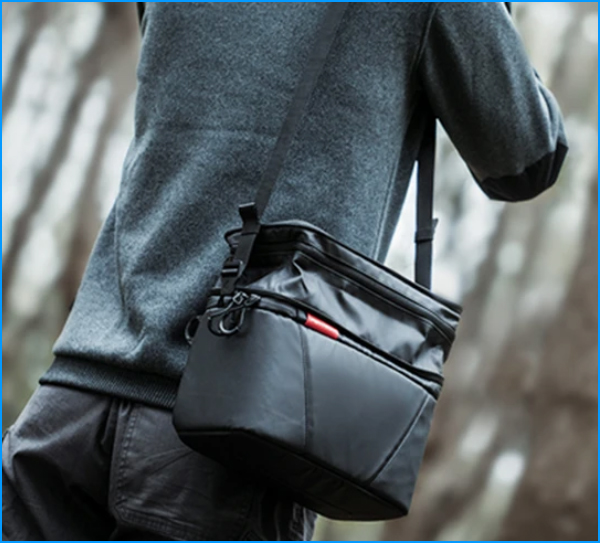 The image below shows the same camera inside the bag. PGYTECH claims it adds 3L (liters). I have no accurate way of measuring, but if so that's an additional 183 cubic inches. Anyway, there's a lot of space.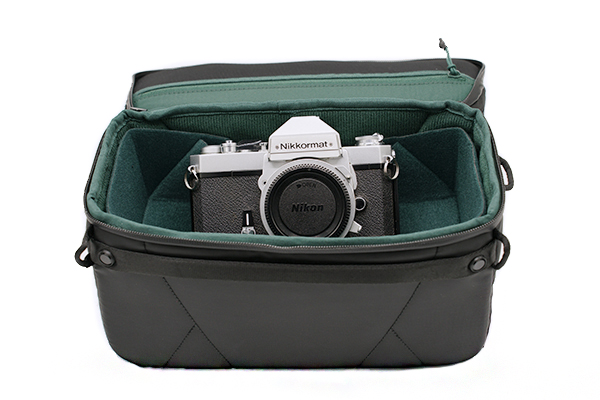 Conclusion
This bag belongs at the $99 pricing tier, so as of this writing it's a bargain at $69. As always, this may be a temporary price reduction, so act accordingly. But that's not the reason to buy it. Its clean design, compact size, waterproof exterior and useful expandability make it a favorite for me. Add to that the flexible carry options and drone-compatibility, and the PGYTECH OneMo bag is One Winner.
—Jon Sienkiewicz
(As an Amazon Associate, Shutterbug earns from qualifying purchases linked in this story.)