DJI Launches 4K-Shooting Osmo Action Camera to Compete with GoPro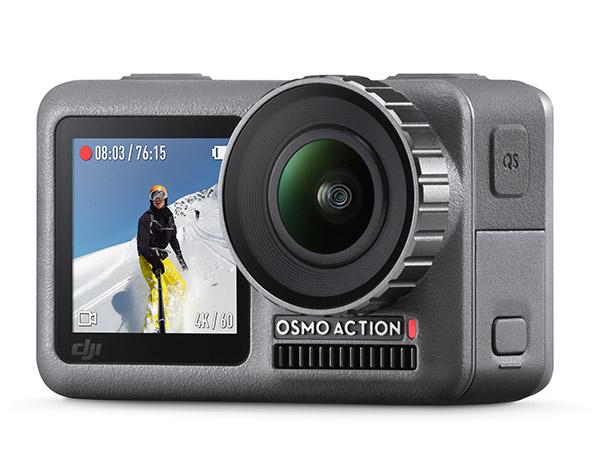 Those (still) popular GoPro action cameras just got some stiff competition. DJI, which is known for its drones and camera stabilizers, just launched the new 4K-shooting Osmo Action camera, which is a direct competitor to GoPro's now ubiquitous POV adventure cams.
DJI is hoping the new Osmo Action cameras, like GoPros, will soon find their way into the hands of surfers, bikers, hang gliders, skateboarders and many other adventure sports enthusiasts to film some gnarly 4K video footage and snap rad POV photos. DJI says its background with capturing smooth and stabilized video from its drones, and with the help of its handheld stabilizers, will make the Osmo Action the new king of adventure footage.
That's a tall order considering how commonplace GoPros have become. The new Osmo Action camera does look good on paper though. One particularly unique feature about the Osmo Action is that it has dual color screens: a 2.25-inch rear touchscreen, and a 1.4-inch front screen designed to make "vlogging and selfies easier than ever before," according to DJI.
Here's a rundown of some of the key features of the Osmo Action, which went on sale today for $349 USD:
• Rugged and compact camera design: dustproof, shockproof, waterproof, with the ability to operate in sub-freezing temperatures
• Dual screens: a 2.25-inch rear touchscreen employs a water- and fingerprint-repelling coating; and a 1.4-inch front screen. With a brightness of 750 nits, Osmo Action can be used in harsh lighting conditions, including direct sunlight, according to DJI
• Camera's 1/2.3-inch sensor records 12-megapixel photos and 4K video up to 60fps at 100Mbps
• A three-glass aspherical lens design records low-distortion content and aids in reducing warping effects for improved scenes
• Lens cap is finished with two layers of anti-fingerprint coating "to keep the shot clean during use, as well as an anti-reflective coating to reduce the unwanted effects of lens glare, giving users more flexibility to shoot in bright conditions."
• The first DJI handheld camera to include RockSteady, DJI's Electronic Image Stabilization (EIS) technology. Stabilization algorithms work in conjunction with EIS "to record every movement in smooth, stable, high-quality video, even when recording 4K/60fps."
• Shoots High Dynamic Range (HDR) video in 4K/30fps, delivering "an additional three stops of dynamic range to the scene, natural transitions between light and dark areas, and rich details that are often lost in complex lighting conditions."
• Removable battery has a run time of 93 minutes recording at 4K/30fps with RockSteady enabled, and 135 minutes recording at 1080p/30fps without RockSteady
• Dual microphones let you use Osmo Action's Voice Control; a speaker ensures "outstanding playback quality."
• While recording, you can also choose between these creative effects:
Slo-mo: 8x slow motion in 1080p 240fps or 4x slow motion in 1080p 120fps "creates a visually appealing effect when documenting action-packed scenes."
Timelapse: To turn minutes into seconds, Timelapse "is perfect for capturing unique content with the effect of the world moving faster."
Custom Exposure settings: "Shoot for the stars with manual and semi-automatic settings that allow up to 120 seconds of exposure, perfect for capturing the night sky."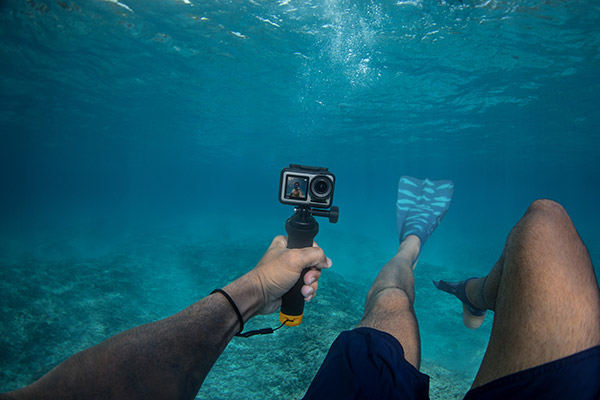 Connectivity & Accessories
When using the recently released DJI Mimo app, users will be able to connect Osmo Action to their mobile device with WiFi or Bluetooth for added functionality, including a live feed of the camera, multiple story templates, in-app quick editing, and more.
Osmo Action accessories include:
Camera Frame Kit: Included with Osmo Action, the Camera Frame Kit offers a universal mount for additional accessories and a window for the LED indicator to show camera status in real time while protecting the device.
Adhesive Mounts: Attach Osmo Action to flat or curved surfaces including skateboards, bikes, helmets, and more to capture fast-paced moments. Both the curved and flat adhesive mounts are included with Osmo Action.
Waterproof Case: The waterproof case protects the device at depths down to 60 meters while providing a clear image using high-strength glass.
3.5mm Adapter: The 3.5mm adapter offers users the ability to connect an external mic for professional sound recording.
Extension Rod: Capture unique angles using the Extension Rod, which features a rotatable phone holder and a ¼-inch screw adapter.
Floating Handle: The Floating Handle offers a comfortable grip for Osmo Action and keeps it floating when shooting in water.
Filters: Osmo Action comes with Neutral Density (ND), Polarizer, and underwater filters. ND filters (ND4, ND8, ND16, and ND32) reduce light exposure in various environments, while Polarizer filters reduce reflections and increase color saturation for a more appealing image. Orange Seawater and Purple Freshwater filters restore the natural color of underwater scenes.
Charging Hub: Charge up to three batteries simultaneously in less than 130 minutes.
Check out a video below demonstating the key features of the Osmo Action, in action:

FEATURED VIDEO