The Goods: Our Favorite New Premium Photo Gear
Little Hero
If you thought GoPro's cameras were small already, get a load of the teeny, tiny HERO4 Session. It's 50 percent smaller and 40 percent lighter than GoPro's popular HERO4 Black and Silver cameras—which are already small to begin with—but still tough. The GoPro HERO4 Session has a rugged, waterproof design, which requires no separate underwater housing so you can safely use it to shoot all your surfing, skiing, and off-roading adventures right out of the box. The highly portable, black camera features simple one-button control that makes it easier to shoot POV photos and video. It can capture 1080p60, 720p100, and 1440p30 video along with 8-megapixel photos in Single, Burst, and Time Lapse modes. The GoPro HERO4 Session is waterproof to 33 feet and features a sleek frame mounting system that's compatible with GoPro's array of mounts, so you can attach the camera to a variety of POV locations. Meanwhile, a dual microphone system switches sound recording between microphones to reduce wind noise during activities. And since you don't need a separate water housing for the Session, say goodbye to muffled sound.
Top Loader
The Kontrast Pro DSLR Backpack has two things that separate it from the photo bag competition: it's got one of the best top-loading systems for quickly getting to your camera, and it has a large, water-resistant molded base that keeps the bottom dry, even when sitting on long, wet grass. Made by Case Logic, the Kontrast Pro DSLR Backpack also has a very distinct interior color: a day-glow lime green that provides a major, ahem, contrast to the black exterior of the bag, and makes it nearly impossible for tiny camera parts and pieces—such as wayward hot shoe covers—to hide. The pack's upper loading system is called a "hammock," which suspends your camera body for easy access while protecting it against impact. The backpack has enough room to store a pro DSLR camera with an attached lens along with four to eight additional lenses (up to 70-200mm) and accessories. There's also a compartment that stores up to a 10.1-inch tablet or a 15-inch laptop; a dual-access lid pocket that lets you quickly get to memory cards; and side stretch pockets for a tripod or a water bottle. Most of all though, we like how the top entry into this bag opens away from your body so you can quickly grab your camera and start shooting.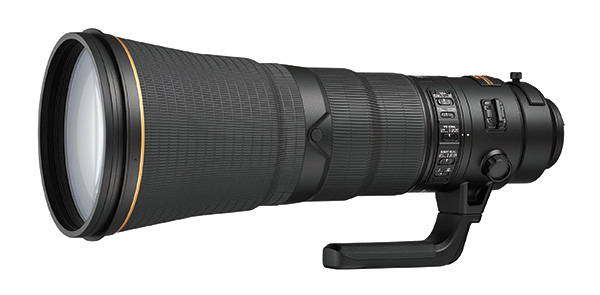 Long Glass
Nikon's new AF-S Nikkor 600mm f/4E FL ED VR may seem big but it's actually been on a diet. At 8.5 pounds, this premium piece of super telephoto glass weighs three pounds less than its predecessor, which will help you lighten the load when trekking on photo safaris and wildlife shoots. The weight loss is due, in part, to the lens' new light but durable magnesium alloy build. Nikon has also added fluorite elements to the optical formula of this 600mm missile, which reduces chromatic aberrations and helps shave off a few ounces of lens mass. Other changes include improved autofocus tracking performance and the addition of an Electromagnetic Diaphragm, which is designed to keep consistent exposure when shooting high-speed image bursts of fast action. Along with wildlife photographers, the lens is aimed at sports, action, nature, and press shooters. While you might need to take out a second mortgage to pay for this giant Nikkor, don't you think your photography is worth it?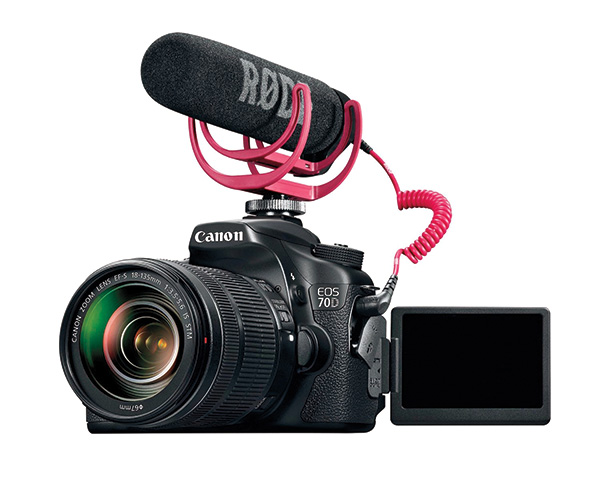 Movie Maker
If you're interested in shooting movies with your DSLR but don't know where to begin, Canon is offering a trio of Video Creator Kits to get you started. Designed for aspiring filmmakers, the kits pair a Canon EOS 70D with an EF-S 18-135mm f/3.5-5.6 IS STM lens, an EOS Rebel T6i or an EOS Rebel T5i with an EF-S 18-55mm f/3.5-5.6 IS STM lens, a Rode VideoMic GO on-camera shotgun microphone, and a SanDisk 32GB Class 10 UHS-I SDHC memory card. No, these aren't super advanced video tools (or super expensive, for that matter), but they will get you making movies in one fell swoop. The STM stepping motor in the 18-135mm and 18-55mm lenses provides near-silent focusing when used with the Movie Servo AF mode, while the optical image stabilization system will help reduce camera shake. The Rode shotgun microphone, meanwhile, features an integrated Rycote Lyre shock mount for better sound isolation during handheld recording. The mic's directional design features a super-cardioid polar pattern to reduce off-axis sound and provide more natural audio quality that's suited for working with subjects at a distance.
The Goods is a new feature in Shutterbug that spotlights the hottest premium photo gear out there. If you have a product you'd like considered for The Goods, e-mail images and info to editorial@shutterbug.com.