Canon Photo Tips from David Hume Kennerly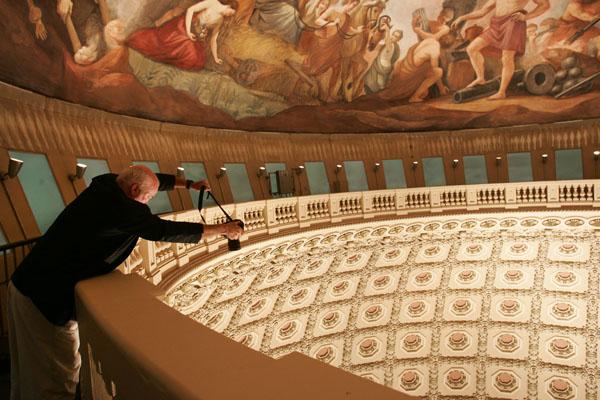 (Editor's Note: Exploring Light is a monthly Shutterbug column featuring tips, tricks, and photo advice from professional photographers in Canon's Explorer's of Light education program. This month's column is by Pulitzer Prize winning photographer David Hume Kennerly, with tips for making better photographs.)
Hang in there. Hang Out There
Mark Abraham, an American fashion and portrait photographer, caught the above photo of me leaning over the railing at the top of the U.S. Capitol Rotunda as I took a picture of President Gerald R. Ford's casket lying in state more than 150 ft. below. Every now and then you have to extend yourself beyond what you think you can or should do in order to make a good photograph.
The idea behind this angle was showing the majesty of the Rotunda and the flag-draped coffin containing the man whose career started as a Congressman in this building that he considered sacred. My main concern was dropping the camera and killing someone down on the floor, so you can see I had the strap held in a death grip!


If it Makes You Laugh, Shoot It
Photography can reveal someone's personality, and this moment with First Lady Hillary Clinton in 1998 is a good example of that. It definitely made me laugh! But more than that, I was also able to reveal her sense of humor when I sent a print of the photo to her and said, "If you're still talking to me after you see this, would you mind signing it?"
Her response was hilarious. She wrote on the "First Lady Wincing" picture, "David, I just wanted you to know I was thinking about you . . . Hillary Rodham Clinton." It's a good lesson in not taking yourself too seriously.
It's All Happening at the Zoo. Take Your Long Lens
Most of us will never go on a safari, but sometimes there's a jungle near you. I love animals, and there's nothing more satisfying than getting a good photo of animals interacting. Life is about the little moments, and this qualifies as a nice one. This image of an Orangutan mother and her child was taken at the Singapore Zoo.
Be Discreet. Be sensitive. Be understanding. Don't Interfere
Earlier this year, I went to the Mexican border to document migrants trying to enter the country. I saw dozens of people attempting to get into the United States, but one child caught my attention. A Salvadoran girl, probably not more than nine or 10 years old, stared into the U.S. from behind the slatted wall. Her look was a mixture of sadness with a pinch of hope. I've been in countless situations like this, and she reminded me of a Cambodian girl whom I photographed right before Phnom Penh fell to the Communists in 1975.
The one thing I didn't want to do was disturb her by getting in her face with my camera, so I took pictures of her from a distance with my telephoto lens. It was impactful. The picture is an honest portrayal of that touching moment. She and her mother, who is reflected in her eye, were taken away by the Border Patrol, and that's the last I saw of them.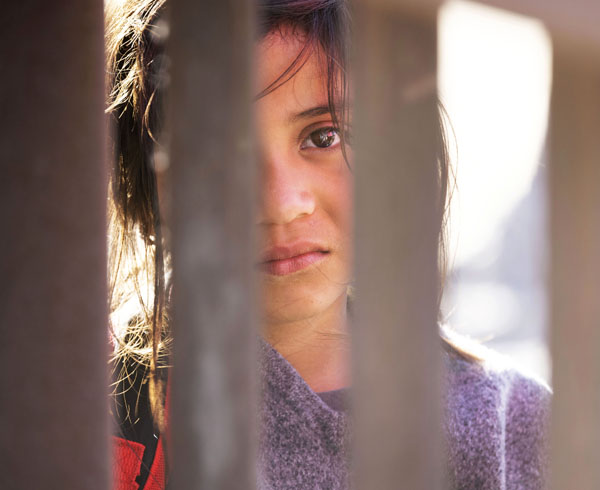 Wait for it. Patience Pays Off
I can't underscore the value of taking your time in the pursuit of a good moment. There have been so many occasions when I wanted to take off before I got what I wanted or hoped for, but decided to wait around a wee bit longer just to see what was going to happen next. Curiosity is also a vital DNA strand in a photographer's make-up! Shore Acres near Coos Bay, Oregon can be a tranquil place, but all hell breaks loose when a storm combined with some crazy currents comes in.
Those monstrous breakers are rare and figuring out the perfect place to shoot them takes some doing. Once you zero in on the right spot, however, dramatic pictures will happen. This scene was a triple-good-luck whammy. Birds flying through the spray and slanting sunlight, a massive wave exploding on the rocks, and dark clouds as a perfect backdrop. Voila! The wait paid off, a good frame was made, and the freezing photographer was creatively unthawed.
Bio
David Hume Kennerly won the 1972 Pulitzer Prize for his photos of the Vietnam War at 25, and then served as President Gerald R. Ford's Chief White House photographer. He has photographed 11 U.S. Presidents, covered 12 presidential campaigns, served as a contributing editor for Newsweek magazine for 10 years, and was a contributing photographer for Time & Life magazines for more than 15.
American Photo magazine named Kennerly "One of the 100 Most Important People in Photography," and Washingtonian magazine called Kennerly one of the 50 most important journalists in Washington, DC. His archive is housed at the Center for Creative Photography at the University of Arizona.
Kennerly has published several books of his work including "Shooter," "Photo Op," "Seinoff: The Final Days of Seinfeld," "Photo du Jour," and "Extraordinary Circumstances: The Presidency of Gerald R. Ford." In 2009 he was a producer and principal photographer of "Barack Obama: The Official Inaugural Book" and he is a Canon Explorer of Light.
See more of Kennerly's work at the links below.
www.usa.canon.com/internet/portal/us/home/explore/explorers-of-light/explorer-david-hume-kennerly